Description
TopMgt℠ Team MasterClass
O V E R V I E W
World's Leading Advanced Management Seminar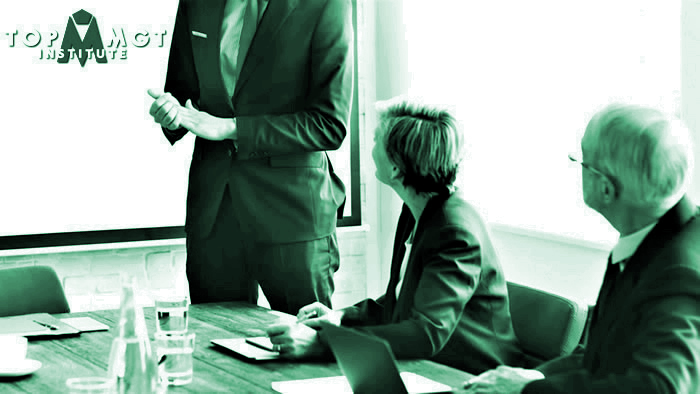 DEVELOPING THE 5 CRUCIAL CAPABILITIES OF TOP COMPANIES
PARTICIPANTS:
BENEFITS MOST:

CEOs taking their company to the next level
LOCATION: Salishan Spa & Golf Resort-Central Oregon Coast
CERTIFICATE

Awarding of the Advanced Business Management Certificate upon successful program completion.
AGENDA
Times

TopMgt℠ Team MasterClass begins at 8:00 AM and ends 5:00 PM the first day and 8:00 AM and ends at 3:00 PM the second day to accommodate travel schedules.
Break at 9:30 AM-10:00 AM
Lunch: 12:00 PM-1:00 PM
Break at 3:00 PM-3:30 PM
Modules

Facilitator presentations, case studies, business analysis, and action planning.
Presented sequentially in five modules following our proprietary 5CBR℠—Strategy Formulation Methodology.
COST: Two-Days
$15,000 for up to 10 participants
$1,500 for each additional participant
Includes: Training Materials | Breaks | Lunch
Participant's Responsibility: Travel-Additional Meals-Accommodations.
---
TopMgt℠ Team MasterClass
D E T A I L S
When MONEY Matters Most®

To Be or Not to Be? — WILLIAM SHAKESPEARE
SITUATION
Where will your organization be in 5 years?
How about your career?
The current complex, continually changing, ever challenging domestic and global economic, ecological, political, cultural, and social environments coupled with the threats of terrorism and natural disasters require exceptional organizational leadership.
MISSION
SUCCESS: Success on the battlefield – military and business – requires timely collaborative strategic, tactical, and operational win-win asset allocation and alignment with flawless execution. Balancing multiple competing demands – most especially customer, employee and shareholder loyalty – within the context of finite resources is the business challenge of the day.
Right-LEADERSHIP.
Right-STRATEGY.
Right-RESULTS.
CONCEPT
STRATEGIC INTENT: Top Management translates the policy (formulated by the board-of-directors) into strategy, structure, process and projects a shared-vision of future business success.
STRATEGIC RESPONSIBILITY: Top Management makes decisions that affect everyone in the organization, and is held entirely responsible for the success or failure of the enterprise.
STRATEGIC OUTCOME: In other words, Top Management must deliver the Right-RESULTS to shareholders or ???
However beautiful the strategy, you should occasionally look at the results — Winston Churchill
SOLUTION | By Delivering the Right-Results
THE 5 CRUCIAL BUSINESS RESULTS (5CBR)
Highly successful top management teams starts with identifying and end with delivering The 5 Crucial Business Results (5CBR)—the frequent fatal missed-steps in effective strategy upgrade development and delivery. 5CBR℠ represent criteria top management must give special and continued priority attention for continued career and company success.
Our two-day TopMgt℠ Team MasterClass is galvanized by our proprietary 5CBR℠ | Strategy Formulation Methodology—providing our clients with a comprehensive, unified approach to strategic competitive advantage, tactical alignment effectiveness, operational excellence, and the requisites for sustained superior business and career performance.
TopMgt℠ Team MasterClass provides a world-class, research-based, comprehensive, cutting-edge methodology for 5CBR delivery, which encompasses customers, competitors, stakeholders, business excellence and leadership effectiveness.
Our TopMgt℠ Team MasterClass is precision-focused and specifically designed for busy senior executives who recognize the importance of 5CBR for future business success and the requisite competencies top management must have to deliver 5CBR.
Facilitator presentations, case studies, business analysis, and 5CBR© action planning highlight our TopMgt℠ Team MasterClass.
MASTERCLASS TAKEAWAYS
Bridging the Gap Between Business School & STREET-SMARTS
Building a total-team organization for sustainable competitive advantage through the synergistic merging of best practices East-West-Business-Military.
Improving executive decision-making capabilities.
Helping senior executives better understand the core competencies the organization needs.
Enhancing your executive career potential.
Moving beyond the either/or limits of a management versus leadership mindset.
Upgrade to a unified, holistic view of the organization that aligns and integrates all the major management disciplines into a master mind-set model.
Developing a unified view of your business context with a global perspective.
Refocusing your business on the most profitable areas of growth.
Refining the choice of strategic initiatives.
Improving strategy alignment.
Updating, broadening and optimizing your executive management style for continued career advancement.
Acquiring executive sustainable leadership skills aimed at maximum managerial impact, personal and team confidence building, and better bottom-line performance.
PERFORMANCE EXCELLENCE
Our TopMgt℠ Team MasterClass emphasizes performance excellence as exemplified by the Baldrige Criteria: Leadership, Strategic Planning, Customer Focus, Measurement-Analysis-Knowledge Management, Workforce Focus, Process Management, and Results.
MASTERCLASS FACILITATORS
Experience–Expertise–Education–Excellence
All of our MasterClasses are led by two senior business consultants:
1. Senior Business Strategy Consultant with:
Ten or more years of CEO experience.
Ten or more years of profit-center general business management experience with P&L authority and accountability.
Commissioned Officer service in the Armed Forces of the United States, Canada or other NATO member countries with both command and general staff experience.
International business experience.
Ph.D., D.B.A or at a minimum a Master's Degree from a major international public or private university.
At least two years of doctoral level studies/research in strategic management development.
2. Senior Business Leadership Consultant with:
Ten or more years of business ownership experience.
Five or more years of C-Level executive experience.
Ten or more years of profit-center business management experience including P&L authority and accountability.
Entrepreneurial and intrapreneurial expertise.
REGISTRANTS TERMS & CONDITIONS
By registering for a TopMgt℠ MasterClass you acknowledge that you have read, understand and agree to be bound by the REGISTRANTS TERMS & CONDITIONS at the following link: TOPMGT LLC Terms & Conditions
TOPMGT INSTITUTE MASTER SCHEDULE
Secure Registration Links:
TopMgt℠ Strategy MasterClass
Salishan Spa and Golf Resort
22-23 JAN 2018
12-13 FEB 2018
07-08 MAR 2018
18-19 APR 2018
16-17 MAY 2018
TopMgt℠ Leadership MasterClass
Chinook Winds Resort
24-25 JAN 2018
14-15 FEB 2018
The Venetian Las Vegas
12-13 MAR 2018
09-10 APR 2018
21-22 MAY 2018
TopMgt℠ Team MasterClass
Salishan Spa and Golf Resort
10-11 JAN 2018
17-18 JAN 2018
07-08 FEB 2018
21-22 FEB 2018
21-22 MAR 2018
28-29 MAR 2018
04-05 APR 2018
25-26 APR 2018
02-03 MAY 2018
09-10 MAY 2018
TopMgt℠ | When MONEY Matters Most® | 5CBR© Proprietary Information.