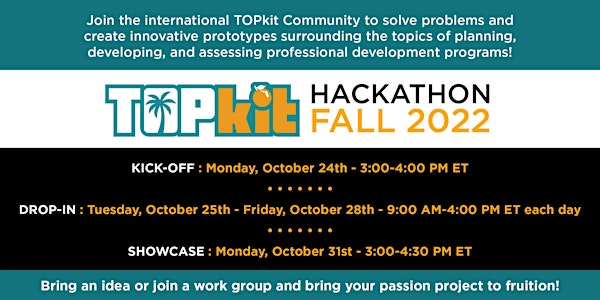 TOPkit Halloween Hackathon 2022
Join us for the TOPkit 2022 Halloween Hackathon! This is a fun-filled, collaborative space with Kick-Off, Show-Case, and optional Drop-In.
About this event
Do you have an idea that you'd like to kickstart? Do you need some time, space to start a new plan/development/evaluation?
This TOPkit Fall 2022 Hackathon will offer a fun-filled, productive, collaborative space for you to create a faculty development related artifact. Participate in teams or individually to enjoy the collaboration. Colleagues plan, build, and briefly showcase their resulting efforts. Here's the schedule.
https://ucf.zoom.us/s/5548327896
KICK-OFF (Mon, October 24, 3:00 - 4:00 PM ET) Plan your effort with colleagues.
DROP-IN (Tues, October 25- Friday October 28 from 9:00AM - 4:00 PM ET each day) Build your artifact individually or collaboratively, asynchronously or live.
SHOWCASE (Mon, October 31, 3:00 - 4:30 PM ET) Briefly present your artifact and gather ideas from colleagues' artifact presentations.
You create any artifact that you'd like. Artifacts that may result from your participation could include any one of these examples:
Proposal to present at the TOPkit Workshop,
Workshop for your faculty about advanced online course design,
Curriculum for a series of workshops,
Peer-check course facilitation review process,
Plans for facilitating a learning technologies book conversation with faculty,
TOPkit content page,
Survey or focus group protocol for your workshop or faculty,
Analysis of survey results,
Or more!
https://ucf.zoom.us/s/5548327896