Topics in EMS:"Time Critical Calls"

Saturday, February 15, 2014 from 8:00 AM to 5:00 PM (PST)
Event Details
February 15, 2014
Topics in EMS: "Time Critical Calls"
Join us for our 2nd annual Education Conference
Trauma, Stroke, STEMI, & Cardiac Arrest.  
This medical education conference is intended for ED physicians, mid-level practitioners, EMTs, Paramedics, RNs, EMRs, Firefighters, Law enforcement personnel, 911 communication staff, and other healthcare emergency professionals.  
Topics in EMS:Time Critical Calls, focuses on the time sensitive conditions that require rural EMS and hospital emergency departments to minimize the time from onset of injury or symptoms, to critical paramedic interventions, ED care, and determination of necessary tertiary care transfer of the patient. EMS systems working with physicians and rural hospitals can have a dramatic effect on improved survival and reduced morbidity and mortality for patients who experience trauma, stroke, heart attack and sudden cardiac arrest.
February 15, 2014 in Fergus Falls, Minnesota
Bigwood Conference and Event Center
8 Hours of continuing medical education credits. 
On-line Registration fee $55.00 (at the door $70.00) includes breaks, materials, Italian pasta lunch buffet, and CE certificate. 
Registration closes when we reach capacity of conference center.   
More information or off-line registration call Bob at 1-855-88-SAFETY (855-887-2338).
Confirmed Speakers include:
Greg Smith, MD - Lake Region Health care
Mike Wilcox, MD - Hennepin Technical College
Jessica Sims, NP-C - Essentia Health Interventional Neurology 
Vali Orandi, MD - Lake Region Health care, Interventional Radiologist
John Dillon, EMT-P - MAA/EMS Educators Group
Yassar Almanaseer, MD - Essentia Health, Interventional Cardiologist
Richard Mullvain, Chair - Essentia Health STEMI Coordinator / Mission Lifeline
Janna Pietrzak, RN, BSN - Sanford Health STEMI Coordinator
Demetris Yannopoulos, MD - MN Resuscitation Consortium
Wayne Schneider, EMT-P - Hennepin County Medical Center
Greg Booth, EMT-P - Hennepin County Medical Center


Special Thanks to our GOLD Conference Sponsors
Essentia Health Interventional Neurology, Fargo, ND
Minnesota Resuscitation Consortium, Mpls, MN
Lake Region Health Care, Fergus Falls, MN
Stevens County Ambulance | EMS Education
Ringdahl EMS - Minnesota & North Dakota
Sudden Cardiac Arrest Association - Western Minnesota Chapter
Essentia Health Stroke & STEMI Center
Mission LifeLine - American Heart Association
Sanford Health STEMI Center
Minnesota Ambulance Association / Educators Group
Hennepin County Medical Center Ambulance
Children's Hospitals & Clinics of Minnesota
Minnesota SCA Survivors Network 
There financial contributions have helped keep the registration fee to a minimum for rural healthcare providers to attend and have access to some of the finest continuing medical education available.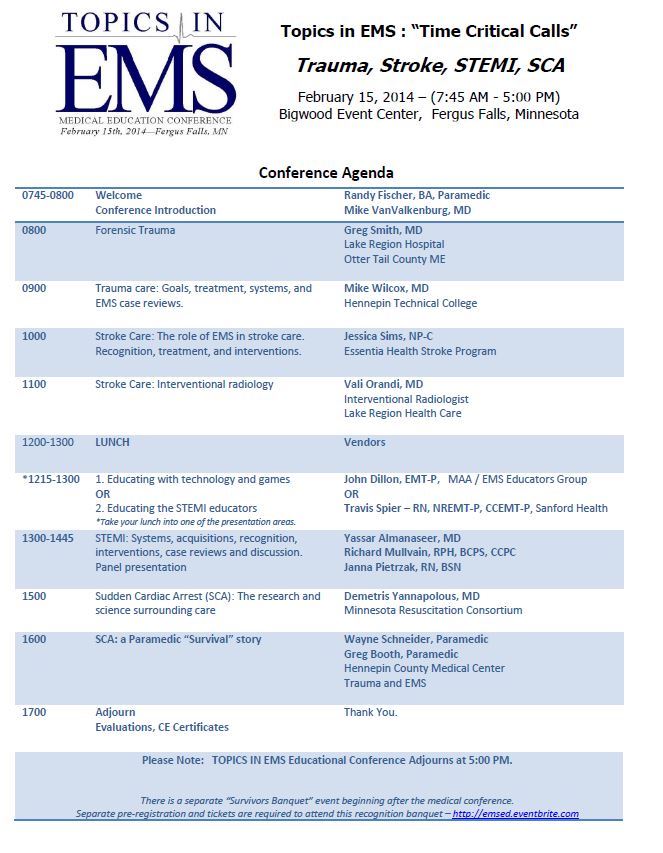 There are a few additional vendor tables remaining.
Contact us jfischer@stevensems.com or call 1-855-887-2338.
Also.... 
Sudden Cardiac Arrest "Survivors" Banquet - February 15, 2014 6:00 PM
For more information on this seperate event held in conjunction with the Medical Conference goto our SCAA Banquet Registration page here.
Has your organization had a out-of-hospital cardiac arrest "survivor". Contact the survivor, get their story submitted, invite the survivor and family to the event.
Recognize your survivor story and rescuers!
Sudden Cardiac Arrest Association - Otter Tail County / Western Minnesota chapter.
SAVE THE DATE: February 14, 2015
Topics in EMS Conference
Area Hotels: 
Best Western Fergus Falls
925 Western Avenue, 

Fergus Falls, Minnesota, 56537-4803, United States 


Phone: 218/739-2211
 
Comfort Inn
425 Western Ave, Fergus Falls, MN 56537
Phone: 218-736-5787


AmericInn Lodge and Suites
526 

Western Ave, Fergus Falls, MN 56537


Phone: 218-739-3900


Super 8
2454 College Way

, Fergus Falls, MN 56537




Phone: 218-739-3261
When & Where

Bigwood Event Center
925 Western Avenue
Fergus Falls, MN 56537


Saturday, February 15, 2014 from 8:00 AM to 5:00 PM (PST)
Add to my calendar
Organizer
EMS Education by RWF Enterprises Inc is a collaboration of Stevens County Ambulance, Ringdahl EMS, and many other providers, health care organizations and vendors who join us each year in hosting the annual TOPICS IN EMS Conference in Fergus Falls, MN.  In addition, the Sudden Cardiac Arrest Association - Western Minnesota chapter, holds their annual meeting and gathering of rescuers, survivors, and advocates to celebrate their incredible stories of life and of their rescuers. A strong focus on the importance of engaging community emergency response with hospitals, EMS, first responders and the public to save more lives.  Contact us at 1-855-887-2338 to partner or obtain additional information.