Topics in EMS: Time Critical Calls - 2016 Medical Education Conference

Saturday, February 13, 2016 from 8:00 AM to 5:00 PM
Event Details
February 13, 2016
Topics in EMS: Time Critical Calls
Medical Education Conference
 Presentaitons

When Terrorism Strikes in America:
A First Responders Overview of the San Bernardino, CA Incident
Lieutenant Mike Madden, San Bernardino Police Department
"What you don't know":Why 12 leads are not enough
Closed Head Injuries: The Pressure in On!Closed Head Injuries: The Pressure in On!
Bob Page, M.Ed, NRP, CCP, NCEE

Minnesota Resuscitation Consortium,  CARES, UND Evaluation team Update
Lucinda Hodgson, Eric Souvannasacd
Pediatric Cold Water Drowning MCI
Deputy Chief Charles Barrette, Hennepin County Medical Center

Community Paramedic Roundtable Discussion
Cameron Dean, Joe Mahunik, Andrea Young, Gary Wingrove, Buck McAlpin
EMS Response to Mental Health Crisis: The Patient Perspectives
Megan Turner & Terry Wasnick, MN NAMI
Medical & Neurosurgical Management of acute Stroke:Expanding the role of EMS
Michael Manchak, MD, Medical Director, Sanford Health Stroke Program

Professionalism and Excellence in EMS
Brian LaCroix, Allina Health EMS
5:00pm to 6:00pm - "Cardiac Sprint" EMS Competition, & Social hour
Contact James Rook - jrook@stevensems.com or register HERE

6:15pm to 9:00pm - Survivors and rescuers Banquet
Bigwood Conference and Event Center
8 Hours of continuing medical education credits. 
 On-line Registration includes breaks, materials, lunch buffet and dinner banquet, and CE certificate.
At Door Registration does not include lunch or dinner banquet ticket.  
Topics in EMS:Time Critical Calls Medical Education Conference focuses on the time sensitive conditions that require rural EMS and hospital emergency departments to respond rapidly and initiate time critical interventions.   EMS systems working closely with law enforcement, fire, first responders, physicians and hospital systems have a dramatic effect on improved patient care and survival.  
This year's conference includes a pre-conference Simulation session on Friday from 1:00-5:00pm.  Scene safety, active shooter, MCI, 12 lead interpretation, mental health transports, resiliency in EMS, dispatch interventions, community paramedic, trauma care, pediatrics, stroke care and networking.  
Join us for our 4th annual Topics in EMS - Medical Education Conference in Fergus Falls, Minnesota February 13, 2016.
---
Sudden Cardiac Arrest Association - National
Otter Tail County (Northwestern MN) Chapter
The Sudden Cardiac Arrest Survivors, Rescuers, and Advocates Banquet and meetings will be held in conjunction with our medical education conference again this year.   
---
Sponsors or Vendors:
If you would like to be a conference or banquet event click link below
SPONSOR or VENDOR  or Contact: jfischer@stevensems.com
or call 1-855-887-2338.
Thank you to our 2016 Conference Sponsors, supporters, and vendors!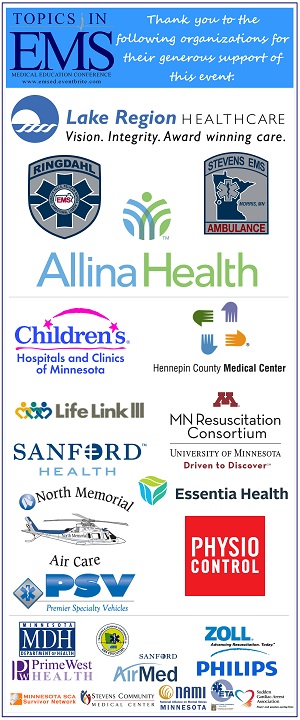 ---
Michael Manchak, MD

Sanford Health

The Medical & Neurosurgical managment of the Stroke Patient and expanding role of EMS

Deputy Chief Charles Barrette

Hennepin County EMS

Pediatric Cold Water Drowning MCI

Brian LaCroix

President, Allina Health Emergency Medical Services

Professionalism and Excellence in EMS

Lieutenant Mike Madden

San Bernardino Police Department

When Terrorism Strikes in America: A First Responders Overview of the San Bernardino, CA Incident

Bob Page

President, Edutainment Consulting and Seminars, LLC

"What You Don't Know, Might Hurt Them!" & Closed Head Injuries: The Pressure is On!
When & Where

Bigwood Event Center, Best Western
925 Western Avenue
Fergus Falls, MN 56537


Saturday, February 13, 2016 from 8:00 AM to 5:00 PM
Add to my calendar
Organizer
EMS Education by RWF Enterprises Inc is a collaboration of Stevens County Ambulance, Ringdahl EMS, and many other providers, health care organizations and vendors who join us each year in hosting the annual TOPICS IN EMS Conference in Fergus Falls, MN.  In addition, the Sudden Cardiac Arrest Association - Western Minnesota chapter, holds their annual meeting and gathering of rescuers, survivors, and advocates to celebrate their incredible stories of life and of their rescuers. A strong focus on the importance of engaging community emergency response with hospitals, EMS, first responders and the public to save more lives.  Contact us at 1-855-887-2338 to partner or obtain additional information.