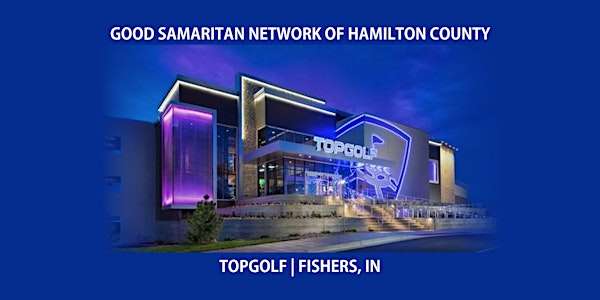 TopGolf Charity Event 2023
Good Samaritan Network TopGolf Charity Event This family-friendly afternoon benefits Hamilton County families in need!
By Good Samaritan Network of Hamilton County, Inc.
Date and time
Sunday, June 25 · 3 - 6pm EDT
Location
TOPGOLF 9200 East 116th Street Fishers, IN 46037
Agenda
2:30 PM
Welcome / Check In
---
Welcome to GSN's Annual TopGolf Charity Outing. Participants can check in and also purchase "Chance To Win!" tickets, and receive their lane assignments for the day! Be sure to check out our sponsors...

3:00 PM - 6:00 PM
TopGolf 2023 - Let The Playing Begin!
---
Once you have received your lane assignments and followed instructions from our TopGolf host, you're ready! Let the playing begin. Enjoy the afternoon!
3:30 PM - 6:00 PM
All American Buffet
---
Enjoy an amazing All American buffet selection provided by TopGolf! You can arrange for alcoholic "individual consumption tab" with your own form of payment. Don't forget those "Injectable Donut Hole...

About this event
Good Samaritan Network TopGolf Charity Event 
Join us for this family-friendly Sunday afternoon!
Your participation in this fundraising event benefits underserved Hamilton County families with client and holiday assistance provided by Good Samaritan Network of Hamilton County.
Ticket includes the opportunity to play Topgolf at one of the predetermined bays, enjoy an All American luncheon/buffet in the Signature Room and the opportunity to participate in an on-site "Chance to Win!"
Topgolf is the premier golf entertainment complex where the competition of sport meets your favorite local hangout. You can challenge your friends and family to addictive point-scoring golf games that anyone from the hopeful pro golfer to your neighbor's 7-year-old kid can play year-round. Just picture a 240-yard outfield with dartboard like targets in the ground. The closer to the center or "bulls-eye" you get and the farther out you hit your microchipped balls, the more points you receive.
It's not golf – it's Topgolf. Give it a shot!
Thank You Current 2023 Sponsors
TMG Construction Management - GOLD Sponsor /Tammy Goins
Breathe Easy Hamilton County - SILVER Sponsor /Katie Jensen
Dorsey Excavating - SILVER Sponsor/Roscoe Dorsey
Biddle Memorial Foundation - BAY Sponsors/ Brian Myers
What types of sponsorships are available? 
Gold Sponsor  - $3000 - 12 Players (2 Lanes)
Silver Sponsor  - $1500 - 6 Players (1 Lane)
Bay Sponsor - $800 - 4 Players (mixed)
Friend Sponsor - $300 - 2 Players (mixed)
Click on the GET TICKETS button to Register NOW ...
or Click Here for More Details ... Click Here for Details
About the organizer
Hamilton County - Indiana
Good Samaritan Network located in Hamilton County, Fishers, Indiana; utilizes two serving approaches, Direct and InDirect services. GSN serves only the residents of Hamilton County, Indiana. Our InDirect services were established to ensure efficiency and communication among the different agencies, social services, nonprofits, local government, pantries, and businesses who serve the needs of Hamilton County residents at-risk. Direct Services impact those within our community who are at-risk and often involves emergency or crisis intervention meeting the needs of people.

The Good Samaritan Network is a 501 (c) (3) organization (TIN 20-4371453).