Description
TopCon is an event colocated in Atlanta, GA the evening before Blade Show. It's an opportunity for makers and collectors of precision tops to get together and share our collective passion.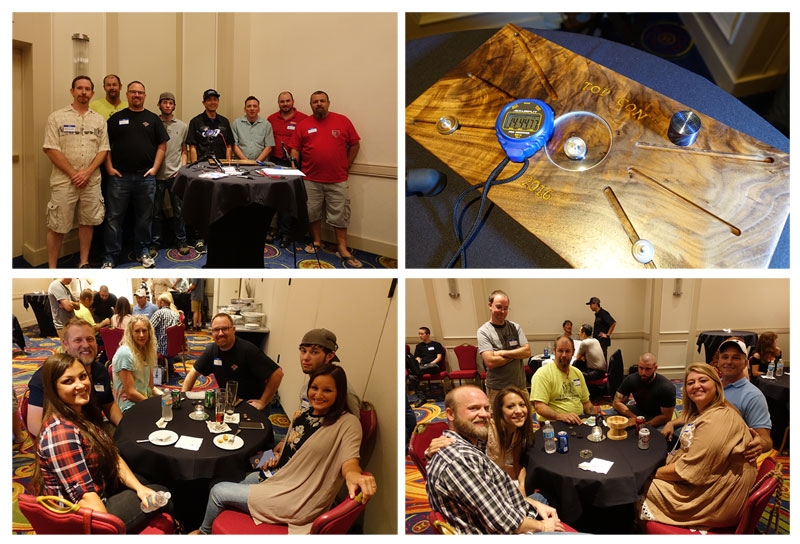 http://topcon.events/

Date / Time: June 1, 2017 - 6:30pm - 10:30pm
Details
Attendance
Due to venue capacity, attendance will be limited so pre-registration is required. If the event is sold out through the online preregistration, only an on-site waitlist will be available. This is a family friendly event and children are welcomed.
Reception style dinner will be served as well as soft drinks and water. Alcohol will be available in the hotel bar and can be brought in to TopCon.
Makers
In order to keep a good balance of attendees and makers, the number of makers for TopCon2017 will be limited. Makers who attended TopCon2016 will have priority registration. As makers confirm and register for the event, they will be listed below.

Event Schedule
Also here's the event schedule:
600-630 Makers / sponsors arrive
630 Guests arrive / doors open
740 Spinning competition - makers
900 Spinning competition - collectors
Competition
In 2016 the spining competition at TopCon was a Makers Challenge for the longest spinning top under 15grams. The spin times and perofmance of sub 15 gram tops was mind blowing - almost everyone broke 10 minutes from tiny Tungsten and Aluminum or Magnesium tops.

For 2017 the spinning competition at TopCon will have two division - Makers and Collectors. Both divisons will follow the same rules. Challenge is the longest spinning Timascus™ top under 10 grams. The top may be comprised of at most 2 pieces (a "body" and a "core"). The body/weight ring of the top must be made from Timascus only and core may be any material but must be under 1/2" diameter (single piece Timascus tops exempt from core diameter rule).
The two dvisions will run in parallel.
All competitors within a divsion will spin on the same spinning surface provided by All Things Spinning.

Each competitor will have 3 launch attempts. If you don't like your launch you must stop the top and make a new attempt within 10 seconds of the start.
The order of competitors will be randomly drawn and announced prior to the event
The competition is limited to a maximum of 10 competitors per divsion, sign-up is on a first come, first served basis (you must be registered for TopCon, then contact Mitch Lum to sign up for the competition).
Update: 5/10/2017
Based on some questions we would like to make some clarification to the rules stated above:
For the purpose of the rules, the bearing is exempt from being counted as a part

The core is the piece of material at the center of the body - which may not exceed 1/2"

There may be a shoulder/flange that the body indexes against

The Stem is the piece of material at the center of the top which holds the bearing, and comprises the core, any flange piece and the grip area.
Update: 5/30/2017 - here is the order makers will spin in:
Aaron Jordon
Gavin Sexton
Mitch Lum
Joshua Dawson
Tom Grifin
Brian Fellhoelter
Marc Osgood
Daniel Hedrik
Santos Cordon Jr

Streaming
Just as in 2016 portions of Topcon and specifically the competition will be streamed live on Pocket Top Talk by group owner/moderator Jeff Goad.
Sponsors
I would like to thank our sponsors for their generous support of this event and the growth of our community.

Platinum Sponsor: Massdrop www.massdrop.com - Massdrop will be providing a generous number of door prizes as well as something special for each attendee.


Spinning Competition Sponsor: http://www.alphaknifesupply.com/ Alpha Knife Supply will be providing a piece of material for the winning maker in the spin competition

Trophy Makers: Kerry Weeks & Dexter King

Spinning Glass: All Things Spinning (Dean Chou)
Streaming Sponsor: Pocket Top Talk (Jeff Goad)
Staying at the Marriott

Room block options (where I guarantee the hotel a minimum number of rooms) wasn't going to save any cost for attendees. I do encourage you to stay at the event hotel - just book through www.marriott.com