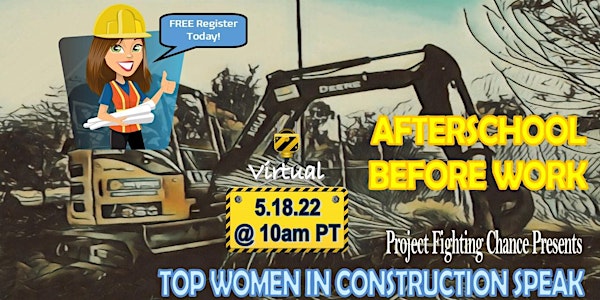 Top Women In Construction Speak
A discussion about today's childhood trauma impact on workforce development affecting the construction industry.
Date and time
Wednesday, May 18, 2022 · 10am - 12pm PDT
About this event
The impact of today's adverse childhood experiences (ACES) and its accompany trauma will have a significant effect on tomorrow's workforce availability, productivity and bottom-line. Of significance is the construction industry. With projected 2022 construction spending of $1.6T the industry faces a deficit of 115,000 employees. Additionally the industry employment rate for women is only 10.3%.
DEI + reduced childhood trauma is the opportunity to increase the tomorrow's bottom-line.
About the organizer
Nationally recognized, Street Positive a division of 4Positive Knowledge (1997), is a social impact organization focused on the emotional well-being and physical safety of children and youth.  As well as, ensuring those who care for them are socially and economically positioned to do so.
Originally established in 1999 to promote child safety., by 2003, both StreetPositive.com and Street Style Positive™ had evolved into notable ventures advocating various prevention and early intervention campaigns impacting both parents and youth.
Today, Street Positive is highly sought after for professional development, speaking engagements and event management involving community awareness, mentoring, parent engagement, male achievement, child maltreatment prevention, sex trafficking and behavior modification programs.