Description
The Austin Forum on Technology & Society
in partnership with Austin Public Library
presents
Top Tech Trends for 2018 and Beyond

Speakers: Jay Boisseau, Vizias and Jay Williams, Williams Technology Group

Wednesday, January 10, 2018
Austin Central Library - Event Center
710 W Cesar Chavez St, Austin, TX 78701

5:45 p.m. – Doors and Cash Bar Open
6:15 p.m. – Presentation, Q&A
7:30 p.m. – Networking reception
What will be the impact of key technologies like augmented reality, virtual reality, Internet of Things, blockchain, and quantum computing on healthcare, education, research, smart cities, and your world? What do you think are the key technologies and challenges for 2018?


The pace of technology and the complexity of business markets are moving at an incredible pace. As we kick off 2018, the Austin Forum sets the stage for upcoming topics with our annual overview of major technology trends and how they are likely to transform our lives – from how we work and live to how we play and learn. Attendees will get a comprehensive look at these technologies and applications, how they are influencing multiple aspects of society, and how the Austin tech ecosystem can, and will, help drive them forward.

Long time technology veterans Jay Boisseau, PhD of Vizias and Jay Williams of Williams Technology Group will give you their perspectives and answer your questions on the impact of these technologies on Austin. We welcome your participation! Please send us your questions, answers and prognostications in advance at info@austinforum.org, and reach out to us via social media and email so we can incorporate your questions and points of views into the program.
Admission to the Austin Forum is always free.
The Austin Forum accepts donations of used cell phones and smart phones at all our events. All devices will have a factory reset and be set up as new by the team at Austin Pathways' nationally-recognized "Unlocking the Connection" initiative, which will connect every public housing resident with a digital device, digital literacy, and a free or very low-cost internet connection. Your donated phone can change lives and help close Austin's digital divide, thanks to Austin Pathways.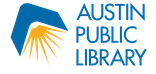 Thanks to Austin Public Library for their partnership.