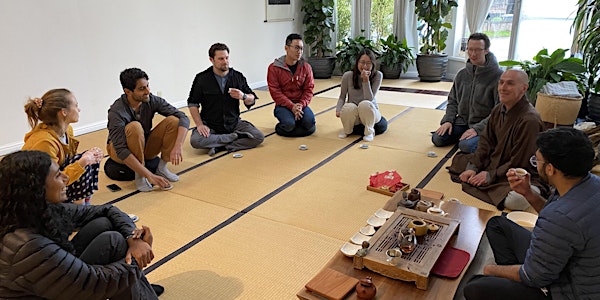 Multiple dates
Top Teas: Enter the Tea Universe
Universal Chan Tea Club. High-quality tea tasting of 4 premium teas. Different, rare, unique teas at each tea tasting event.
By Universal Chan International Zen Buddhist Center
Date and time
October 22, 2022 · 2pm - July 8 · 4pm PDT
Location
Universal Chan: International Zen Buddhist Center 445 Colusa Avenue Kensington, CA 94707
Refund Policy
Contact the organizer to request a refund.
Eventbrite's fee is nonrefundable.
About this event
Universal Chan Tea Club: Tea Tasting Events
We will be tasting 4 premium teas. At each tea tasting event, we will have different, rare, unique, high-quality teas.
How to RSVP for a Tea Tasting Event
Please complete the following steps:
1. Sign our Universal Chan Waiver: app.hellosign.com/s/Is7L3vLp
2. Checkout your ticket here on Eventbrite for the Tea Tasting Event date you will be attending. There is a minimum donation requirement of $25 per person, per event. Please make your donation when you checkout your ticket. Thank you.
Reminders:
1. As a respect to others, please be on time.
2. Please dress suitably for you to sit on the floor comfortably.
3. Please avoid wearing perfume or cosmetics with a strong fragrance, which may affect your or other people's appreciating the delicate aromas of the fine teas.
About the organizer
Universal Chan International Zen Buddhist Center is a donation-based 501(c)(3) non-profit organization derived from the Chinese Chan* Tradition, founded by the Chan Monk Da Xing. Your generosity will help us to continue to serve humanity. Examples of donations: Money, stocks, property, piece of land, very good condition vehicles, property/land to use for free. You may send monetary donations through https://donorbox.org/universalchan or paypal.me/universalchan. For more information, please visit https://www.universalchan.org/support-us
Universal Chan operates mainly in Asia, Europe, and the USA, but we are open to be active in other countries as well. Compared to China or other Asian countries where Buddhism is a prevalent religion, the USA has only been exposed to Buddhism for less than a century. Many active Buddhist schools across the USA are of Hinayana, Vajrayana, Mahayana, Chan, Japanese Zen, and doctrinal studies. All these traditions come from different countries and consequently reflect cultural influences and inflections specific to their place of origin. Although Chinese Chan Tradition is present, we hope we can give our contribution to spread this wonderful teaching. It is a great pity that the vast majority of westerners have not been exposed to Chinese Chan, and even fewer people are able to use Chan Buddhism to improve their lives.

The goal of the organization and of its affiliations is to spread the Chan Teachings to deeply benefit those interested in learning the teachings of the Buddha.

In doing this, we use a modern approach rooted in ancient tradition to expose people to other aspects of ancient Chinese culture connected to this teaching.
*Chan (Japanese: Zen)