Description
We picked the best place to bring our friends together to celebrate New Year's Eve 2017! The Playwright shares our vision that NYE is a chance to celebrate and thank your customers for a year of loyalty and support; not an opportunity to over-charge and under-deliver.
Top Shelf New Year's Eve 2017 (because you deserve the best!)Saturday, December 31stThe Playwright 27 W. 35th Street (btw 5th & 6th)9pm to 3am
PARTY DETAILS:



❇

9pm to 2am (5 hour) Top Shelf Open Bar


❇

Live ball drop on 75 TVs!! Yes, 75 TVs, so you can't miss it and we will countdown with state of the art surround sound.


❇

Celebratory cotton candy champagne toast at midnight!


❇

Full spread of delicious bar food at 1:30am including items you will crave at this point in the night. This includes mozzarella sticks, cheese fries, tator tots, chicken tenders, jalepeno poppers and more!


❇

Cocktail attire
❇

Bar menu available throughout the night to order additional food on your own tab


❇

DJ and dancing


❇

Festive decorations with hats, noisemakers and even lots of colorful candy (because everyone loves chocolate)


❇

Bottle service and reserved seating options available.


❇

This event is geared towards guests in their 20s, 30s and 40s
The Top Shelf Open Bar includes a very generous selection of name brand liquors, wine, beer, Red Bull and non-alcoholic drinks. In other words, we will have all the "good stuff" :)
Vodka: Grey Goose, Belvedere, Ketel One, Tito's, Absolut, Stoli, Ciroc
Whiskey: Jim Beam, Jack Daniels, Jameson, Tullamore Dew, Johnnie Walker Black, Johnnie Walker Red
Gin: Tanqueray, Hendrick's, Bombay Sapphire, Beefeater
Tequila: Patron, 1800, Jose Cuervo, Hornitos, Sauza
Wine: Pinot Grigio, Sauvignon Blanc, Chardonnay, Cabernet, Pinot Noir
Red Bull: Regular, Sugar Free and Tropical
Playwright's Specialty Cocktails:

Caramel Apple Martini
Butterscotch Schnapps, Apple Vodka, Splash of Apple Cider, Drizzle of Caramel

Empire State
Champagne, St. Germaine, Sosa Water

Fruity Girl
Orange Vodka, Peach Schnapps, Cranberry Juice, Pineapple Juice, Orange Juice

Moscow Mule
Vodka, Ginger Beer, Lime Juice

Dirty 2017
Gin, Vermouth, Olive Brine
Bai's Sponsored Speciality Cocktails:

Peachy Keen
Panama Peach Bai, Vodka, Splash of OJ
Tropical Storm
Malawi Mango Bai, Silver Rum,
Splash of Cranberry Juice

Bai Lemon Drop (Shot)
Bai Tanzania Lemonade Tea, Citrus Vodka,
Splash of Triple Sec


Sigalicious
Ipanema Pomegranate Bai, Vodka, Honey,
Ginger Beer, Splash of Cranberry Juice

Malibu Bai Breeze
Molokai Coconut Bai, Malibu Rum,
Splash of Cranberry Juice

We found that 250 guests is the right size for a good party. Big enough to feel like a special celebration, but not too big where it feels impersonal. Also, 250 is manageable to offer prompt service at check-in, coat check and, of course, the bar. No lines. Isn't that nice? :)

The management of The Playwright and I plus the rest of my host team will all work together to ensure a hassle-free, fun, festive and memorable New Year's Eve!

Please note ticket prices increase automatically on EventBrite based on both time/date and quantity sold triggers. Get yours as soon as possible to lock in the current price.

All tickets sales are non-refundable. If you can't attend, you are welcome to give your ticket to a friend who can use it. Please just let us know about the name change.

Any questions, email david@davidshapiro.net or call 212-579-4844.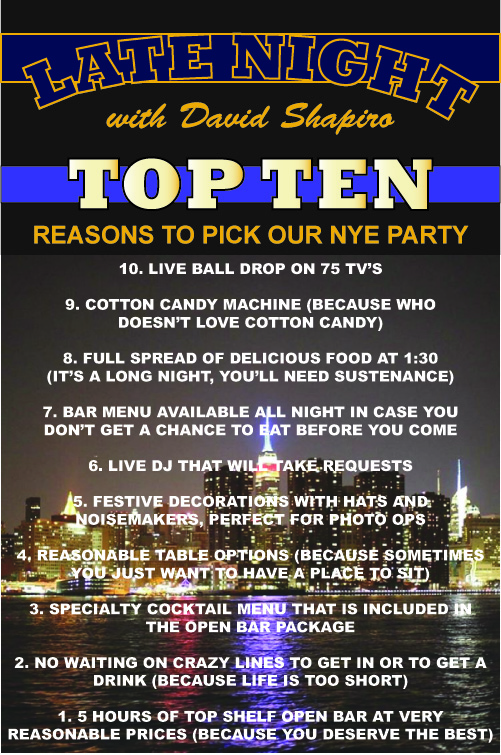 Cocktails Designed by our friends at Bai! (Included with open bar)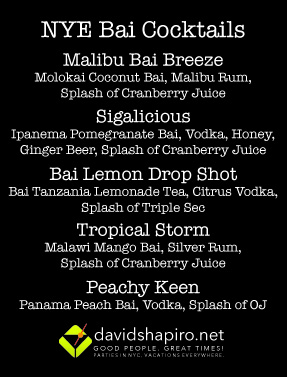 Cocktails Designed by the mixology team at The Playwright! (Included with open bar)