Sales Have Ended
Ticket sales have ended
Upcoming STARS event dates can be found on LearnAboutWine.com. Cheers!
Join expert Ian Blackburn and rising star Eduardo Dingler in a tasting of some of the best quality Sake in the game!
About this event
This Sake session allows us to taste the best in the business along with one of the industry's rising star experts, TV host and Sommelier Edwardo Dingler!
Join us - this tasting is limited.
Sip, Swirl, Chat, Discover and Explore with the Winemakers, Industry Experts, and the Wine Community.
Sake is Delivered to Your Door!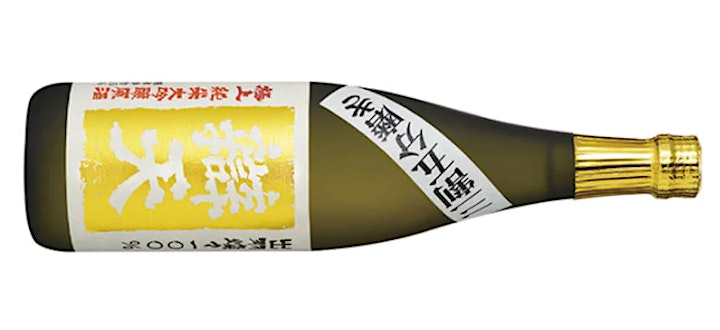 Hamafukutsuru, Bizen Omachi Daijingo Sake, Hyogo, Japan
Tasting Notes:
To create this stunning sake, the master brewer blends several famous rice varieties. He starts with 55% Omachi rice, the oldest heirloom variety of sake rice polished to 50%. To this he adds locally grown rice, including Yamada Nishiki, known as the king of sake rice. The local water and rice craft a sake that has aromas of ripe tropical fruit with rich mouth filling taste and a long finish.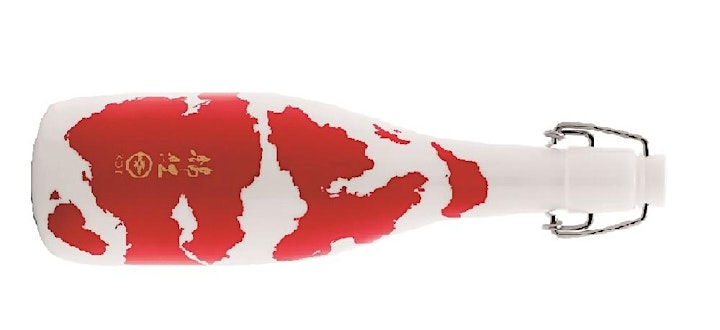 Imayo Tsukasa, Koi Junmai Daiginjo Genshu Sake, Niigata, Japan
Tasting Notes:
Purity and strength come together in this collectible porcelain bottle.
About Eduardo Dingler:
江戸
Sake Ambassador
sakedrinker.com
Independent Journalist
International Wine | Sake | Spirits Judge
Instagram: @sakedrinker
http://saketips.love/eduardo-a-dingler005-en/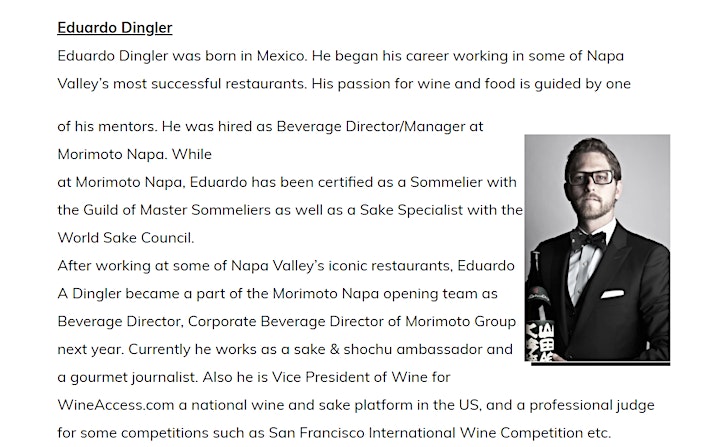 What is Sake?
Let's start with the basics. What is sake anyway? Well, simply put, it's a Japanese traditional alcohol made from fermented rice. In Japanese, it's called 'Nihonshu' 日本酒, which literally translates to 'Japan's alcohol.'
Hot or Cold?
There are basically two different ways to enjoy your sake: 'hiya' and 'atsukan.' Hiya means cold style for which you refrigerate not only the sake but also the tokkuri and the ochoko. On the other hand, atuskan is a heated style, for which you heat the sake in a tokkuri placed in hot water. Some sakes are better drunk hiya style, others are better atsukan style, and some are excellent done both ways. What's interesting is that the taste and smell may change drastically depending on the temperature the sake is served. You might want to experience with both to see which one you prefer.
Glassware?
Treat chilled sake similar to wine; in order to really get the aromas and the nose you should swirl and sniff. Traditionally we know that sake is served in those teeny tiny cups, but premium grade should be served in larger glass—a wine glass works—so its aromas can open up. Also, in Japan, once you open it and present it….you leave bottle on table and serve each other—you should never pour your own sake, it's a privilege to pour sake for guests and others.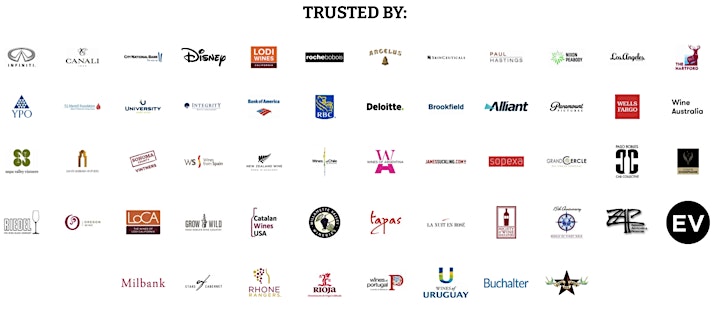 ________________________________________________________________________________________________
________________________________________________________________________________________________