About this Event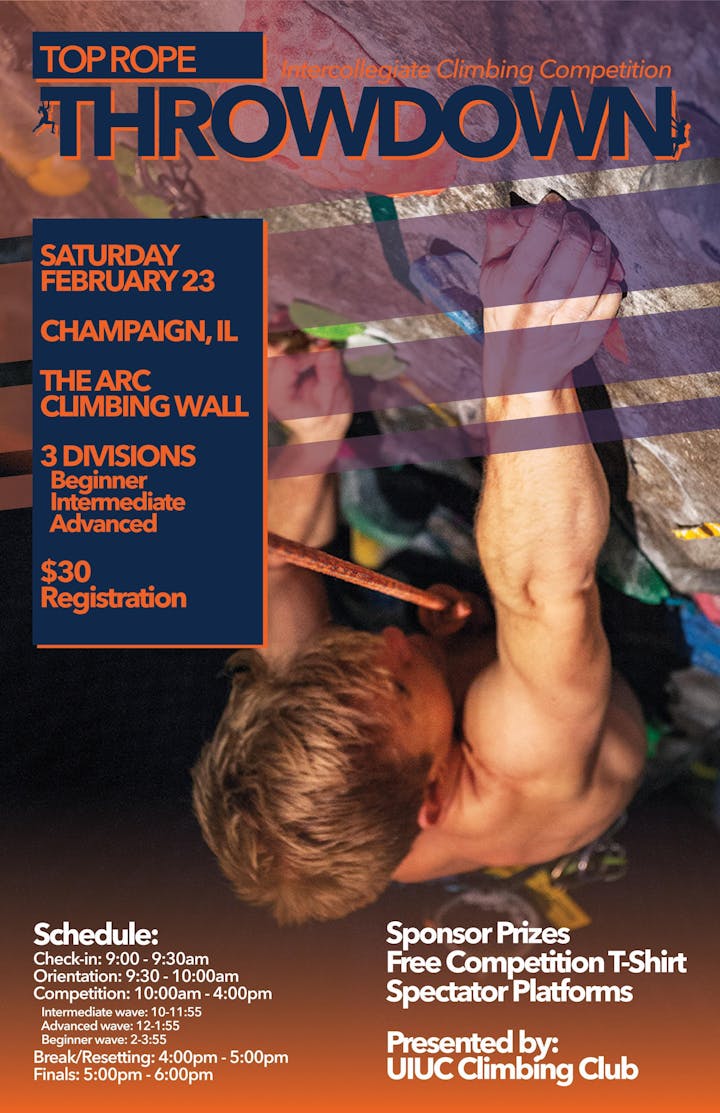 The Illinois Climbing Club at Urbana-Champaign is proud to host its first ever intercollegiate climbing competition! This event will be a great way for climbing clubs from around the Midwest to gather and have a friendly competition while also being able to meet many new faces! In addition, all of our profits will be donated to the access fund in order to help fund our local climbing areas!
A follow-up email with more logistical details will be sent out about a week and a half prior to the competition. Until then, if you have any further questions, please don't hesitate to contact me, Kirsten Habermann (President), at illinoisclimbingclub@gmail.com or 978-302-9651! We look forward to seeing you!
Schedule
Saturday, February 23rd:
9-9:30am check in
9:30-10am competitor orientation
10-11:55am intermediate category
12-1:55pm advanced category
2-3:55pm beginner category
4-5pm resetting/break
5-6pm final round
Rules
This competition will be judged on a red-point basis. Since this competition is top rope, any weight applied to the rope will result in automatic lowering. You will have a limited number of attempts at each route. The category's are self assigned, however the executive board reserves the right to adjust if sandbagging is expected.
Below are the target grade ranges for each section:
Beginner: 5.6-5.9+
Intermediate: 5.10a- 5.11b
Advanced: 5.11c - 5.13b