Description
TopMgt℠ TOP TEAM MasterClass
TAKING YOUR COMPANY TO THE NEXT LEVEL
2-Day Advanced Management Program
Exclusive Confidential Company Venue
Private - Your Company Only
---
O V E R V I E W

TopMgt℠ TOP TEAM MasterClass
• Delivering the Right-RESULTS | The 5 Crucial Capabilities
WHO SHOULD ATTEND?
You Company's Top Management Team (TMT).
WHO WILL BENEFIT MOST?
Companies that want to go to the next level.
TAKEAWAYS
Develop a comprehensive, total-team perspective on strategic competitive advantage, operational excellence, and the requisites for superior business performance.
Upgrade your business strategy decision-making capabilities through our proprietary Dantotsu© Decision-Making Methodology.
Acquire a business strategy skillset that is crucial for alignment, execution and delivery with our 5CBR© Strategy Success System.
PREREQUISITIES
TMT with the ability to deal effectively with chaos and complexity.
Conscientious.
Creative.
Emotionally stable - Cool under fire.
Open-minded.
Not passive aggressive.
Risk-takers.
Sense of humor.
Strong leaders.
Team players.
COST
Two-day TopMgt℠ TOP TEAM MasterClass includes training facility, all training materials, breaks and a hot buffet lunch each day.
$3,000 USD per participant.
VENUES
Facilitators: Two TopMgt Institute Certified Senior Management Facilitator-Coach-Consultants.
ACCOMMODATIONS
Companies are responsible for their employee accommodations, e.g., travel, lodging and food not included in the masterclass.
Due to varied attendee room preferences, there will not be a room-block for this masterclass. You are welcome to stay at any hotel you wish.
CERTIFICATE
Awarding of the Top Management Team Advanced Strategy Certificate upon successful program completion.
AGENDA

Times
TopMgt℠ TOP TEAM MasterClass begins at 8:00 AM and ends 5:00 PM the first day and 8:00 AM and ends at 3:00 PM the second day to accommodate flight schedules.
Break at 9:30 AM-10:00 AM
Lunch: 12:00 PM-1:00 PM
Break at 3:00 PM-3:30 PM
Modules
Facilitator presentations, case studies, business analysis, Dantotsu© Decision-Making Model and 5CBR℠ action planning.

Presented sequentially in five modules following our proprietary 5CBR℠—Strategy Success System.
DATE
Flexible MasterClass Dates - Please CONTACT US if you prefer another date.
REGISTRATION
To Register Please:
Choose a date below and click the link to our secure EventBrite Registration System.
On EventBrite select REGISTER to the right and click.
Click CHECKOUT and complete the Registration Information.
Click PAYPAL CHECKOUT to the bottom right and complete your preferred payment method to complete your registration.
SCHEDULE
TopMgt℠ TOP TEAM MasterClass
---


D E T A I L S
TopMgt℠ TOP TEAM MasterClass
• 5 Crucial Capabilities for Delivering the Right-RESULTS

• To Be or Not to Be? — William Shakespeare
SITUATION
Where will your company be in 5 years?
The current complex, continually changing, ever challenging domestic and global economic, ecological, political, cultural, and social environments coupled with the threats of terrorism and natural disasters require exceptional organizational leadership.
MISSION
Success on the battlefield – military and business – requires timely collaborative strategic, tactical, and operational win-win asset allocation and alignment with flawless execution. Balancing multiple competing demands – most especially customer, employee and shareholder loyalty – within the context of finite resources is the business challenge of the day.
Right-LEADERSHIP.
Right-STRATEGY.
CONCEPT
Top Management translate the policy (formulated by the board-of-directors) into goals, objectives, and strategies, and projects a shared-vision of the future. It makes decisions that affect everyone in the organization, and is held entirely responsible for the success or failure of the enterprise. BusinessDictionary.com
Right-RESULTS.
SOLUTION
• However beautiful the strategy, you should occasionally look at the RESULTS — Winston Churchill

TopMgt℠ TEAM MasterClass
THE 5 CRUCIAL BUSINESS RESULTS (5CBR)
Why do for-profit businesses exist?

TO MAKE THE MOST MONEY FOR SHAREHOLDERS!
How do for-profit businesses make the most money for shareholders?

BY DELIVERING THE RIGHT RESULTS!

Highly successful top management teams start with identifying and end with delivering The 5 Crucial business Results (5CBR)—the frequent fatal missed-steps in effective business strategy development and delivery. 5CBR℠ represent criteria top management must give special and continued priority attention for continued career and company success.
Our two-day TopMgt℠ TOP TEAM MasterClass

is galvanized by our proprietary 5CBR©

|

Strategy Success System and melded with our Dantotsu©

|

Decision-Making Model—providing our clients with a unified strategy development approach to strategic competitive advantage, tactical alignment effectiveness, operational excellence, and the requisites for sustained superior business and career performance.

The advanced management program provides a world-class, research-based, comprehensive, cutting-edge methodology for 5CBR delivery, which encompasses customers, competitors, stakeholders, business excellence and leadership effectiveness.
Our TopMgt℠ TOP TEAM MasterClass is precision-focused and specifically designed for busy top management teams who recognize the importance of 5CBR for future business success and the requisite competencies top management must have to deliver 5CBR.
Facilitator presentations, case studies, business analysis, and 5CBR© action planning highlight the masterclass.
ECQ CROSSWALK
All of our TopMgt℠ MasterClasses are specifically designed to crosswalk with the U.S. Office of Personnel Management (OPM) Executive Core Qualifications (ECQs), namely, ECQ 1: Leading Change, ECQ 2: Leading People, ECQ 3: Results Driven, ECQ 4: Business Acumen, and ECQ 5: Building Coalitions that especially align with competencies and requisite personal, team and organization capabilities related to creativity and innovation, external awareness, flexibility, resilience, strategic thinking, vision, conflict management, leveraging diversity, developing others, team building, accountability, customer service, decisiveness, entrepreneurship, problem solving, technical credibility, financial management, human capital management, technology management, partnering, political savvy, and influencing/negotiating.
TopMgt℠ MasterClasses are highly recommended for current and future federal government Senior Executive Service (SES) members and high-potential state, county and local government executives who want to expand their business strategy expertise.
WORLD-CLASS FACILITATORS

Trust-Experience-Integrity-Expertise
Each TopMgt℠ TOP TEAM MasterClass is led by two advanced strategy facilitators:
1. TopMgt Institute Certified Senior Corporate Strategy Facilitator-Coach-Consultant with:
Both COB and CEO business experience.
International business experience.
Commissioned officer service in the Armed Forces of the United States, Canada or other NATO member countries with both command and general staff experience.
Ph.D., D.B.A or at a minimum a Master's Degree in business, healthcare or public administration from a major international public or private university.
At least two years of Ph.D. level research/study in strategic management development.
2. TopMgt Institute Certified Senior Corporate Management Facilitator-Coach-Consultant with:
Both COB and CEO business experience.
Ten or more years of business ownership experience.
Ten or more years of profit-center strategic leadership experience including P&L authority and accountability.
Both entrepreneurial and intrapreneurial expertise.
REGISTRANTS TERMS & CONDITIONS
By registering for a TopMgt℠ MasterClass you acknowledge that you have read, understand and agree to be bound by the REGISTRANTS TERMS & CONDITIONS at the following link: TOPMGT LLC Terms & Conditions
---
HOW MAY WE HELP?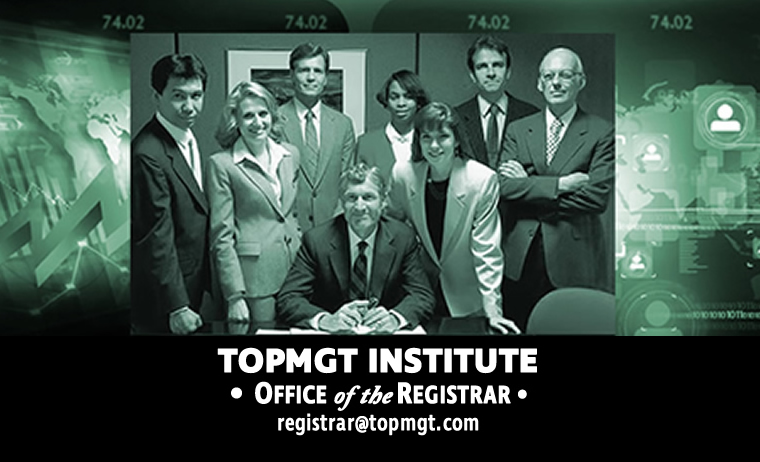 About | Contact | Clients | Privacy | Legal
TopMgt℠ | When MONEY Matters Most® | 5CBR℠ | Dantotsu℠ Proprietary Information.