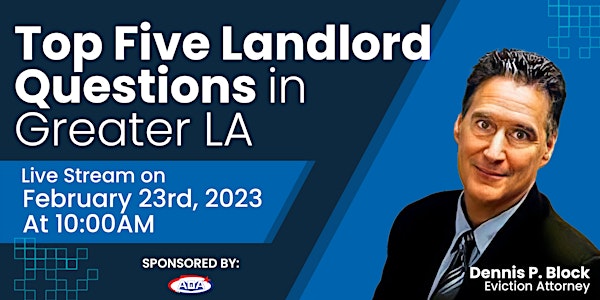 Top 5 Landlord Questions in Greater LA
Dennis Block | The Law Firm of Dennis Block and Associates
By Apartment Owners Association
Date and time
Thursday, February 23 · 10 - 11am PST
About this event
Top Five Landlord Questions in LA
Join this 20-minute AOA Livestream, where you will discover:
Answers to the five most commonly asked questions by AOA members
What you need to know RIGHT NOW
Update on the LA City and LA County moratoriums
Well-known eviction attorney and founder of the Law Firm of Dennis P. Block and Associates, Dennis Block will join us live to give us updates on the Southern California Eviction Moratoriums and COVID Rental Assistance. He is a monthly contributor to the AOA magazine's Legal Questions and Answers column and formerly co-hosted a Landlord/Tenant Radio Podcast Show. He is a frequent speaker at AOA events, which help housing providers avoid legal issues.
THE LAW FIRM OF DENNIS P. BLOCK AND ASSOCIATES is a law firm specializing in residential and commercial eviction of tenants. (Tenant Eviction California-Eviction Attorneys). This firm started in 1976 and is the leading eviction law firm in tenant eviction in California. To date, they have handled over 200,000 tenant evictions in California. Block and Associates are dedicated to serving the legal interests of California landlords and income property owners with clients ranging from the federal government, municipalities, banking institutions, management companies, to 'mom and pop' owners. The firm consists of 20 eviction lawyers, all specializing in landlord/tenant law. They are also experts in Unlawful Detainer Jury Trials, Commercial and Foreclosure Evictions
Contact Info:
The Law Firm of Dennis Block and Associates
800-77-EVICT(38428)
dennis@evict123.com
About the organizer
Founded in 1982 by Daniel C. Faller, AOA has become one of the largest apartment associations in the United States, thanks to you, our loyal members.
Don't forget to click on FOLLOW to get alerts of newly scheduled seminars!