About this Event
Please join Biarca with their special guests Michael Ames, Director of Technology Innovation at Colorado Center for Personalized Medicine and Patty Klauer, Author and Analytics Advisor as we walk you through the top ten considerations for building a cohesive cloud platform for health analytics.
The world of Medical IT Research and Health Analytics is a fast-changing, dynamic field with many considerations both in the healthcare and IT realms. Adopting modern IT approaches and innovation can help you harness change and use to your organization's advantage.
In this engaging discussion, our panel of thought leaders will share their personal stories and lessons learned on how cloud-forward solutions have impacted their organizations. We will cover some of the most common reasons that organizations move to the cloud, debunk some of the concerns that arise with transformation and share with you best practices for success.
Topics include:
Transformation (People, Processes, Technology)
Security + Compliance
Scalability
Infrastructure
Resource Availability
The Future of Cloud
Although the discussion will be focused on Health Analytics, this information is helpful for anyone who wants to learn more about the introduction of the cloud to their current infrastructure system.
Join us on April 4 at 12pm PT for a live webinar with the following industry experts: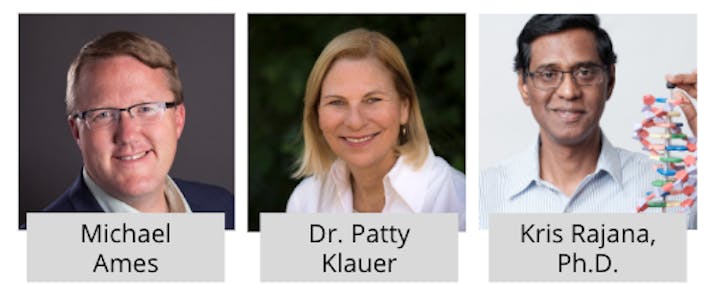 Michael Ames Director of Technology Innovation @ Colorado Center for Personalized Medicine
Michael has an extensive body of experience working on the technical side of health and personalized medicine. His current role allows him to focus on the rapidly-changing, highly beneficial world of personalized medicine.
Dr. Patty Klauer Technical Information Architecture Expert
Patricia advises visionary leaders regarding organizational and technical information architecture to achieve success in their business objectives. She is an expert in designing data warehouse architecture for large-scale enterprises and helps bridge the gap between new visionary technologies such as 'Big Data' and the enterprise.
Kris Rajana, Ph.D. President and Chief Technology Officer @ Biarca
Kris is the president and CTO of Biarca, a Cloud Forward global services company. As an Open Source and Cloud Native technology evangelist, Kris is responsible for engineering strategy and execution. Kris brings a DevOps-centric view to build solutions around infrastructure modernization, cloud native applications, analytics and reliability engineering to Biarca's global client base.