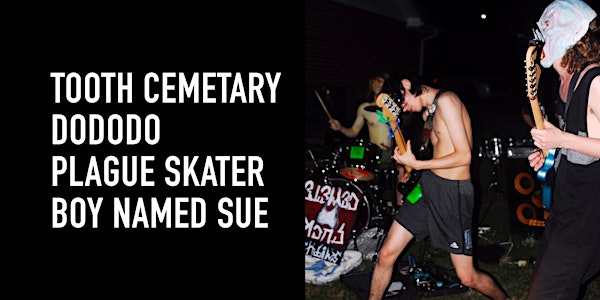 Tooth Cemetery, Plague Skater, Dododo, Boy Named Sue
The Pour House Music Hall & Record Shop
Location
The Pour House Music Hall & Record Shop
224 S Blount St
Raleigh, NC 27601
About this event
Tooth Cemetery: (Punk/Emo)
Tooth Cemetery is a decentralized internet punk band from several different parts of the country who play a goofy, yet earnest blend of garage rock, punk, and lo-fi emo.
Listen to Tooth Cemetery here.
dododo (Emo):
dododo are emo rock gods from Raleigh, NC. This three piece just don't quit!
Plague Skater (Punk/Emo):
Plague Skater is self described "scuzz pop" band from Toms River NJ, which plays a bright yet melancholic blend of emo, power pop and punk
Boy Named Sue (Alternative):