Description
כלים וטעמים
סדנת שישבת חורף
15/12 שישי 9:00 -13:00
16/12 שבת 12:00 – 18:00

לרקדנים, תלמידים למחול, מורים ואנשים עם רקע במחול.
רפרטואר Countertechnique
(עם ג'יימס וו אן פאהם (אוסטרליה/בלגיה
מחקר תנועתי Countertechnique
(עם אילית מרום (ישראל/הולנד
נרגשים לארח את הרקדן הבינלאומי ג'יימס וו אן פאהם שעובד כסולן עם מייסדת השיטה אנוק ואן דייק, סידי לארבי ועוד. יעביר לראשונה בישראל סדנאת רפרטואר מתוך עבודותיה של ואן דייק ללהקת המחול האוסטרלית Cuncky Move.
בסופש משותף יחד עם אילית מרום, רקדנית ויוצרת בינלאומית חיה בין חיפה ואמסטרדם, מורה מוסמכת לשיטת מ 2012, מלמדת באקדמיות למחול, מסלולים מקצועיים ומרכזי מחול ברחבי אירופה ובישראל. עובדת עם השיטה כנתיב גישה לגוף וכמרחב להתפתחות אישית, ביטחון עצמי וחופש.
בסדנה תחוו עבודה עם השיטה בשיעור מחול עכשווי, דרך אימפרוביזציה, רפרטואר ומחקר תנועתי אישי.
הרשמה מוקדמת עד 28/11 470 שח
הרשמה רגילה 570 שח
הרשמה מיוחדת לסטודנטים למחול והוראת מחול 370 שח
להרשמה: eilit@countertechnique.com
נא לשלוח קורות חיים
על השיטה//
שיטת תנועה שעוזרת לחשוב על הגוף הנע תוך עיסוק בתהליך העיבוד של מידע לפעולות. דרך שימוש מתמשך בכיוונים ובכיוונים מנוגדים בכל תנועה השיטה מאפשרת לרקדן לעבוד עם שיווי משקל דינמי בצורה שמשחררת לחץ ממפרקי הגוף ומקנה לו חופש תנועה.
על השיעור//
עם מבנה ברור ורצף תרגילים, השיעור מאפשר לרקדנים לנוע במקסימום גודל, יותר זרימה ויותר נפח תוך כדי חיזוק והגמשה של הגוף. השיטה מעודדת עבודה פרו-אקטיבית במציאת פתרונות והקשרים, להיות פחות שיפוטיים כלפי עצמנו ולעבוד בצורה בריאה ביחס לגוף ונפש.
רקע//
שיטת התנועה פותחה ע״י הכוריאוגרפית, הרקדנית והמורה ההולנדית אנוק ואן דייק, במשך20 השנים האחרונות ,הידע והניסיון שצברה – בדיאלוג עם הרקדנים שלה – הפך בהדרגה
למערכת מפורטת ,תאורטית ושיטת לימוד , שיחד יוצרים את הקאונטרטכניק.
ישנם 28 מורים מוסמכים ללמד את השיטה וממוצע של כ100 שיעורים וסדנאות כל חודש בכל רחבי העולם.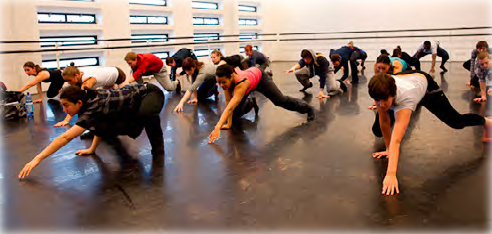 Tools & Tastes
Winter Weekend
15/12 Friday 9:00 – 13:00
16/12 Saturday 10:00 – 18:00

For dancers, dance students, teachers and people with dance background.
Countertechnique and Repertoire with James Vu Anh Pham
Countertechnique and Movement research with Eilit Marom
Excited to host, for the first time in Israel, dancer and teacher James Vu Anh Pham originally from from Melbourne Australia now based in Brussels. James will share his knowledge and experience working as a dancer with the internationally acclaimed choreographer and founder of the movement system Countertechnique - Anouk van Dijk.
Together with Israeli choreographer and teacher Eilit Marom we will dive into the knowledge and practices of Countertechnique starting with a daily class and continue exploring the system principles through improvisation, movement research and Repertoire in the afternoon.
Registration
470 nis - Early Birds till 28/11
570 nis - Workshop Fee
370 nis - Special offer for Dance and Dance Eduction Students!
eilit@countertechnique.com
Please send your cv.
About Countertechnique//
Countertechnique provides tools for body and mind to deal with the demanding dance practice of the 21st century. It is a movement system to help the dancer think about the dancing body, focusing on the process of incorporating information into action. By continuously and sequentially directing and counter directing parts of the body through space, Countertechnique allows the moving dancer to work with an ever changing dynamic balance. This dynamic balance reduces the pressure on the overall body structure and can be changed at any given moment. The consistent use of the counter direction in all movements is key to the technique; both the awareness and application of this principle is trained throughout the Countertechnique class.
www.countertechnique.com
About the class//
Within a clear structure of exercises the Countertechnique class thoroughly prepares the body for rehearsal and performance, enabling dancers to move bigger, more fluidly and more spatially, while becoming stronger and more flexible. Dancers are encouraged to be pro-active in discovering connections and solutions, to be less concerned with judging themselves and to work in a healthy way with regard to body and mind. Countertechnique makes daily training a valuable investment in the dancer's own development, as well as interesting personal research.
Background//
The system was created and developed by Dutch choreographer, dancer and teacher Anouk van Dijk, currently artistic director of Australian dance company Chunky Move. Over the last fifteen years, the knowledge and experience she gained – in constant dialogue with her dancers – was gradually transformed into a detailed theoretical system and a teaching method, which now together form the Countertechnique system.There are 28 certified Countertechnique teachers who deliver on average 100 classes and workshops per month worldwide.

James Pham//
Born and raised in Perth, Australia, James is now based in Melbourne. He has been studying Countertechnique intensively since 2012, whilst working as a dancer with Anouk van Dijk at Chunky Move. He attended the Countertechnique Teacher Training program in 2014 and has been teaching Countertechnique since then. James Pham trained in classical ballet at the Graduate College of Dance (Western Australia) and joined STEPS Youth Dance Company before continuing his dance studies in 2010 at the New Zealand School of Dance, majoring in Contemporary Dance. Between 2012-2016, James featured in seven Chunky Move works by Artistic Director Anouk van Dijk, and - next to his work with Anouk van Dijk - also worked with independent choreographers such as Alice Lee Holland, Stephanie Lake and Ross McCormack. He is currently based in Brussels, Belgium, where he works for choreographer Sidi Larbi Cherkaoui's companies Eastman and Ballet van Vlaanderen.
Eilit Marom//
Eilit Marom, Israeli choreographer and Countertechnique teacher based between in Haifa Israel and Amsterdam the Netherlands. She studied Countertechnique since 2007 and attended the Countertechnique Teacher Training program in 2012. She has been teaching since in Dance Academies, Professional training, companies and schools around Europe and in Israel. Eilit graduated in 2010 from Artez Dance Academy in Arnhem, the Netherlands. She danced amongst others with Simone Truong, Kalpana Raghuraman and Jerome Bel. As a choreographer she works within dance and visual art fields, her work has been developed and presented internationally, to name a few; in Haifa Theater, Kelim Center, Helmhuas Museum, Gessnerallee Zurich, Korzo Theater and Dansateliers.