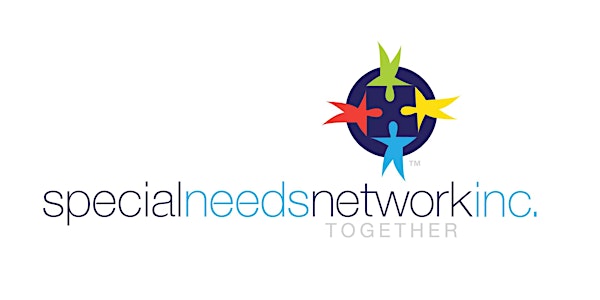 Tools for Transformation X
When and where
Location
California African American Museum 600 State Drive Los Angeles, CA 90037
Description
Tools for Transformation X Conference and Legislative Breakfast
Parent, Professional and Community 2-Day Conference
Protest | Participation | Progress
The largest conference of its kind in Los Angeles, Tools for Transformation, will bring together renowned experts in medicine, law, education, and advocacy for the purpose of providing families with cutting edge information and resources through a full day of classes and workshops. Presented by Special Needs Network, Inc., this comprehensive annual conference will focus on critical issues related to autism, developmental and learning disabilities, ADHD, mental health, education and advocacy, and is a must-attend event for parents, advocates, and health care professionals.
Activities will include workshops and seminars led by recognized experts, advanced advocates' summit, plenary session, networking luncheon, and an awards presentation for exemplary figures in the community including outstanding students who have beat the odds to achieve education and/or career success. A resource fair will provide families the opportunity to connect with health service providers, disability rights attorneys, and other special needs professionals.
* Free childcare is available on Saturday ONLY.

Follow us on Twitter | Like us on Facebook | Follow us on Instagram
---
Legislative Breakfast
Friday, April 08, 2016
The California African American Museum, Exposition Park
600 State Drive, Los Angeles, CA 90037
Registration and Continental Breakfast
7:30 to 8:30 am
Legislative Breakfast – Candidates' Forum
8:30am to 11:00am
Policy Town Hall
11:30am to 12:30pm
Legislative Breakfast is the inaugural event for the two-day conference. Meet California's most influential elected officials and participate in a lively examination of significant issues facing today's children and families and access to health care.
---
Advocates' Summit
Friday, April 08, 2016
12:30 to 4pm
The California African American Museum, Exposition Park
600 State Drive, Los Angeles, CA 90037
The Police and the Constitution: An Interactive Discussion on Public Safety, the Community and Individual Rights

Constitutional Policing Panel Discussion: Experts and Advocates explore: constitutional policing, where is LAPD post Ferguson, what are current policies the community should be aware of with respect to interfacing with police, and, what new laws have been enacted in California post Ferguson.

Guest Speakers
Hon. Curren D. Price, Jr.
Councilmember
District 9
Hon. Mike Feuer
City Attorney
Los Angeles
Moderator
Kimberly R. Willis. Esq.
Langston Bar Association
President
Invited Guest
// Deputy Chief Bill Scott // Hon. Songhai Miguda-Armstead // Dr. Melina Abdullah
Breakout Sessions / Workshops
A.
Building a Civil Rights Practice
Representing individuals and institutions in cases involving police misconduct, disability rights and various forms of discrimination.
B.
From Prop 47 to Homelessness
Effective programs addressing issues in underserved communities. Is south LA a resource desert; How to create, enlist and retain resources in our communities.
This event is free and open to the public. Register online at:
VIP Reception in honor of LAUSD Superintendent Michelle King will follow from 5pm to 7pm
---
Tools for Transformation Conference (Parents Day)
Saturday, April 09, 2016
Junior Blind of America
5300 Angeles Vista Blvd., Los Angeles, CA 90043
Opening Session
Autism and Communities of Color 10 years of Service: Where are We and Where Are We Going
8:30am to 10:00am


Opening Remarks
Hon. Mark Ridley-Thomas
Supervisor LA County
(2nd District)


Celebrity Guest
Tisha Cambell-Martin
Autism Advocate
Actress


Moderator
Areva D. Martin, Esq.
President and Founder
Special Needs Network, Inc.


Panelists
Daniel H. Geschwind, MD
Director
UCLA CART


B.J. Freeman, Ph.D
Professor Emerita
UCLA School of Medicine


Kristina Lopez, Ph.D
Professor
CSULB School of Social Work


Vana Thiero
Professional Advocate
Parent


Brian Capra, Esq.
Senior Staff Attorney
Public Counsel
Tools for Transformation Workshops
Series A 10am to 11:30am
Series B 11:30am to 1:00pm
Beyond Barriers Luncheon
1:00pm to 2:30pm
Resource Fair
8:30am to 2:30pm
The largest and most comprehensive free autism/ADHD/LD conference in Los Angeles, this conference presents workshops by the country's most renowned experts in intervention strategies, education, healthcare, and advocacy. Attendees are treated to giveaways, book signings, networking functions, and an awards luncheon which highlights the accomplishments of students with disabilities.
Spanish Interpreters Available / Interpretación al Español Disponibles
8 Workshops:
SERIES A
DIAGNOSIS & FAMILY PLANNING SERIES
A1 MY KID HAS AUTISM: DIAGNOSIS, EARLY INTERVENTION, TREATMENT AND SUPPORT FOR PARENTS
A2 I ARE WE ANY CLOSER TO FINDING A CURE FOR AUTISM? RECENT ADVANCES IN AUTISM SPECTRUM DISORDER, MENTAL HEALTH CONDITIONS, ADHD, ANXIETY DISORDERS AND OTHER RELATED CONDITIONS
A3 WHO MUST PAY FOR AUTISM THERAPIES? REGIONAL CENTERS, MEDI-CAL OR PRIVATE HEALTH INSURANCE: A PRIMER ON DEDUCTIBLES, CO-PAYS, PROVIDERS AND UNDERSTANDING THE NEW PAYMENT SOURCES FOR BEHAVIORAL HEALTH TREATMENT
A4 EVERYTHING YOU NEED TO KNOW TO PARENT AN ADULT WITH SPECIAL NEEDS: GUARDIANSHIP AND CONSERVATORSHIP
SERIES B
ADVOCACY AND EMPOWERMENT

B1 YOUR YOUNG ADULT WANTS TO GO TO COLLEGE AND TO LIVE INDEPENDENTLY: THE ADVOCACY SKILLS YOU NEED TO BE SUCCESSFUL
B2 IEPs, MEDIATION & DUE PROCESS: GETTING THE BEST AND MOST COMPREHENSIVE SCHOOL-BASED SERVICES FOR YOUR SPECIAL NEEDS CHILD
B3 JOBS, SELF-EMPLOYMENT, SHELTERED WORKSHOPS AND EVERYTHING YOU NEED TO KNOW TO HELP YOUR SPECIAL NEEDS TEEN/ADULT GET PAID $$$$
B4 HAS YOUR CHILD BEEN SUSPENDED, SENT HOME OR EXPELLED? LEARN IF THE SCHOOL FOLLOWED THE NEW CALIFORNIA SUSPENSION LAWS AND WHAT YOU CAN DO TO GET YOUR CHILD BACK IN SCHOOL
---
For information on conference or breakfast sponsorship, resource vendor or presenter please contact Special Needs Network at 323.291.7100 or info@specialneedsnetwork.org.
Have questions about 9th Annual Tools for Transformation? Contact Special Needs Network, Inc.