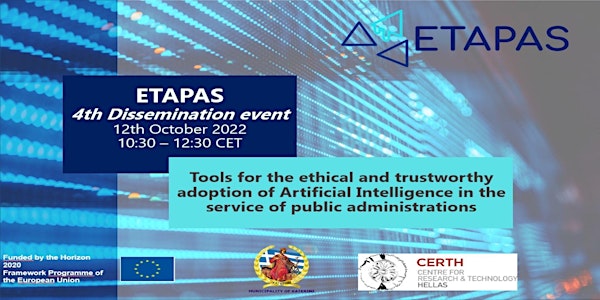 Tools for the ethical & trustworthy adoption of AI in Public Administration
This workshop organised by the ETAPAS project wants to discuss approaches and real cases enabling a Trustworthy AI adoption in Public Sector
About this event
This workshop, titled "Ethical Technology Adoption in Public Administration Services", will bring together European Public Authorities, members of academia and experts coming from both universities and the public sector to exchange their views on the practices that should follow the adoption of AI by public organisations.
Moreover, during the event we will show the first outputs generated by the ETAPAS Project to Greek Public Administration to display concrete results on how AI can be ethically embedded in their activities.
The main topics of discussion will include:
• the ETAPAS Project and key tools developed for the good governance of AI;
• the chatbot Kari adopted in more than 80 municipalities across Norway and Denmark
• the development of a misinformation detection platform in the Municipality of Katerini (Greece);
• popAI and TOKEN projects approaches and results;
• strategies for a governance framework for artificial intelligence in public administration.
Link to the event: https://meet.goto.com/259643293
Access Code: 259-643-293