TOOLKIT for Gender Lens Investing - New York

Thursday, September 28, 2017 from 10:00 AM to 4:00 PM (EDT)
Event Details
Are you ready to up your gender lens investing game? Are you interested in gender lens investing but don't know where to start? Are you wondering what other small changes you can make to greatly increase your capacity for social change?  Please join Criterion Institute on September 28 in New York for our newest offering, TOOLKIT for Gender Lens Investing!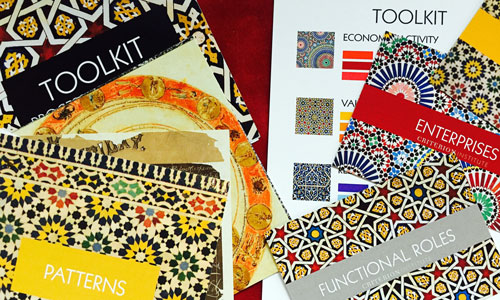 TOOLKIT starts the morning of September 28 at 10am with a running leap into finding new ways to look at and think about the social issues you are currently working on. On the surface TOOLKIT is merely a cool set of cards and a facilitated training workshop. Once you get into it you will see the years of development that went into creating elegant and well thought out frameworks and discover the power of the program to help you design for what change you seek through investing in the world.
"TOOLKIT allows us to shift the lens, and question deeply held assumptions about how we do fiduciary responsibility. It is a new narrative about what we can and can't do in finance." Ellen Friedman, Executive Director of Compton Foundation
The workshop will run until 4pm (lunch is provided), and will be led by gender lens investing pioneer, Joy Anderson, Founder and President of the Criterion Institute. This is a unique opportunity to not only immerse yourself in gender lens investing, but to do so with one of the people who helped build the field from the beginning. Using TOOLKIT, Joy will serves as your guide to the leading edge of what's possible at the intersection of gender and finance.
Whether you are a philanthropist looking to incorporate gender lens investing into your portfolio, an investor or an investment manager ready to include more gender analysis into your firm's financial analysis, an equal pay advocate seeking to learn how to use existing systems of finance to create a more just economy, or a social entrepreneur who wants to learn to ask better questions about gender, this TOOLKIT workshop will have an impact on your work, and the lives of those you are working to for.

You will come away from TOOLKIT with more than a cool set of cards and great stories, you will leave the workshop with new ideas of what's possible and implementable strategies for how you and your organization can more efficiently and effectively implement your gender lens investment program.
"I joined TOOLKIT with a few years of impact investing experience thinking I knew a thing or two about gender lens investing. The 6 hour workshop proved just how much I had to learn (most importantly that gender lens investing and impact investing are not the same thing!). While it felt like we went in depth into several topics, it never felt over my head. Topics were presented in a very clear manner, and framed in an easy-to-digest format. The group was large enough to ensure diversity among participants, but small enough for a very safe learning and discussion space. I can't wait to attend a future TOOLKIT workshop." Karia Young-Eagle, Women's Funding Network
We look forward to seeing you.
The Criterion Team
---
More About TOOLKIT:
Throughout the TOOLKIT workshop we will show you five frameworks to help you see where gender might matter in finance. To aid you, you will be given a box of cards and illustrative games that are used throughout the TOOLKIT process.  Each element of the framework will be highlighted by stories from the field and supported by a set of tools that can be applied to your particular context. The five elements of the framework include:
1. Shifting or expanding what enterprises get investments. What does it take to build a pipeline of women-led enterprises or an accelerator with a gender lens? How can we invest directly in the issues we care about to create gender equitable social change?
2. Introducing new data or eliminating bias in financial analysis. Where can data about gender patterns make investments smarter? What are the gender patterns in a geography or an industry that should inform analysis of risk?
3. Addressing power dynamics through shifting structures and the terms of investment.  How are structures themselves gendered? How can terms and even legal documents be used intentionally to shift power in relationships?
4. Changing what processes are trusted or who is seen as expert. What would happen if we had more women at the decision making tables?
5. Changing the goal of the portfolio and the benchmarks by which investments are measured. What if we wanted to bet big on the future of women in our world?  How would we benchmark that?
Please RSVP Now
Please note the ticket transfer and refund policy: Your payment of $299 guarantees your seat at the TOOLKIT workshop. If something changes after registration and you cannot attend your ticket will be reimbursed in the form of a credit good for a future TOOLKIT workshop of equal or lesser value. To transfer your registration to another attendee please inform the organizers at least 24 hours in advance.  
---
Criterion is a 15yr old nonprofit think tank that works with social change-makers to demystify finance and broaden their perspective on how to engage with, and shift financial systems.

Criterion does this through a methodology and set of practices that move leaders beyond understanding finance to believing in their own ability use financial systems to advance the social change we seek. Criterion is working towards a future where the power of our financial systems is widely used for social good.
When & Where

Mertz Gilmore Foundation
218 E 18th Street New York, NY 10003
New York, NY


Thursday, September 28, 2017 from 10:00 AM to 4:00 PM (EDT)
Add to my calendar
TOOLKIT for Gender Lens Investing - New York