Description
Event Times:
This is a one-session class taking place on one Monday evening 6-9pm. Choose your date from the drop-down menu (sessions run around once a month) 7/17, 8/14, 9/18, 10/16. 11/13, 12/4 for 2017.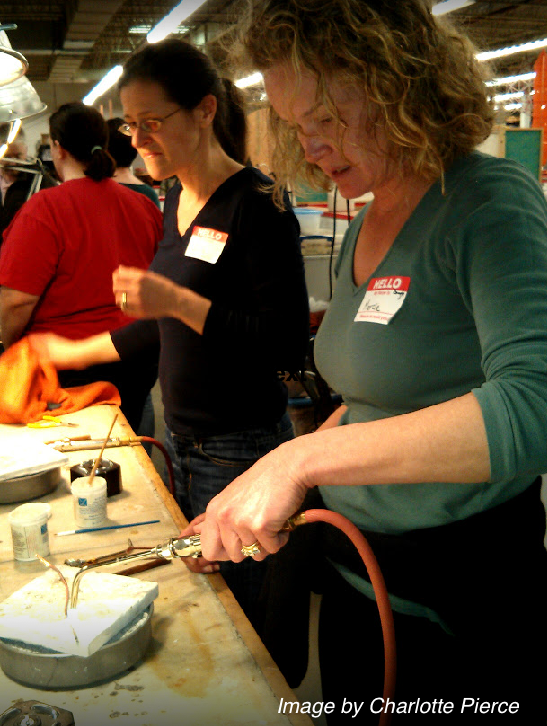 Description:
Tool Training is the fastest way to start working independently in the Artisan's Asylum Jewelry Shop and is ideal for those with any amount of prior jewelry experience, whether you're a seasoned metalsmith or an occasional hobbyist.

In one 3 hour session, students will get up to speed on our particular shop procedures and layout as well as safety and basic use of the air-acetylene torches, forming tools, flex shafts, and the polishing machine. For those who have more experience, other tools may be covered as time allows.

Individual Tool Testing will follow at least one week after training by making an appointment at the training session, and is necessary before a member is allowed to work independently in the shop.

This class does not cover fabrication skills such as soldering, sawing, etc. Those who are completely new to jewelry or metalsmithing are advised to take the multi-week Jewelry 101 class or a day-long Jewelry Shop Orientation. For other classes and trainings available in the jewelry studio at Artisan's Asylum, check out http://artisansasylum.com/site/current-classes/#jewelry.
Prerequisites:
Because this class does not cover fabrication skills, it is ideal for those with any amount of previous jewelry or metalsmithing experience, whether through a class, job, or self-teaching.
Students must be at least 18 years old.
Materials Provided:
All necessary materials will be provided, and are included in the cost of registration.
What to Bring:
Close-toed shoes, hair tie-backs, notebook.
Instructor Biography:
One of the jewelry shop's instructors will conduct this workshop, either Sage Kochavi or Ilana Krepchin:
Sage Kochavi is excited to share her passon for jewelry making with students at the Artisan's Asylum.
She received a Certificate of Metalsmithing from the Worcester Center for Crafts and has been making jewelry since the early-90's. With 10+ years of jewelry instruction experience, she has taught beginner and intermediate jewelry at the Boston Center for Adult Education and at Stonybrook Fine Arts in Jamaica Plain before joining the Artisan's Asylum in 2011. She especially enjoys helping beginning jewelry students discover the pleasure of working with metal. Her wholesale line of silver and resin jewelry sold in over 50 craft galleries across the country. Sage currently channels her creativity into large scale, collaborative sculpture. She still thinks nothing compares to the satisfaction of a well-executed solder joint.
Ilana Krepchin has a BA from Hampshire college in Photography and Anthropology, and extensive training in jewelry making from a number of venues including the Decordova Museum. Post-college she worked as the Associate Director of a small non-profit arts collaborative, running teen photography programs. During that period, she took a lot of jewelry making classes at the Cambridge Center for Adult Education and Metalwerx. When she left that job, she immersed herself in the world of jewelry production and craft shows. She worked for many years as a studio manager and production assistant for an established jeweler; and then went out on her own, joining Artisan's Asylum as a member. Check out her work at www.ilanakrepchin.com
---