Description
Event Schedule:
This is a one-session class running 3 hours on one Sunday: choose your date from the drop-down menu!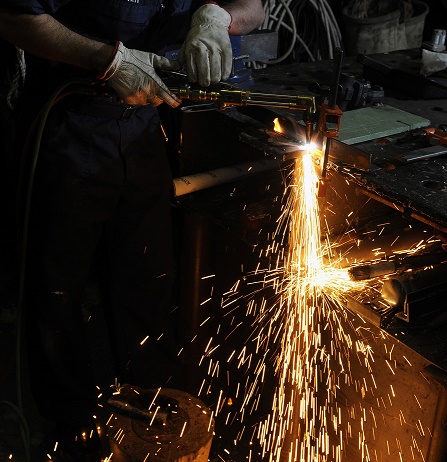 Class Description:
The oxy-acetylene (O/A) rig is the most versatile piece of equipment in the welding shop.
O/A can allow you to:
- Cut through steel of almost any thickness like a hot knife through butter!
- Weld when the power is out, in pouring rain, while you're standing in a puddle of water!
- Heat steel until it's soft enough to bend with just a pair of pliers
- Braze together a lightweight steel bike frame, or a cracked iron casting
This versatility helps explain why this 100+-year-old technology can be still be found in shops around the world. Arc welding processes have several important advantages, but O/A equipment is usually cheaper and always more versatile.
Class Goals:
This class will teach you how to set up, operate, and shut down an oxy-acetylene rig without harming yourself, other Asylumers, or the equipment. It will demonstrate welding, cutting, brazing, and heating.
It will NOT include in-depth process training.
Prerequisites:
Students must be at least 18 years of age.
Materials:
$20 in materials fees are included in the price of your ticket.
What to Bring:
Students should wear boots or closed-toed shoes as well as a heavy-duty long sleeved shirt, such as flannel or a heavy work shirt. Information for students interested acquiring any equipment of your own will be covered in class. If you wear glasses, bring the ones you use for computing or reading, as close-up vision is important.
Class Minimum: This class will not run with fewer than 4 students.
Instructor Biography:
Ethan is a welding engineer, welding educator, metal fabricator, and Certified Welding Inspector with more than a decade of experience in metalworking. He formerly worked at Miller Electric, the welding equipment manufacturer, and as an instructor of design and fabrication at Olin College in Needham, MA. He's studied metalworking since 2005 in a variety of contexts, including precision machining, structural welding, blacksmithing, bicycle framebuilding, and museum modelmaking. Since 2010, he has taught metalworking to over 400 college students, middle schoolers, and engineers. He has experience joining most metals by all major processes, including welding, brazing, and soldering, and has held national certifications in structural welding (AWS D1.1) and brazing (ASME Section IX).