About this Event
It's about to get down right freaky when our ring leader Carl Craig steps behind the decks. This Grammy-nominated composer is a living legend, and visionary in the dance music scene. Combining orchestral sounds, synths, and heavy driving techno beats, his style is iconic while remaining undefinable. Few can juggle so many different genres, while keeping a freak filled audience feeling frisky.
Before we let our freak flags fully fly, Dozal will be sending us on a truly dreamy journey with his deep house selections. He's a fierce representation of our endlessly talented group of our local DJs. We can't wait for all our freaky friends to join us for this fiery get down. So this call is going out to all the clowns and freaks out in those streets, but be warned that we will be waiting at the center of the ring with our whip.
Dress: what ever you freaky heart desires, but circus themed is encouraged!
•´´¯`••._.••´´¯`••._.••´´¯`••._.••´´¯`••._.••´´¯`••._.•
Disc-Jockeys
CARL CRAIG
DOZAL
•´´¯`••._.••´´¯`••._.••´´¯`••._.••´´¯`••._.••´´¯`••._.•
***Important Details***
This event is 18+ with ID. Doors open at 9PM.
•´´¯`••._.••´´¯`••._.••´´¯`••._.••´´¯`••._.••´´¯`••._.•
Booty banging beats
Surprise goodies
Vibes all night
Vendors
Live-painters
Help by the Vibe Vessel Community
•´´¯`••._.••´´¯`••._.••´´¯`••._.••´´¯`••._.••´´¯`••._.•
Stay Connected:
Vibe Vessel Facebook: https://www.facebook.com/vibevesselatx
Vibe Vessel Instagram: https://www.instagram.com/vibe_vessel/
#vibevessel
Vibe Vessel Sounds: https://soundcloud.com/vibevessel
Suggestions? Ideas? Want to get involved?
Email: Hello@vibe-vessel.com
***All ticket sales are final. No refunds will be issued***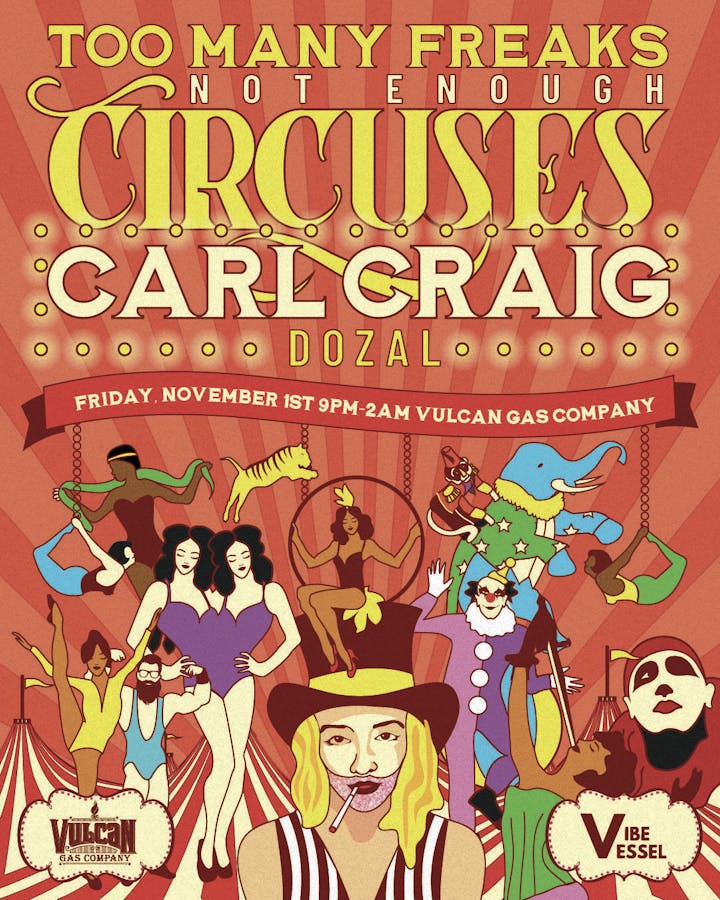 Performers
Date and Time
Location
Refund Policy