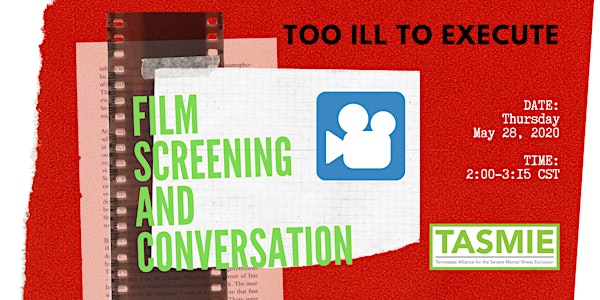 "Too Ill to Execute" Film Screening & Conversation
Description
Join TASMIE for an online movie screening and panel discussion on Thursday, May 28th, at 2:00 PM CST (3:00 EST) with Tennessee State Senator Richard Briggs and Vanderbilt psychiatrist Dr. Jeffrey Stovall, moderated by TASMIE Coordinator Sarah McGee. Zoom link and further details will be sent to all registrants at least one hour prior to event.

An overview of the film:
Too Ill to Execute is a compelling short film about the need to exclude people with severe mental illnesses from the death penalty. The film brings a deeper understanding about the issue of severe mental illness and why such cases are not appropriate for the harshest penalty, a sentence of death.
At the heart of the film are the stories of two families directly impacted by the issue. William Morva, a man with severe mental illness, was executed in Virginia in 2017 for the murder of Derrick McFarland, a hospital security guard, and Eric Sutphin, a sheriff's deputy. Through William Morva's high school friends, the viewer learns about the onset and progression of William's illness, his lack of treatment, and his inadequate legal representation at trial that did not thoroughly present his severe mental illness to the jury. Rachel Sutphin, the daughter of Eric Sutphin, is also featured in the film, sharing the pain of her loss while explaining her support of excluding those with a severe mental illness from the death penalty.