Too Attached: When Mom and Baby are Inseparable
Description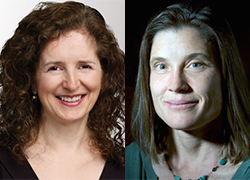 Too Attached: When Mom and Baby are Inseparable
The placenta exists only during pregnancy, interacts continuously with the mother and fetus, and is central to fetal development, growth, and maintenance of a healthy pregnancy. Yet when the placenta invades too deeply into the uterus and will not separate after delivery, otherwise known as placenta accreta, this transient organ can have deadly maternal consequences.
Dr. Deirdre Lyell will discuss placenta accreta—what it is, the risks involved, identification, and necessary approaches to patient care to maximize chances for a safe delivery—while Dr. Julie Baker will discuss her laboratory's work toward identifying an accreta signal in maternal serum, and underlying mechanisms for this disease. Both will discuss their collaboration.

SPEAKERS
Deirdre J. Lyell, MD - Dr. Lyell is a Professor of Obstetrics and Gynecology in the Division of Maternal Fetal Medicine at Stanford University School of Medicine.
Julie Baker, PhD – Dr. Baker is a Professor of Genetics at Stanford University School of Medicine.
---
The MCHRI Seminar Series highlight compelling clinical topics, innovative research, and the latest developments in maternal and child health. The series provides a unique platform for engaging in conversations and collaborating with other researchers across the community.
The seminars series is open to all, including faculty, staff, trainees, postdocs, and all members of the research community. Seats are limited, and reservation is required. Limited lunch will be provided on a first come, first served basis. Attendees are welcome to bring their lunch to the event.
Check out more MCHRI Seminar Series!
Questions about registration? Please contact Roxanna Van Norman.