Tickets purchased for the original 2020 show will remain valid for this rescheduled date.
About this event
Tony Trischka
Website | Facebook | Twitter | Instagram | Video
Early in 2019, the banjo virtuoso, songwriter and educator Tony Trischka celebrated his 70th birthday with a surprise party at the Public Theater, in Lower Manhattan, a reasonable jaunt from his home in New Jersey. Naturally for an artist NPR has referred to as "the great banjo liberationist," the well-wishers included musicians like Béla Fleck, the premier banjoist to emerge in the past four decades, and the comic genius Steve Martin, the banjo's unofficial celebrity ambassador, whom Trischka calls "a wonderful player."
At center of the fete—including, all told, "about 80 people I love," says Trischka—was an unassumingly brilliant, kindhearted fellow who just so happens to stand among the most influential figures in American roots music. Or, as the New York Times wrote in 2006, "[I]n fiddle- and fret-conscious circles from Nashville to Groton, Mass. … [Trischka] is known as the father of modern bluegrass."
In many ways, Trischka's collaborators join him to pay homage to an architect of progressive bluegrass—an invaluable pioneer who absorbed the slings and arrows of roots traditionalists and proved that acoustic music could accommodate imagination and individualism. (Trischka, in his self-effacing way, insists he was simply falling into a longer-running tradition: "Bill Monroe, when he invented bluegrass, took all these other elements and fused them together," he explains.)
One such apt pupil has been Béla Fleck, who began studying with Trischka as a teenaged bluegrass wunderkind struck by his teacher's wily, genre-bending original compositions. "He showed up and I knew, almost immediately, that this guy had it," Trischka recalls. "Very quickly, after a few months, I said, 'You don't need lessons anymore. We'll just kind of play and hang out.' It's been that way ever since, and we just have a great relationship." Musically their connection has been fruitful, to say the least, and on collaborative albums like 1981's Fiddle Tunes for Banjo, with Bill Keith, and 1992's Solo Banjo Works their rapport is at once fiery and reflective, competitive and full of compassion.
But Fleck is just one of countless students that Trischka has imparted his hard-earned wisdom to, through his private instruction, his books and DVDs and his groundbreaking work with the ArtistWorks online teaching platform. In addition to his Grammy nominations, he's earned a number of honors over the years, including the International Bluegrass Music Award for Banjo Player of the Year in 2007, and he was named a United States Artists Friends Fellow in 2012. This momentous coming year, between This Favored Land and other projects and concerts, will no doubt garner Trischka more well-deserved acclaim. "I'm 70 but I'm strong," he says, chuckling. "I'm not ready to retire yet."
"… the great banjo liberationist ..."
—Tom Ashbrook, NPR , "On Point"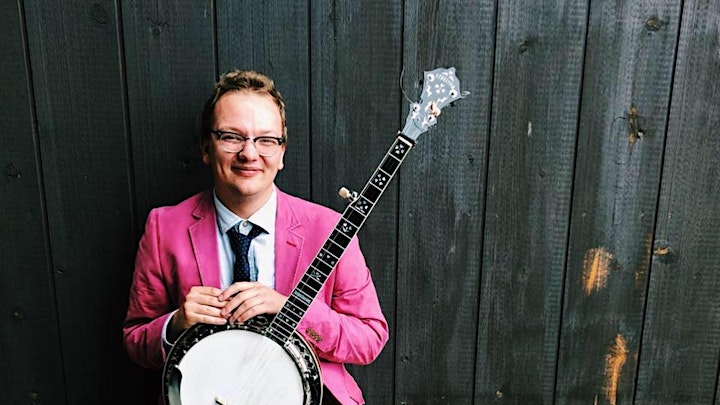 Sam Armstrong-Zickefoose
Sam Armstrong-Zickefoose was born in Colorado Springs, Colorado. His first musical experiences were playing and performing with his uncles 'bluegrass band. Sam went on to study with Jayme Stone and expand his musical style to include more than bluegrass. As a student of Santa Fe University of Art and Design, he was able to hone in on the banjo and its relationship with world music by working with the Balkan/ Middle-Eastern music ensemble as well as studying traditional Ugandan Music (which led to a performance on stage with the touring group The Spirit of Uganda).
These influences are still present in Sam's current music as he continues to work on songwriting and exploring both clawhammer and 3-finger banjo. He recently crowd-funded his first solo album which will be coming out this Summer. This album will combine a deep rooted love for old time with a desire to explore the role and sound of the banjo. Today you can see Sam performing with a number of bands all over the United States including Meadow Mountain, Masontown, Grace Clark Band and David Burchfield.
Performers
Date and time
Location
Refund policy