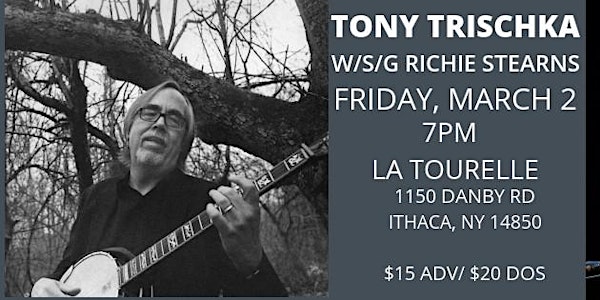 Tony Trischka Live w/s/g Richie Stearns at La Tourelle
When and where
Location
La Tourelle 1150 Danby Rd Ithaca, ny 14850
Description
*** Please note this is a seated event. Every ticket will have a seat, but seats will not be reserved ***
Kevin Black Presents Tony Trischka Live at LaTourelle for on Friday, March 2 @ 7 pm with special guest Richie Stearns. Tony has been nominated for 2 Grammys and won IBMA (International Bluegrass Music Association) award for Banjo Player of the Year and album of the year. Don't miss this special intimate performance at La Tourelle
(United States Artists Friends Fellow-2012) is considered to be the consummate banjo artist and perhaps the most influential banjo player in the roots music world. For more than 45 years, his stylings have inspired a whole generation of bluegrass and acoustic musicians with the many voices he has brought to the instrument.
A native of Syracuse, New York, Trischka's interest in banjo was sparked by the Kingston Trio's "Charlie and the MTA" in 1963. Two years later, he joined the Down City Ramblers, where he remained through 1971. That year, Trischka made his recording debut on 15 Bluegrass Instrumentals with the band Country Cooking; at the same time, he was also a member of America's premier sports-rock band Country Granola. In 1973, he began a three-year stint with Breakfast Special. Between 1974 and 1975, he recorded two solo albums, Bluegrass Light and Heartlands. After one more solo album in 1976, Banjoland, he went on to become the musical leader for the Broadway show The Robber Bridegroom. Trischka toured with the show in 1978, the year he also played with the Monroe Doctrine.
In 1978, he toured Japan and recorded with Peter Rowan and Richard Greene. In the early 1980s, he began recording with his new group Skyline, which released its first album in 1983. Subsequent albums included Robot Plane Flies over Arkansas (solo, 1983), Stranded in the Moonlight (with Skyline, 1984) and Hill Country (solo, 1985). In 1984, he performed in his first feature film, Foxfire with Hume Cronyn, Jessica Tandy, and John Denver. Three years later, he worked on the pre-recorded music for the off-Broadway production of Driving Miss Daisy that featured Jessica Tandy and Morgan Freeman. Trischka produced the Belgian group Gold Rush's No More Angels in 1988. The following year, Skyline recorded its final album, Fire of Grace. He also recorded the theme song for Books on the Air, a popular National Public Radio Show, and continued his affiliation with the network by appearing on Garrison Keillor's Prairie Home Companion, Mountain Stage, From Our Front Porch, and other radio shows. Trischka continued his recording career with 1993's World Turning, 1995's Glory Shone Around: A Christmas Collection and 1999's Bend. New Deal followed in 2003.
Double Banjo Bluegrass Spectacular, featuring appearances by Steve Martin, Earl Scruggs, Bela Fleck, Tony Rice and many other luminaries, came out four years later. For this recording, he went back to Bluegrass and reinvigorated the double banjo tradition. In October 2007, Tony was given an IBMA (International Bluegrass Music Association) award for Banjo Player of the Year 2007. Double Banjo Bluegrass Spectacular received IBMA awards for Recorded Event of the Year, Instrumental Album of the Year and a Grammy Nomination.
With his fearless musical curiosity as the guiding force, Tony Trischka's critically acclaimed release, Territory roams widely through the banjo's creative terrain. Nine selections partner Tony with fellow banjoists Pete Seeger, Mike Seeger, Bill Evans, Bill Keith and Bruce Molsky. Twelve all-Trischka solo tracks explore a panorama of tunings, banjo sounds, and traditions; tapping the creative potential of America's signature musical instrument.
Tony is not only considered amongst the most innovative of banjo players, he is one of its most respected and sought-after instructors creating fifteen instructional books as well as a series of DVDs. In 2009, he launched the groundbreaking Tony Trischka School of Banjo, an advanced, interactive, online instructional site that is the banjo home for students from around the world.
2011 saw "Give Me the Banjo" aired on PBS stations nationwide with Tony as the Musical Director and Co-Producer of the documentary. It was subsequently released on DVD. He produced Steve Martin's Grammy-nominated Rare Bird Alert (Rounder), which features performances by Paul McCartney, the Dixie Chicks, and the Steep Canyon Rangers.
In the summer of 2012, Tony continued to broaden the reach and influence of the banjo as performer and Band Leader for the Shakespeare in the Park, NYC performances of "As You Like It", placing the banjo in even newer ground.
In December of 2012, Tony was awarded the United States Artists Friends Fellow in recognition of the excellence of his work.
On Tony's latest album Great Big World (Rounder Records - released February 2014) his instrumental expertise and boundless imagination are as sharp as ever. One of the most ambitious and accomplished of his career, the album is a deeply compelling showcase for his expansive instrumental talents, far-ranging musical interests, and distinctive songwriting skills, as well as his sterling taste in collaborators. With contributions from his band Territory, Steve Martin, Michael Daves, Noam Pikelny, Ramblin' Jack Eliot and many other special guests the 13-track set finds Trischka embracing all manner of possibilities while keeping one foot firmly planted in the traditional bluegrass roots that first inspired him to make music.
Tony continues to maintain a national and international touring schedule with his band of extraordinary musicians.
RICHIE STEARNS first discovered the pleasures of the old time banjo when he was 14. He's traveled round the world, performing both traditional and his own original music, finding ways to collaborate with musicians from five continents (Africa/Asia/North America, Australia, Europe) as well as local musicians from diverse musical backgrounds (classical, jazz, country, R&B, and more). Over the past three decades, he's written original music for film scores and dance ensembles as well his own bands (The Horse Flies, Evil City String Band, Ti Ti Chickapea, Donna the Buffalo, and the Renegades, among them) and collaborated with artists from a variety of disciplines to present public performances on stages through the U.S., Canada, and Europe, as well as on radio and television.
A founding member of the neo traditional alternative rock band THE HORSE FLIES, he's toured extensively over the last three decades, recording eight albums with The Horse Flies, including releases on MCA and Rounder Records. (The Horse Flies have been featured on MTV, Prairie Home Companion, All Things Considered, World Café and Mountain Stage, and have been written about in Rolling Stone, the New York Times, Los Angeles Times, Boston Globe, and other major publications.)
The list of musicians Richie's recorded, toured, and performed with is long and diverse: among them, jazz guitarist BILL FRISELL, Malian bluesman VIEUX FARKA TOURE, North Indian Gypsy band MUSAFIR, Tibetan singer YUNGCHEN LLAMO, pop legend LINDA RONSTADT, country and bluegrass musicians (including PETER ROWAN, VASSAR CLEMENTS, TONY TRISCHKA, and JIM LAUDERDALE), Cajun groups (Michael Doucet & BEAUSOLEIL, REDSTICK RAMBLERS), Celtic bands (DE DANNAN, John Doyle of SOLAS) and Australia's KASEY CHAMBERS as well as SAMITE of Uganda and South African Afro-pop star JOHNNY CLEGG.
Three major long-term musical collaborations involve NATALIE MERCHANT (three recordings and multiple tours), BELA FLECK (workshop presentations and performances on concert stages throughout the US) and folk hero PETE SEEGER, who recently invited Richie to score original music for an album that will feature Pete telling his life story over a music background. (Over the past two decades, Richie's performed with or for Pete on numerous occasions.) Past performances and recordings also include work with a wide variety of other musicians, including DAVID BYRNE, BILLY BRAGG & WILCO, OLD CROW MEDICINE SHOW, JOAN BAEZ, and the Tuvan throat-singers, the ALASH ENSEMBLE.
In addition to his ongoing tenure with THE HORSE FLIES, Richie's best known for his current work with his own EVIL CITY STRING BAND(repertoire based in the world of old time and country music, with some originals) and theimprovisational trio TI TI CHICKAPEA, which includes critically acclaimed cellist HANK ROBERTS and respected violinist ERIC ACETO. (Their music, while rooted in tradition, involves a wide range of improvisation and musical experimentation.) He's a founding member of the roots rock outfit, DONNA THE BUFFALO.
He's also president and co-creator of the annual GRASSROOTS FESTIVAL OF MUSIC AND DANCE, a major American roots music festival that not only brings together internationally respected musicians from many different cultures for four days every July, but also, by allowing the space for these talents to come together and play music, has over the last 25 years succeeded in naturally fermenting its own unique musical culture. The festival draws thousands of attendees every year; the alumni list is literally a "who's who" of world roots music and Americana, and the success of the Finger Lakes festival has spawned a similar sister festival held annually in North Carolina.
As a workshop presenter and teacher, his credits include the Vancouver and Winnipeg Folk Festivals in Canada as well as the Telluride (Colorado) Bluegrass Festival, the Philadelphia Folk Festival, Florida's Suwanee and Magnolia Fest, West Virginia's Augusta Heritage Center, New York's Ashokan Fiddle and Dance Camp, Alaska's Folklife Festival, Meadowlark Music Camp in Maine, and other festivals in Sweden, Denmark and Germany.
Artistic collaboration has included creating works for the SECOND HAND DANCE COMPANY (including an off-Broadway show), the RHYTHM & SHOES Dance Ensemble and the GREENGRASS CLOGGERS as well as concert presentations at the Corning Glass series, 2300 Degrees, which melds live music with glass-blowing artistry. Richie has played a leading role in composing music for two feature film scores: Where the Rivers Flow North(Producers Guild of America Nova Award) and A Stranger in the Kingdom . Among his most recent collaborations are live performance art presentations (including Park Doing's Ode to Analogue Television and Natasha Pickowicz's PopCorn Youth noise concerts.)
When he's not touring, Richie's taught banjo students in Ithaca and, over the past 30 years has regularly offered a weekly music session (held at a variety of venues over the years) that's most often simply billed as "Richie Stearns and friends." Joining Richie are a cast of local luminaries as well as far-flung musical friends passing through.
"What I've learned from my students," says Richie, "is that everyone has a different way of learning. When I teach, what I try to do is show people how to listen. It's all about sharpening listening skills, being aware of what's going on around you, and using what's going on in the moment to inspire you to improvise."