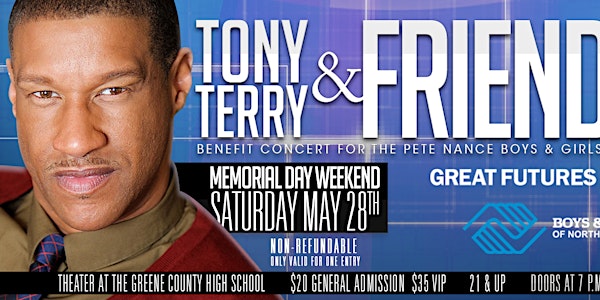 Tony Terry & Friends LIVE in Concert
When and where
Location
Greene County High School Theater 1002 S Main St Greensboro, GA 30642
Description
Come Join Us as we host a benefit concert in support of the Pete Nance Boys & Girls Club. Tony Terry & Friends will be an awesome event in an effort to raise money, awareness, and to have a grand time with incredible live music performances.
Singer/Songwriter Tony Terry
Tony Terry is an R&B/new jack swing singer from Washington, DC. Throughout the beginning of his career, Terry landed backup singing jobs for the R&B/pop group Sweet Sensation and hip-hop group The Boogie Boys. In 1987, he signed a record deal with Epic/CBS Records. Terry's first single, "She's Fly", was released the same year, and peaked at number 10 on Billboard's R&B Singles chart.
His style transcends age groups and his multi-selling hits, "She's Fly," "Lovey, Dovey," "Forever Yours," "Everlasting Love," "Head Over Heels," "When A Man Cries" and the now classic – "With You" to name a few, continue to sell, and have become timeless classics. In recent years he has performed live with Jodeci, Boyz II Men, Gladys Knight, Celine Dion, Stevie Wonder and is currently touring with Roberta Flack. Tony has released four albums (Forever Yours, Tony Terry, The Heart of a Man, and My Best.)
Our Line Up:
Recording Artist Jarvis Wingfield
Xavier Lewis Anidote to R & B
Comedian Chris Bolden
Singer/Songwriter Renee Snead