Tony Terry Birthday Bash & Listening Party

Saturday, March 9, 2013 at 8:00 PM

-

Sunday, March 10, 2013 at 2:00 AM (EST)
Who's Going

Loading your connections...
3 of your friends are going.
Share it to get more people on board!
Share

Sara Haughty
San Francisco, California

Luke Picard
London, United Kingdom

Rick Vespucio
Florence, Italy
Event Details
VIP Ticket Includes:
* Up Close and Personal w/Tony Terry
* Autographed Photo
* Copy of latest Single Release "ALL I NEED"
* 1 Complimentary Drink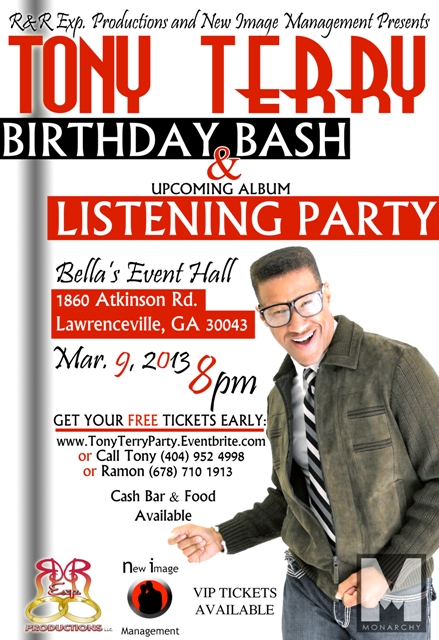 EVERYONE MUST HAVE EVENTBRITE TICKET TO ENTER!
// <![CDATA[
<%= overlayId %>" class="_mp3rocket_overlay_style" style="left: <%= overlayLeft %>; top: <%= overlayTop %>; width: <%= overlayWidth %>; height: <%= overlayHeight %>">
// ]]> // <![CDATA[
<%= overlayId %>" class="_mp3rocket_overlay_style" style="left: <%= overlayLeft %>; top: <%= overlayTop %>; width: <%= overlayWidth %>; height: <%= overlayHeight %>">
// ]]> // <![CDATA[
<%= overlayId %>" class="_mp3rocket_overlay_style" style="left: <%= overlayLeft %>; top: <%= overlayTop %>; width: <%= overlayWidth %>; height: <%= overlayHeight %>">
// ]]> // <![CDATA[
<%= overlayId %>" class="_mp3rocket_overlay_style" style="left: <%= overlayLeft %>; top: <%= overlayTop %>; width: <%= overlayWidth %>; height: <%= overlayHeight %>">
// ]]> // <![CDATA[
<%= overlayId %>" class="_mp3rocket_overlay_style" style="left: <%= overlayLeft %>; top: <%= overlayTop %>; width: <%= overlayWidth %>; height: <%= overlayHeight %>">
// ]]> // <![CDATA[
<%= overlayId %>" class="_mp3rocket_overlay_style" style="left: <%= overlayLeft %>; top: <%= overlayTop %>; width: <%= overlayWidth %>; height: <%= overlayHeight %>">
// ]]> // <![CDATA[
<%= overlayId %>" class="_mp3rocket_overlay_style" style="left: <%= overlayLeft %>; top: <%= overlayTop %>; width: <%= overlayWidth %>; height: <%= overlayHeight %>">
// ]]> // <![CDATA[
<%= overlayId %>" class="_mp3rocket_overlay_style" style="left: <%= overlayLeft %>; top: <%= overlayTop %>; width: <%= overlayWidth %>; height: <%= overlayHeight %>">
// ]]> // <![CDATA[
<%= overlayId %>" class="_mp3rocket_overlay_style" style="left: <%= overlayLeft %>; top: <%= overlayTop %>; width: <%= overlayWidth %>; height: <%= overlayHeight %>">
// ]]> // <![CDATA[
<%= overlayId %>" class="_mp3rocket_overlay_style" style="left: <%= overlayLeft %>; top: <%= overlayTop %>; width: <%= overlayWidth %>; height: <%= overlayHeight %>">
// ]]> // <![CDATA[
<%= overlayId %>" class="_mp3rocket_overlay_style" style="left: <%= overlayLeft %>; top: <%= overlayTop %>; width: <%= overlayWidth %>; height: <%= overlayHeight %>">
// ]]> // <![CDATA[
<%= overlayId %>" class="_mp3rocket_overlay_style" style="left: <%= overlayLeft %>; top: <%= overlayTop %>; width: <%= overlayWidth %>; height: <%= overlayHeight %>">
// ]]> // <![CDATA[
<%= overlayId %>" class="_mp3rocket_overlay_style" style="left: <%= overlayLeft %>; top: <%= overlayTop %>; width: <%= overlayWidth %>; height: <%= overlayHeight %>">
// ]]> // <![CDATA[
<%= overlayId %>" class="_mp3rocket_overlay_style" style="left: <%= overlayLeft %>; top: <%= overlayTop %>; width: <%= overlayWidth %>; height: <%= overlayHeight %>">
// ]]> // <![CDATA[
<%= overlayId %>" class="_mp3rocket_overlay_style" style="left: <%= overlayLeft %>; top: <%= overlayTop %>; width: <%= overlayWidth %>; height: <%= overlayHeight %>">
// ]]> // <![CDATA[
<%= overlayId %>" class="_mp3rocket_overlay_style" style="left: <%= overlayLeft %>; top: <%= overlayTop %>; width: <%= overlayWidth %>; height: <%= overlayHeight %>">
// ]]> // <![CDATA[
<%= overlayId %>" class="_mp3rocket_overlay_style" style="left: <%= overlayLeft %>; top: <%= overlayTop %>; width: <%= overlayWidth %>; height: <%= overlayHeight %>">
// ]]> // <![CDATA[
<%= overlayId %>" class="_mp3rocket_overlay_style" style="left: <%= overlayLeft %>; top: <%= overlayTop %>; width: <%= overlayWidth %>; height: <%= overlayHeight %>">
// ]]> // <![CDATA[
<%= overlayId %>" class="_mp3rocket_overlay_style" style="left: <%= overlayLeft %>; top: <%= overlayTop %>; width: <%= overlayWidth %>; height: <%= overlayHeight %>">
// ]]> // <![CDATA[
<%= overlayId %>" class="_mp3rocket_overlay_style" style="left: <%= overlayLeft %>; top: <%= overlayTop %>; width: <%= overlayWidth %>; height: <%= overlayHeight %>">
// ]]>
When & Where
1860 Atkinson Road
Lawrenceville, GA 30043


Saturday, March 9, 2013 at 8:00 PM

-

Sunday, March 10, 2013 at 2:00 AM (EST)
Add to my calendar
Organizer
R&R EXP. PRODUCTIONS & NEW IMAGE MANAGEMENT
For additional questions contact Tony Sanders @ 404-952-4998 or Ramon Berghout @ 678-710-1913
// // <![CDATA[
<%= overlayId %>"><%= overlayId %>" class="_mp3rocket_overlay_style" style="left: <%= overlayLeft %>; top: <%= overlayTop %>; width: <%= overlayWidth %>; height: <%= overlayHeight %>">
// ]]> // <![CDATA[
<%= overlayId %>"><%= overlayId %>" class="_mp3rocket_overlay_style" style="left: <%= overlayLeft %>; top: <%= overlayTop %>; width: <%= overlayWidth %>; height: <%= overlayHeight %>">
// ]]> // <![CDATA[
<%= overlayId %>"><%= overlayId %>" class="_mp3rocket_overlay_style" style="left: <%= overlayLeft %>; top: <%= overlayTop %>; width: <%= overlayWidth %>; height: <%= overlayHeight %>">
// ]]> // <![CDATA[
<%= overlayId %>"><%= overlayId %>" class="_mp3rocket_overlay_style" style="left: <%= overlayLeft %>; top: <%= overlayTop %>; width: <%= overlayWidth %>; height: <%= overlayHeight %>">
// ]]> // <![CDATA[
<%= overlayId %>"><%= overlayId %>" class="_mp3rocket_overlay_style" style="left: <%= overlayLeft %>; top: <%= overlayTop %>; width: <%= overlayWidth %>; height: <%= overlayHeight %>">
// ]]> // <![CDATA[
<%= overlayId %>"><%= overlayId %>" class="_mp3rocket_overlay_style" style="left: <%= overlayLeft %>; top: <%= overlayTop %>; width: <%= overlayWidth %>; height: <%= overlayHeight %>">
// ]]> // <![CDATA[
<%= overlayId %>"><%= overlayId %>" class="_mp3rocket_overlay_style" style="left: <%= overlayLeft %>; top: <%= overlayTop %>; width: <%= overlayWidth %>; height: <%= overlayHeight %>">
// ]]> // <![CDATA[
<%= overlayId %>"><%= overlayId %>" class="_mp3rocket_overlay_style" style="left: <%= overlayLeft %>; top: <%= overlayTop %>; width: <%= overlayWidth %>; height: <%= overlayHeight %>">
// ]]> // <![CDATA[
<%= overlayId %>"><%= overlayId %>" class="_mp3rocket_overlay_style" style="left: <%= overlayLeft %>; top: <%= overlayTop %>; width: <%= overlayWidth %>; height: <%= overlayHeight %>">
// ]]> // <![CDATA[
<%= overlayId %>"><%= overlayId %>" class="_mp3rocket_overlay_style" style="left: <%= overlayLeft %>; top: <%= overlayTop %>; width: <%= overlayWidth %>; height: <%= overlayHeight %>">
// ]]> // <![CDATA[
<%= overlayId %>"><%= overlayId %>" class="_mp3rocket_overlay_style" style="left: <%= overlayLeft %>; top: <%= overlayTop %>; width: <%= overlayWidth %>; height: <%= overlayHeight %>">
// ]]> // <![CDATA[
<%= overlayId %>"><%= overlayId %>" class="_mp3rocket_overlay_style" style="left: <%= overlayLeft %>; top: <%= overlayTop %>; width: <%= overlayWidth %>; height: <%= overlayHeight %>">
// ]]> // <![CDATA[
<%= overlayId %>"><%= overlayId %>" class="_mp3rocket_overlay_style" style="left: <%= overlayLeft %>; top: <%= overlayTop %>; width: <%= overlayWidth %>; height: <%= overlayHeight %>">
// ]]> // <![CDATA[
<%= overlayId %>"><%= overlayId %>" class="_mp3rocket_overlay_style" style="left: <%= overlayLeft %>; top: <%= overlayTop %>; width: <%= overlayWidth %>; height: <%= overlayHeight %>">
// ]]> // <![CDATA[
<%= overlayId %>"><%= overlayId %>" class="_mp3rocket_overlay_style" style="left: <%= overlayLeft %>; top: <%= overlayTop %>; width: <%= overlayWidth %>; height: <%= overlayHeight %>">
// ]]> // <![CDATA[
<%= overlayId %>"><%= overlayId %>" class="_mp3rocket_overlay_style" style="left: <%= overlayLeft %>; top: <%= overlayTop %>; width: <%= overlayWidth %>; height: <%= overlayHeight %>">
// ]]> // <![CDATA[
<%= overlayId %>"><%= overlayId %>" class="_mp3rocket_overlay_style" style="left: <%= overlayLeft %>; top: <%= overlayTop %>; width: <%= overlayWidth %>; height: <%= overlayHeight %>">
// ]]> // <![CDATA[
<%= overlayId %>"><%= overlayId %>" class="_mp3rocket_overlay_style" style="left: <%= overlayLeft %>; top: <%= overlayTop %>; width: <%= overlayWidth %>; height: <%= overlayHeight %>">
// ]]> // <![CDATA[
<%= overlayId %>"><%= overlayId %>" class="_mp3rocket_overlay_style" style="left: <%= overlayLeft %>; top: <%= overlayTop %>; width: <%= overlayWidth %>; height: <%= overlayHeight %>">
// ]]> // <![CDATA[
<%= overlayId %>"><%= overlayId %>" class="_mp3rocket_overlay_style" style="left: <%= overlayLeft %>; top: <%= overlayTop %>; width: <%= overlayWidth %>; height: <%= overlayHeight %>">
// ]]> // <![CDATA[
<%= overlayId %>"><%= overlayId %>" class="_mp3rocket_overlay_style" style="left: <%= overlayLeft %>; top: <%= overlayTop %>; width: <%= overlayWidth %>; height: <%= overlayHeight %>">
// ]]> // <![CDATA[
<%= overlayId %>"><%= overlayId %>" class="_mp3rocket_overlay_style" style="left: <%= overlayLeft %>; top: <%= overlayTop %>; width: <%= overlayWidth %>; height: <%= overlayHeight %>">
// ]]> // <![CDATA[
<%= overlayId %>"><%= overlayId %>" class="_mp3rocket_overlay_style" style="left: <%= overlayLeft %>; top: <%= overlayTop %>; width: <%= overlayWidth %>; height: <%= overlayHeight %>">
// ]]> // <![CDATA[
<%= overlayId %>"><%= overlayId %>" class="_mp3rocket_overlay_style" style="left: <%= overlayLeft %>; top: <%= overlayTop %>; width: <%= overlayWidth %>; height: <%= overlayHeight %>">
// ]]> // <![CDATA[
<%= overlayId %>"><%= overlayId %>" class="_mp3rocket_overlay_style" style="left: <%= overlayLeft %>; top: <%= overlayTop %>; width: <%= overlayWidth %>; height: <%= overlayHeight %>">
// ]]> // <![CDATA[
<%= overlayId %>"><%= overlayId %>" class="_mp3rocket_overlay_style" style="left: <%= overlayLeft %>; top: <%= overlayTop %>; width: <%= overlayWidth %>; height: <%= overlayHeight %>">
// ]]> // <![CDATA[
<%= overlayId %>"><%= overlayId %>" class="_mp3rocket_overlay_style" style="left: <%= overlayLeft %>; top: <%= overlayTop %>; width: <%= overlayWidth %>; height: <%= overlayHeight %>">
// ]]> // <![CDATA[
<%= overlayId %>"><%= overlayId %>" class="_mp3rocket_overlay_style" style="left: <%= overlayLeft %>; top: <%= overlayTop %>; width: <%= overlayWidth %>; height: <%= overlayHeight %>">
// ]]> // <![CDATA[
<%= overlayId %>"><%= overlayId %>" class="_mp3rocket_overlay_style" style="left: <%= overlayLeft %>; top: <%= overlayTop %>; width: <%= overlayWidth %>; height: <%= overlayHeight %>">
// ]]> // <![CDATA[
<%= overlayId %>"><%= overlayId %>" class="_mp3rocket_overlay_style" style="left: <%= overlayLeft %>; top: <%= overlayTop %>; width: <%= overlayWidth %>; height: <%= overlayHeight %>">
// ]]> // <![CDATA[
<%= overlayId %>"><%= overlayId %>" class="_mp3rocket_overlay_style" style="left: <%= overlayLeft %>; top: <%= overlayTop %>; width: <%= overlayWidth %>; height: <%= overlayHeight %>">
// ]]> // <![CDATA[
<%= overlayId %>"><%= overlayId %>" class="_mp3rocket_overlay_style" style="left: <%= overlayLeft %>; top: <%= overlayTop %>; width: <%= overlayWidth %>; height: <%= overlayHeight %>">
// ]]> // <![CDATA[
<%= overlayId %>"><%= overlayId %>" class="_mp3rocket_overlay_style" style="left: <%= overlayLeft %>; top: <%= overlayTop %>; width: <%= overlayWidth %>; height: <%= overlayHeight %>">
// ]]> // <![CDATA[
<%= overlayId %>"><%= overlayId %>" class="_mp3rocket_overlay_style" style="left: <%= overlayLeft %>; top: <%= overlayTop %>; width: <%= overlayWidth %>; height: <%= overlayHeight %>">
// ]]> // <![CDATA[
<%= overlayId %>"><%= overlayId %>" class="_mp3rocket_overlay_style" style="left: <%= overlayLeft %>; top: <%= overlayTop %>; width: <%= overlayWidth %>; height: <%= overlayHeight %>">
// ]]>
Tony Terry Birthday Bash & Listening Party