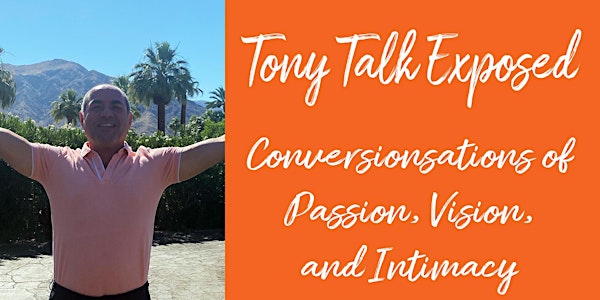 Tony Talk Exposed | Conversations of Passion, Vision, and Intimacy
Tony Talk Exposed | Conversations of Passion, Vision, and Intimacy
About this event
Hi, I am Tony,
I was born in the Chicago suburbs to an Italian father and a polish mother, and am the oldest son of 3 kids.
I have been living in Palm Springs California since 2005.
My passion for my restaurant, TRIO; farm to door local prduce service started during the pandemic, CV Harvest Box; and catering company, Liquid Catering; extends to every part of my life.
I have always been a visionary, and I am excited to get to be part of your vision.
When we get to slow down and focus in Tony Talk, we will have fun and interactive experience together. We will learn and grow with each other, and leave with a vision and a new look at intimacy, and a passion for what is next.
See you on July 17th
Hugs,
Tony