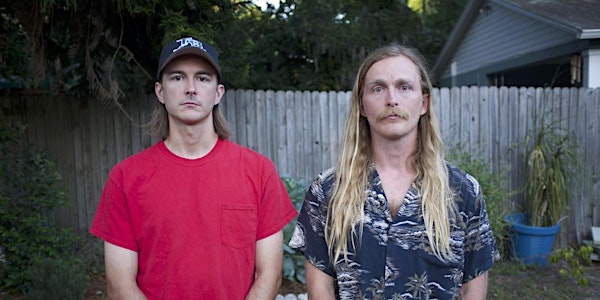 Tonstartssbandht / Mason Lindahl / Sasha & The Valentines
Psych/lo-fi legends Tonstartssbandht, CA guitarist Mason Lindahl, and Austin indie poppers Sasha & the Valentines hit up the Happy Dog!
When and where
Location
The Happy Dog 5801 Detroit Ave Cleveland, OH 44102
Performers
Headliners
More Performers
Mason Lindahl
Sasha & the Valentines
About this event
TONSTARTSSBANDHT
Andy and Edwin Mathis White are the duo known as Tonstartssbandht. They began in August of 2007 in their hometown of Orlando, Florida. Soon after, Andy and Edwin moved to their new respective homes in Montreal and New York City. In these two cities Tonstartssbandht continued under the restraint of solo writing, recording, and e-mailed collaboration. This method of songwriting and exchange was carried through on their three self-released 2009 albums, An When, Dick Nights, and Maihama. After bringing the split psyche sets on the road, the focus eventually shifted toward a streamlined live instrumentation involving their voices and analog ware. As Tonstartssbandht continued touring, the recording never stopped. Full set live cassettes followed with Nantes, Hanoi, and Christchurch. After moving back to Orlando in early 2016, their home studio album Sorcerer was finally completed and released via Mexican Summer the following year. The duo spent the pandemic writing new material after a touring hiatus and are issuing a new LP in the fall of 2021 alongside a full North American Tour.
MASON LINDAHL
Self identifying with a feeling of void, the chaos of a never ending stream of thought. Mason finds peace in nuance and finds more in less. The songs heron make the product of one's struggle to find piece of mind. Sex under stars and twisting trees in the eye of a hurricane. Crushing rain, clashing winds and new skin. Calm in Calamity became the inspiration for his latest record Kissing Rosy in the Rain. Closer to Tchaikovsky Than fahey. soft , yet more violent than any repetition. Loud ,high intensity arpeggios and long obvious pause lay ground for a climactic and visceral experience into an ever emptying head.
SASHA & THE VALENTINES
Faithful to their name, Austin-based five piece Sasha and the Valentines have written a record about love.
On their debut LP, So You Think You Found Love? (out via Oof Records), the promising young band has written the soundtrack to your next romance, capable of giving you the curly-phone-cord, calling-your-crush-for-the-first-time kind of butterflies. It follows the release of their 2019 EP, Green, and October-released single "Tears for Mars"—a song that reflects on the parallels between a toxic relationship and that of ours with the Earth. So You Think You Found Love? is a record that is as spectacularly iridescent as an oil spill on asphalt, while being equally as grounded, real, and brutally of consequence.