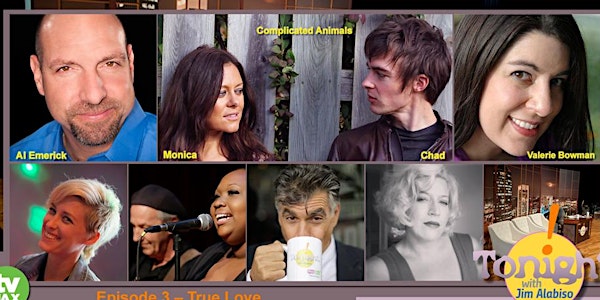 Tonight! with Jim Alabiso - True Love (Episode 3)
Location
WJCT
100 Festival Park Avenue
Jacksonville, FL 32202
Description
Jacksonville's First Late Night "Talk" Show
Tonight! with Jim Alabiso presents...

True Love
Episode 3 with cohost Christina Boykin
Bring a date, be a part of the studio audience as we go live to tape in Studio A at WJCT
Limited seating. Free Love. Eats and libations by Conscious Eats.
5:30 - Doors Open
5:45 - Lobby Love (dancing, art, book signing and surprises)
6:10 - Seating begins
6:25 - The affair begins
8:45 - It's a wrap

Can't make it for the entire taping?
Feel free to be seated in between segments up until 8pm.
Learn how to be a part of the show at the Tonight! blog here: http://www.tonightwithjim.tv
Guests include:
Valerie Bowman, Al Emerick, Monica da Silva and Chris Alger aka Complicated Animals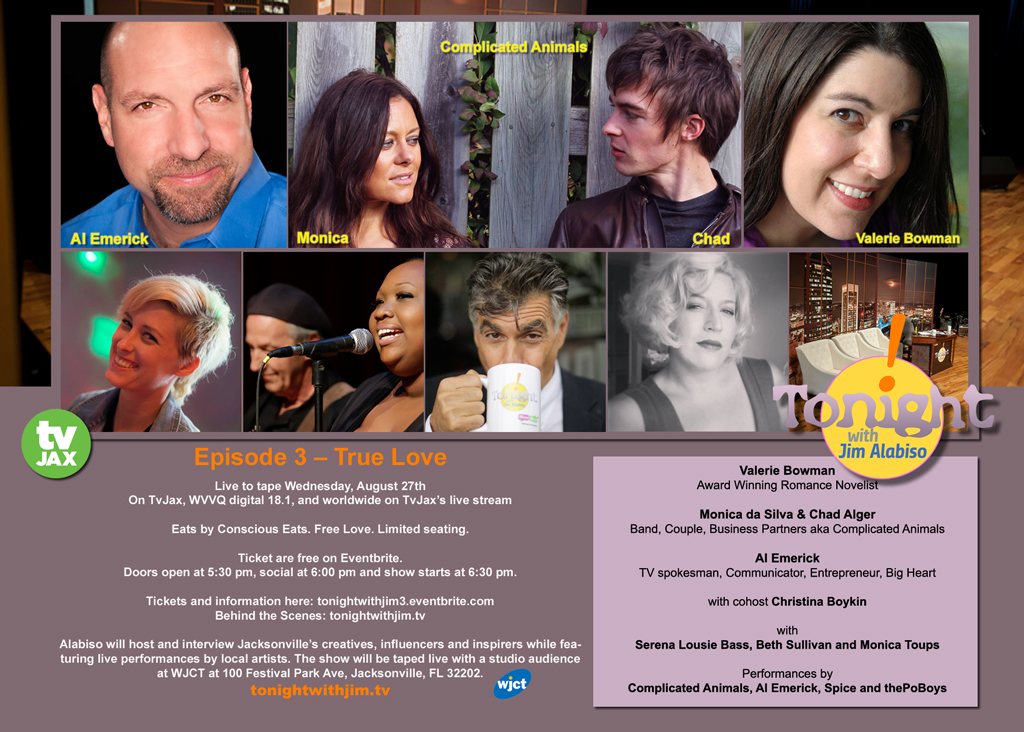 Performances by Marlon Smith Dancers, Al Emerick, Complicated Animals, Jim Alabiso and Spice and the Po Boys.
Cameo appearance by Beth Sullivan
Reporting from the lobby Beth Sullivan and Michael Glinski
(Video links from previous episodes below)
"On Tonight! we hope to bring arts, community and all of Duval's diversity center stage," said Host, Jim Alabiso. "This show will provide Jacksonville with a platform to showcase the rich talent and culture we have in Jacksonville".
Our Jacksonville Community Guests
Valerie Bowman – Award Winning Romance Novelist
Jacksonville's own Valerie Bowman Author, is an Award-winning novelist who writes Regency-set historical romance novels with heroines who take matters into their own hands. Valerie's books are published in several languages. Meet Valerie in the lobby before the show. Juicy page number available on request.
Al Emerick - TV spokesman, communicator, entrepreneur, believer in passion for all that you do.
Al has been engaging and entertaining audiences for three decades. In addition to touring the country as a spokesman for brands such as Home Depot, Publix & the National MS Society, Al also recently appeared on ABC's The Bachelor. Al says "find love in all that you do". We just need to find Al first.
Monica da Silva and Chris Alger - Band, Couple, Business Partners aka Complicated Animals
The collaborative lovechild of Brazilian American songstress Monica da Silva, and musician/producer Chad Alger, bring their unique brand of Indie Nova to the masses. We'll be talking about love, music and going on the road with the dogs ...and we get to hear a song or two.
Our Jacksonville Community Production Team
Tonight! co-host Christina Boykin
The Tonight! Band is Spice and the Po Boys,
produced by Mike "Daddy" Bernos and music direction by Kenny Levine

Talent Coach and Creative Consultant, Barbara Colaciello

Talent Coordinator, Monica Toups
Artist Plug It! Segment hosted by Christina A. Boykin
Eats by Florence Haridan and Conscious Eats
Produced by Marlon Smith, Tamika Lee, Kathryn McAvoy, Jim Alabiso
Produced and Written by Jim Alabiso
Directed by Samuel David Farmer
Coproducer and Floor Director, Marlon Smith
Lobby Director and Stage Manager, Tamika Lee
Playback by Dee Dillinger
Production Support by Richard Borders
Set Design and Graphics by Michael Glinski
Behind the Scenes videography by Michael Glinski
Theme song "Famous" by Jaimz Mallett
Hair by Pat Cole of Total Hair Experience Salon
Make up by Tie Cooper
MAKEUP ARTIST * ESTHETICIAN * BEAUTY STYLIST * BEAUTY EDUCATOR
Learn more here! http://www.tiecooper.com
Presented by TvJax, WVVQ 18.1 in association with WJCT, Broadcasting Local Worldwide
LINKS
Sizzle Reel from Episode 2 https://youtu.be/k2JDN-CVOaI
Tonight! Montage #2 WJCT https://youtu.be/2VAv-Uyqztg
Excerpts from Episode 1 https://youtu.be/9qo-x1Qd7tY
Sizzle Reel from Episode 1 https://youtu.be/hNozc1EOz1c
Tonight! Montage #1 Ritz https://youtu.be/obUOR4T6DpA
Tonight! Blog - Thought Full http://www.tonightwithjim.tv/
Tonight! Facebook Page https://www.facebook.com/TonightWithJimAlabiso