TONIGHT SalsaCrazy Mondays HOLIDAY PARTY, LIVE Orq. NRUMBA, 2 Floors Salsa Bachata

Monday, December 11, 2017 at 6:30 PM

-

Tuesday, December 12, 2017 at 1:30 AM (PST)
Event Details
SalsaCrazy Mondays Holiday Party! Learn Salsa, Live Salsa, You Are Inivted...
Get your Online Tickets here, https://salsamondayholidays.eventbrite.com
(also, if you don't have them already, get tickets to our 9 year annivesary the week before? https://salsamondays9year.eventbrite.com)
MONDAY, Dec 11th, 2017! Door at 7:30, 8p Beginning Dance Lesosns, 9:00 Dancing!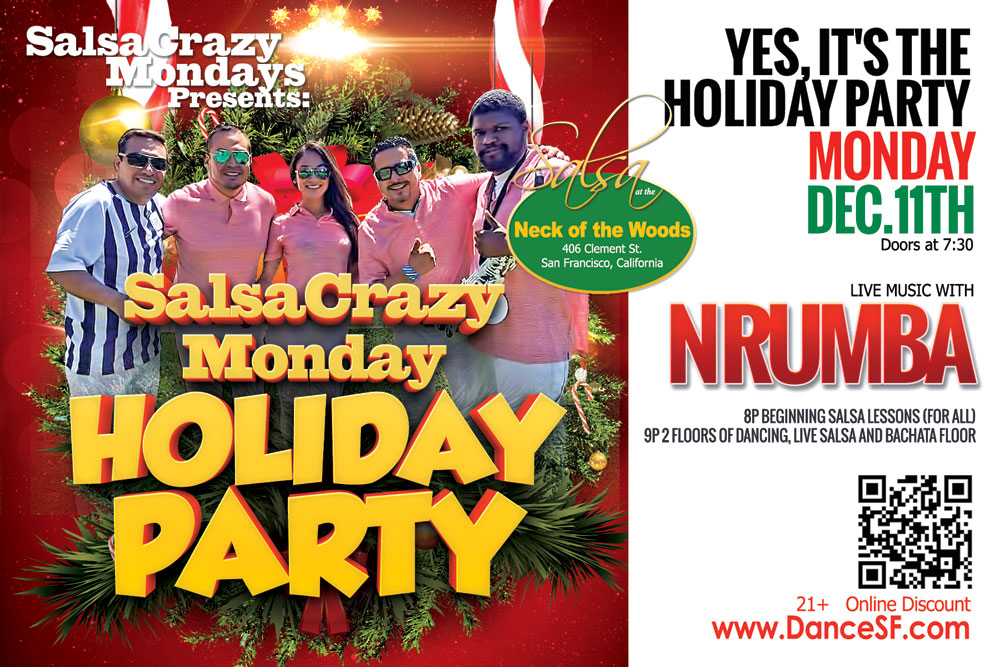 -> The LIVE band will start early, right around 9:30. Beginning Dance Lessons right at 8p :)
SalsaCrazy Mondays Holiday Party (at the Neck fo the Woods). YOU are invited (see what you've been missing). Yes, YOU. Great Night out in San Francisco. Get it now and invite your friends!
LIVE SALSA BAND ORQ. NRUMBA AND BACHATA FLOOR, GET TICKETS NOW ....
ALSO WANT TO GET OUR JANUARY 2018 Salsa Dance Series? 
-> 406 Clement Street, SF, 21+, 6:30p Doors, 7p Workshop, 9p Dancing on TWO Dance Floors!
BEGINNER SALSA CLASS IS AT 8p DOWNSTAIRS!
BEGINNING LESSONS AT 8p. Get your Tickets, Learn to Salsa, Dance All Night!
ALL ARE WELCOME - BEGINNING Dance Lessons and More. Woohoo!  
One ticket, gets you the classes and 2 floor dance party. Get it now! This event is selling out.
But first, looking for more parties and events? Perhaps our regular dance lessons? You have two choices! You have our SalsaCrazy Holiday Party on Dec. 11th, and our Brand New January 2018 Salsa Dance Lessons. This Anniversary party only has a 2 hour footwork workshop (suitable for EVERYONE - Beginners to Advanced) starting at 7p, but it is not a regular salsa lesson (it's all footwork).
Live Salsa Band plus a 2 Floor Salsa & Bachata Dance Party! Fun for Everyone ...
Please come EARLY, Doors open at 6:30, and lines can develop. 
No partner and No Experience Required. Fun and Social and an amazing night out. Please, tell your friends! Dancing all night ... 2 floors of Salsa and Bachata with LIVE Salsa Music.
This is a single ticket to the party and dance classes on  Monday, Dec 4th, 2017, starting at 8p (with Lessons) and dancing at 9pm. Come join the crazy fun. TWO FLOORS. :)
ALSO WANT TO GET OUR JANUARY 2018 Salsa Dance Series? 
Classes and Party are at Neck of the Woods, Monday, December 5th, and start at 7p SHARP.  Doors open at 6:30 and it is reccomended you COME EARLY to avoid LONG lines that can develop. It's REALLY fun. :)
Band and Dancing starts at 9pm (if you are not interested in lessons).http://www.DanceSF.com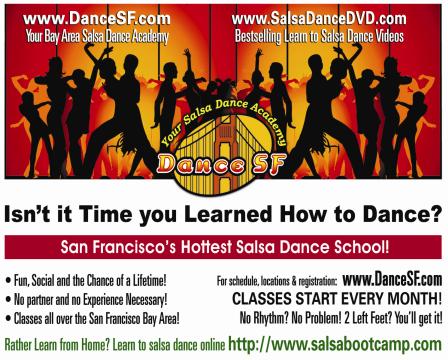 ALSO WANT TO GET OUR JANUARY 2018 Salsa Dance Series?
When & Where

SalsaCrazy Mondays, Neck of the Woods
406 Clement Street
San Francisco, California 94118


Monday, December 11, 2017 at 6:30 PM

-

Tuesday, December 12, 2017 at 1:30 AM (PST)
Add to my calendar