Description
Tonic19 is powered by our amazing partners:

TONIC19 IS SOLD OUT!!! You can still join the waiting list as some tickets will be released from cancellations.
Welcome to our pre-Slush event for Food Tech, Tonic19 - Food Tech Innovation.
Join us on Wednesday November 20th 2019 from 9:00 - 17:00 at Hard Rock Cafe Helsinki
-- The event will be SOLD OUT. Please signup only if you are sure you can attend. Due to the popularity, there will be a no-show fee of 65 euros charged in case you register but do not come to the event and do not cancel your ticket at least one day before the event.--
Come and experience the latest in food and technology. Meet all the relevant players under the same roof. Food manufacturers, entrepreneurs, retail chains, hotels and restaurants, investors, startups, scientists and media.
This year you can also book one-to-one meetings with other participants via super-cool and easy-to-use Deal Room networking platform. Deal Room will be opened about one week before the event.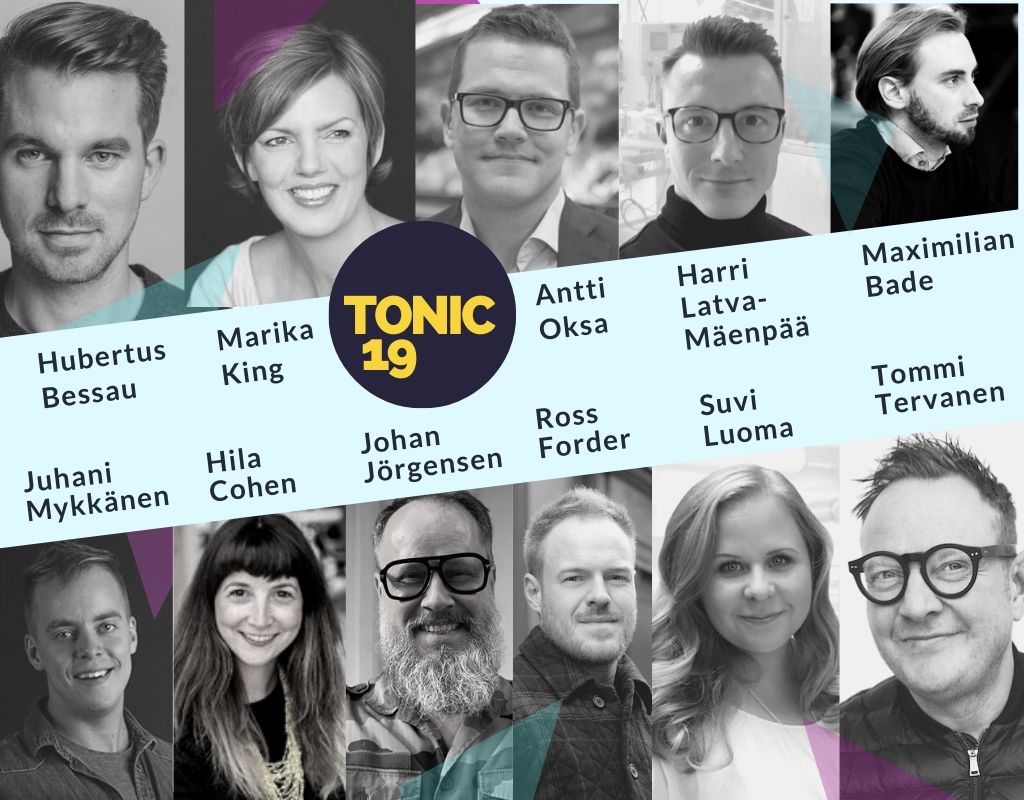 Speakers include:
Juhani Mykkänen (Co-founder at WOLT, FIN)

Marika King (Head of PINC, Paulig Group, SWE)
Tommi Tervanen (CEO at Kotipizza Group, FIN)
Maximilian Bade (Associate, Atlantic Food Labs, GER)
Antti Oksa (Vice President, Fresh Foods at S Group, FIN)
Hila Cohen (

Head of Business Development at the United Nations World Food Programme (WFP) Innovation Accelerator, GER)

Harri Latva-Mäenpää (Development Manager at Foodwest, FIN)
Johan Jörgensen (Founder at Sweden Foodtech, SWE)
Ross Forder (Founder & CEO at Halo Burger, UK)
Hubertus Bessau (Co-founder at MyMuesli, GER)
Daniel Arvai (Marketing Manager at Hard Rock Cafe, HUN)

Frederic Pampus (Principal at LeadX Capital Partners, GER)
Suvi Luoma (Research Director at Foodwest, FIN)
Carme Plumed-Ferrer (Founder at Probitat, ESP/FIN)
Erica Liewendahl (Co-founder at Kekri Foodtech, FIN)
and more...
Technology Showcases and Startup Pitches. If you are a startup or a new food company and want to apply for a pitching slot or a table to give tasters, please email jan (at) arcticstartup.com.

Hosted by Chef and Food Entrepreneur Henrik Poulsen (Tonic Food & Tech) and Jan Ameri (CEO at ArcticStartup)

THE PROGRAM
09:00 Doors open, Deal Room meetings start at 9:40!
10:00 Opening words - Jan Ameri, ArcticStartup
10:10 Global Restaurant Chain Opportunites with Tech - Daniel Arvai, Hard Rock Cafe
10:20 Tonic18 Follow-up - Carme Plumed-Ferrer, Probitat
10:30 Future of Sustainable Taste - Marika King, Pinc
10:50 Ross Forder, Halo Burger
11:00 Investing Into Intersection of Food, Health and Sustainability - Maximilian Bade, FoodLabs
11:20 Retailer Promoting Food Innovations - Antti Oksa, S Group
11:35 Networking Break
12:10 Showcase - Vöner
12:15 Showcase - Phenium
12:20 Future Trends in Retail and Wholesale panel - Frederic Pampus, LeadX Capital - Suvi Luoma, Foodwest - Antti Oksa, S Group - hosted by Henrik Poulsen, Fort Deli
12:40 Kekri Foodtech
12:50 Creativity in Everything - Tommi Tervanen, Kotipizza Group
13:10 Networking Break
13:40 MyMuesli Story - Hubertus Bessau, MyMuesli
13:55 Fireside chat with Juhani Mykkänen, Wolt, hosted by Jan Ameri
14:20 Innovation for #ZeroHunger - Hila Cohen, UN WFP Innovation Accelerator
14:35 Harri Latva-Mäenpää, Foodwest
14:50 Future Food Cities panel - Sweden Foodtech & Friends, hosted by Johan Jörgensen
15:30 Startup Pitches
16:10 Stage program ends
16:20 Last Deal Room meetings end
You do not want to miss this. Register now - limited seats available.
Due to the limited seats, there will be a no-show fee of 65 euros in case you do not cancel your registration at least one day before the event.

The event is supported by:
Looking forward to see you at Tonic19