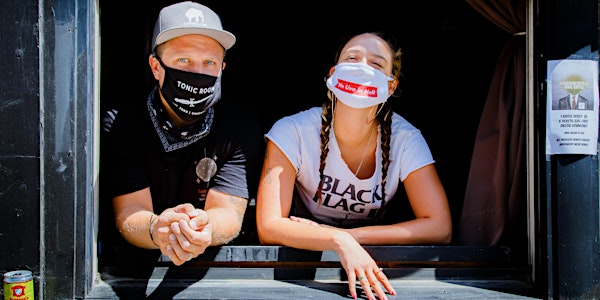 Tonic Room To-Go
Tonic Room To-Go Sunday, August 16th Noon-4PM Stop by our service window for curbside coffee drinks & cocktails To Go!
When and where
Location
Tonic Room 2447 N. Halsted Chicago, IL 60614
About this event
Tonic Room To-Go
Sunday, August 30th
Noon - 4PM
Stop by our service window for curbside drinks and goods!
Tonic Room will be selling custom, limited-edition face masks by Barrel Maker Printing, and donating 25% of mask sales to Brave Space Alliance, the first Black-led, trans-led LGBTQ Center located on the South Side of Chicago, dedicated to creating and providing affirming, culturally competent, for-us by-us resources, programming, and services for LGBTQ individuals on the South and West sides of the city. BSA strives to empower, embolden, and educate through mutual aid, knowledge-sharing, and the creation of community-sourced resources as we build toward the liberation of all oppressed peoples.
We're proud to feature to-go hot coffee and cold brew by our friends at Skylight Coffee Company, and you'll be able to pick up a bag of quality beans to brew at your leisure. Tonic Room will also be selling select 6-packs and booze for your at-home enjoyment! Stay tuned for more info.