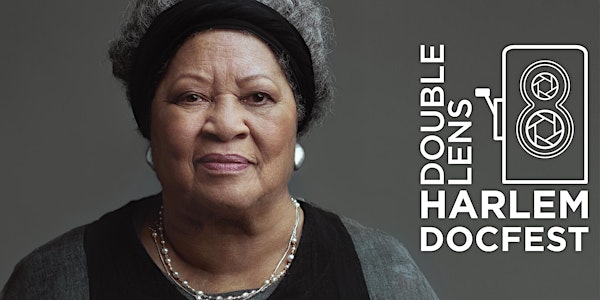 Toni Morrison: The Pieces I am | Double Lens Harlem DocFest
When and where
Location
Shepard Hall 259 Convent Avenue Room 291 New York, NY 10031
Description
****PLEASE KEEP IN MIND THAT YOUR RESERVATION DOES NOT GUARANTEE ADMISSION****
SEATING IS FIRST COME, FIRST SERVED with RSVP


Sunday, November 17, 2019 @ 1PM

Film: Toni Morrison: The Pieces I am
Director: Timothy Greenfield-Sanders
Year: 2019
Time: 119min
Join us for this screening of Toni Morrison: The Pieces I am at the Double Lens Harlem Documentary Festival. The festival will run all weekend from November 15-17, 2019 and include an array of social justice, arts and culture documentaries with stories about and affecting Harlem.
Toni Morrison: The Pieces I Am offers an artful and intimate meditation on the life and works of the legendary storyteller and Nobel prize-winner. From her childhood in the steel town of Lorain, Ohio to '70s-era book tours with Muhammad Ali, from the front lines with Angela Davis to her own riverfront writing room, Toni Morrison leads an assembly of her peers, critics and colleagues on an exploration of race, America, history and the human condition as seen through the prism of her own literature. Inspired to write because no one took a "little black girl" seriously, Morrison reflects on her lifelong deconstruction of the master narrative. Woven together with a rich collection of art, history, literature and personality, the film includes discussions about her many critically acclaimed works, including novels "The Bluest Eye," "Sula" and "Song of Solomon," her role as an editor of iconic African-American literature and her time teaching at Princeton University.
Join us for this free screening of the film and the Q&A to follow with Sandra Guzman and other special guests!
12:30pm Doors Open, 1PM Screening
RSVP only guarantees a seat until 12:45pm
Shepard Hall @ CCNY
Room: 291 on the City College Campus.
259 Convent Avenue @ W. 140th Street.


Presented by: The Documentary Forum at CCNY, Third World Newsreel, Maysles Documentary Center, New York Latino Film Festival, Harlem Stage
In Collaboration with: City College Center for the Arts, Department of Media and Communication Arts, Black Studies Program @ CCNY

Co-Sponsored by: Imagenation
Made Possible by: The National Endowment for the Arts, The Rifkind Center for Humanities and the Arts at CCNY, The City College of New York.