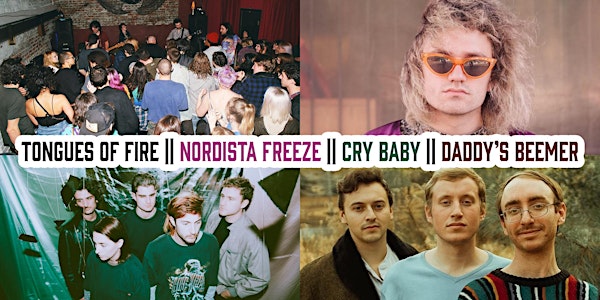 Tongues of Fire + Nordista Freeze + Cry Baby + Daddy's Beemer
Presented by The Grey Eagle and Worthwhile Sounds
Performers
Tongues Of Fire, Nordista Freeze, Cry Baby, Daddy's Beemer
Location
The Grey Eagle
185 Clingman Ave
Asheville, NC 28801
Tongues of Fire + Nordista Freeze + Cry Baby + Daddy's Beemer take over The Grey Eagle on Sunday June 6th for an ALL AGES show at 8:30pm.
About this event
Tongues of Fire + Nordista Freeze + Cry Baby + Daddy's Beemer take over The Grey Eagle on Sunday June 6th for an ALL AGES show at 8:30pm.
8PM DOORS / 8:30PM SHOW
ALL AGES
STANDING ROOM ONLY
NPR described Freeze's work as "the most beautiful and perfect example of the Nashville music scene" and a year later "as good-natured as it is brightly infectious, it sounds like an unseasonably pleasant spring Saturday in song form."
Nordista Freeze is known across the US for his high energy performances. His unique blend of 60s pop (Velvet Underground, Beach Boys) with modern psychedelia (Black Moth Super Rainbow, Animal Collective) gives him a modern, timeless sound. Through his tireless DIY touring (300 shows in two years), he has made a name for himself in houses across the US & Canada.
With monstrous stage presence, high-energy dance moves & Beach Boys harmony, he wins over new fans night after night.
Freeze has also worked hard to unite Nashville's DIY music scene, encouraging other artists to seize their full potential. Freezefest artists have since gone on to open for Willie Nelson, Cage The Elephant, and even win national competitions like The Voice. Charlie Peacock (Bono, The Civil Wars) & other Grammy producers are enamored by his young talent, hard work & endless motivation.
Taking boy bands and slow jams seriously, Cry Baby produces R&B infused Pop music out of their home studio in Charleston, SC. Keeping a DIY mentality, they've toured extensively through the south east and Midwest bringing the party wherever they go.
Atwood Magazine says "A highly energetic five-piece (Jamie Gray, Joey Haines, Josh Kozic, Carter Long, Matt Allegrezza), Cry Baby is a testament to the fact that the sounds of the 90s are alive and timeless. Since 2018, the band has consistently released a string of singles, each one creating an upbeat sonic moment to get lost in."
Carving away their unique sound, Cry Baby has self produced their debut record coming summer 2021. They plan to shoot more videos, make more merch, and tour as much of the country as possible!
Charleston-based, indie rock triumvirate, Daddy's Beemer have established their own brand of indie slack-rock lifted by a mindfulness to sonic palettes and trademark high-flying guitar moments that have electrified the eastern seaboard since 2016. Vigilant attention to detail in their sound design has helped ensure the same presence felt through their thrilling lives shows is channeled in their studio work as well: genuine, raw, compelling.
Multi-instrumentalist, classically trained violinist, and former peach farmer, Dan Fetterolf and childhood friend, the godfather of upstate South Carolina DIY, Wesley Heaton found their frontman in Brady Sklar through their mutual participation in Clemson University's WSBF 88.1 campus radio and their shared study of Audio Engineering. 2017's self-titled Daddy's Beemer and 2018's Pucker Eps, released in part to satisfy school projects, saw Sklar's knack of crafting intimate narratives boosted by his expansive register and sweet affectations allow the band to explore loss, substance abuse, and the universal struggle to realize one's expectations.
The Beem Boys paid their dues in their basement, initially serving as the house band for Clemson based house venue affectionately deemed Pablo. After establishing a loyal fanbase not only in the upstate but the greater Carolinas, they took their sights further, touring up and down the east coast as well as eventually to the west. While initial release dates for their debut full-length were delayed by COVID, they have continued, like always, to carry on.
That debut LP, Denmark, has now been realized. Released through Very Jazzed, it takes their sonic forays further, experimenting on the indie rock vehicle and constantly ready to follow where it takes them. Their instantly accessible, ear-worm worthy product invites you too to be a part of that journey. -Nathan Whittle-Olivieri