Description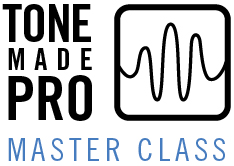 Do you want to deepen your tone creation skills?
Have you ever wanted to be able to hear a guitar track and know how the tone was created?
Or understand how to use the latest guitar technology to create your own guitar tone?
At our special one-day event at Line 6 headquarters:

Discover how to develop your unique guitar voice by exploring and building guitar tone

Use the Line 6 Helix guitar processor in hands-on and interactive sessions that will help you understand the secrets and techniques that go into creating great tone—including pairing amps, cabs, and microphones to achieve clean and distorted tones

Learn valuable tips from the Line 6 tone gurus, plus some very special guests
Space is extremely limited—bring your own guitar and register now to reserve your spot at this incredible event.

FAQs
Photography and Video Taping Notice.
Portions of the Tone Made Pro Master Class will be photographed and filmed for the purpose of promoting future Tone Made Pro Master Classes. Please read our Photography and Video Taping Notice.

What will my $50 cover?
In addition to the value of this unique class experience including course content, instructors and special guests, your $50 (USD) deposit will cover a lunch, snack breaks and some special Line 6 merchandise unique to the Tone Made Pro Master Class.

What are my transport/parking options getting to the event?
Guitarists are welcome to attend from anywhere, but you are responsible for getting to Line 6 Headquarters (the address listed in this invitation) and your housing accommodations. There is plenty of free parking at the Line 6 Headquarters.

What should I bring to the event?
It is recommended that you bring your own guitar and your favorite headphones for your Helix learning station.
Please let us know if you need to be provided with a guitar and/or headphones so that we can prepare accordingly.
If you own a Helix Guitar Processor and want to save pre-sets from the class, we recommend that you bring a laptop with USB inputs.
We also suggest bringing note taking materials (laptop, tablet or pen/paper).

What is the refund policy?
You can be refunded fully, but please inform us as soon as possible and no later than 1-week prior to the event so that we may find a replacement.

What if I have other questions?
If you have further questions do not hesitate to contact the event organizer by clicking the contact button on this event page.