"TomorroWear" - Wearable Tech Expo ( Los Angeles @ Maker City )

Wednesday, February 17, 2016 from 7:00 PM to 11:00 PM (PST)
Event Details
TomorroWear : Wearable Tech Expo ( Maker City 11th Floor Atelier)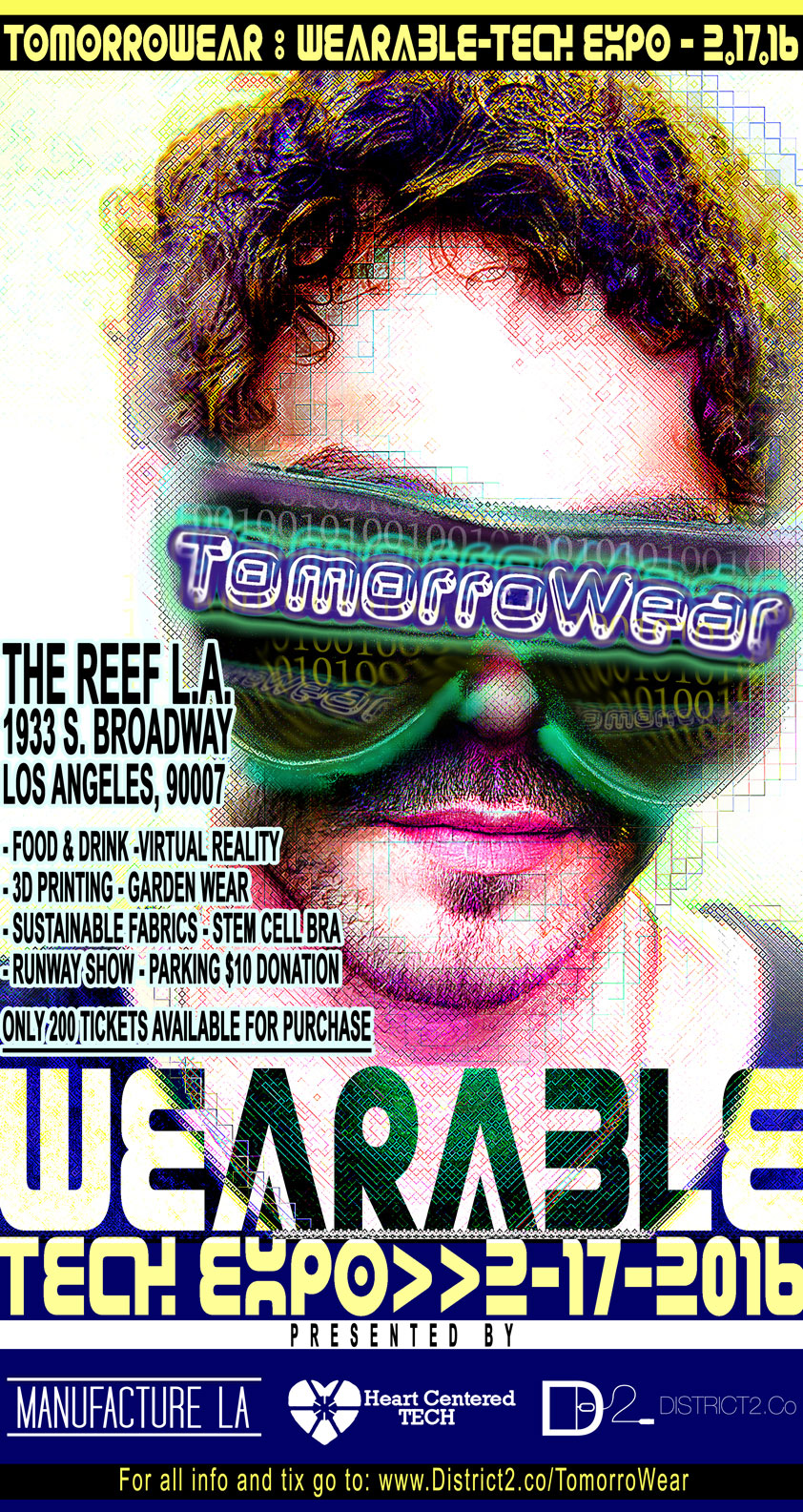 ---
THE FUTURE OF FASHION AND TECHNOLOGY IS HERE WITH TOMORROWWEAR: WEARABLE TECH EXPO 2016 #TOMORROWEAR

LOS ANGELES, CA--- FEBRUARY 17, 2016--- Silicon Beach startup District2.co, (fashion B2B ecosystem where brands & fashion designers can hire apparel manufacturers to produce their collections), is hosting the first WEARABLE TECH EXPO "TomorroWear" at The Reef's hotspot Maker City LA. TomorroWear is an elite intimate event looking into the future- where fabric science, fashion, and wearable tech intertwine. Hosted at The Maker City Atelier on February 17, 2016, District2.Co, alongside Heart Centered Tech, Manufacture LA, & Maker City are ready to illuminate the digital advances liberating humankind's creativity and enjoyment while enhancing the social and economic development of fashion & tech.

Preceding the "FutureWalk" runway presentation, title-sponsor Heart Centered Tech is presenting their Peer-to-Peer Award to Benjamin F. Kuo ,Founder, Editor, and Publisher of SoCalTech. SoCalTech is a high news tech and informational search engine in Southern California. The previous awardee, Eli Eisenberg will present the award. Eisenberg is a venture capitalist at Straight Line Management.

Heart Centered TECH Leadership Awards #HCTLA recognizes people within organizations who lead from the heart. The awards started as a way to acknowledge stand out individuals who take part in using technology to help make this world a better place. After 30 days, the recipients choose who is the next HCT award winner should be, making this the first Peer-to-Peer Awards Ceremony of its kind that was launched in the #LATECH#Siliconbeach community.

With virtual environments & training to immersive art and 3D imulations on the rise, the VR GALLERY is a blend of LA's finest VR Experiences all in one place for an expression of what's possible in VR today. There will be narrative film pieces to full on 3D full immersive games. Game-School.com is a leader in providing VR education and has the best VR Gallery of talented artist experiences that are carving the way for content & simulations of the future.


Speak directly with exhibitors & inventors, you will have the chance to mingle with these master disruptors (with food & drink), gaze at our closing Wearable Tech Fashion Show, and if you're still amped then stay for the "NowSounds" close out show!



THE PURPOSE OF TOMORROWEAR:

Futurists, influencers, investors, fashion experts, wearable tech enthusiast, engineers, Los Angeles startups, innovative fabric mills, apparel manufacturers, and press/media will all be in attendance to witness fashion evolve in a way it has never been done before. We are digitizing the way physical electronics are operating and streamlining it into a natural necessity-- fashion, an industry as seasoned and established as spice trading (no pun intended).


WHO WE ARE EXHIBITING:


Medical: The Stem Cell Bra by Leonhardt is the first ever bra UNDER EARLY STAGE DEVELOPMENT that is DESIGNED to increase breast size without any invasive surgery. 

American Made & Sustainable: Leopardet is the next generation Ralph Lauren brand that is proud to say it's American made--- in both design, manufacture, and distribution, utilizing all organic fabrics.

Sustainable Clothing: Sun & Seeds' clothing incorporates the natural elements of the Earth (dirt and plants) to the looks by using sustainable fabrics in the composition of the garments.

Taking from the continued story of one's life. Escape is a combination of utilising light bamboo and silk in a fresh spring form. These designs bring in the seasons' colours and sexy layering affects of partially hidden panels, creating a stunning silhouette for their today's confident, sensual, new-age customer.

Diversity Science: Beautiful Liberation and B. Black labels are the first brands to ever capitalize on the diversity of female bodies by scientifically creating the patented golden standards for sizing based on body types. 

Recycled Threads & Precious Metals: Tambonita aims to make a beautiful, unique, handmade accessory and an eco-sustainable product. Tambonita has an original style that is exclusive in how it's made. Hand woven and assembled with care, each product is individual, and represents the person wearing or carrying it.

3D Printing and Optical Illusion Design: ShapeShifterZ® is an athletic clothing brand founded in Santa Monica, California. We create goods for athletes that want to enhance the competitive experience, express an inner confidence and outright sense of humor, yet match the demands of modern fitness. 

Measure-by-Measure scanning: Left Shoe Company helps the customer pull on a pair of geometrically patterned socks and steps on a 3D scanner that analyses and measures both feet from every possible angle. A highly accurate 360° digital model of the feet is created. Once scanned, the customer can choose from a wide variety of designs, leathers and soles to create a unique shoe, knowing that each pair will be made with the best possible fit, specifically for him. 

We are also hosting 3d printers and virtual reality games at the event. The designers will have a chance to exhibit and drive the runway show. Hollywood stylist and event coordinating extraordinaire Parris Harris is on board with his gorgeous models at the FutureWalk.

The event is on Wednesday, February 17, 2016 from 7:00 PM to 11:00 PM at The REEF - 11th Floor Atelier - 1933 South Broadway Los Angeles, CA 90007

FAQs
I heard there was a celebrity chef cooking for the event?
Yes! Chef Kim Vu!
Chef Kim brings scientific precision to her planning and implementation, plus she's naturally creative and passionate about cooking and all aspects of food preparation—all the right ingredients that make Vucacious Catering a perfect match for Tomorrowear.
Do I have to bring my printed ticket to the event?
Nope, just bring a photo ID and we will find you on our list! You will also need a photo ID to receive alcoholic beverages at the TomorroWear bar, provided for free (tip your drink masters!). 
Is there a dress code?
Affirmative, this is a night set to stun. Make !!!!!!! happen. 
What are my transport/parking options getting to the event?
Street parking is free after 6pm. Parking lot is just $5 after 4pm.
When & Where

The REEF - 11th Floor Atelier
1933 South Broadway
Los Angeles, CA 90007


Wednesday, February 17, 2016 from 7:00 PM to 11:00 PM (PST)
Add to my calendar
Organizer
Teamwork Team Studios - An all inclusive Arts company, servicing all of the arts from creative to commercial. All Art is Universal. ***Digital to Analog & Computer Generated to Physical Real Objects***