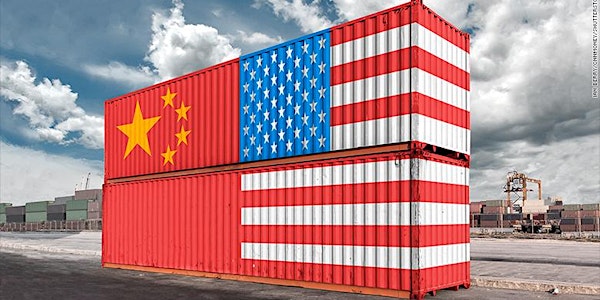 Tomorrow - The Great Wall: Trade Enforcement in the Age of Trump
When and where
Location
The Pavilion Ronald Reagan Building and International Trade Center 1300 Pennsylvania Ave. NW Washington, DC 20004
Refund Policy
Contact the organizer to request a refund.
Description
RESCHEDULED

Same Great Lineup!

The Great Wall: Trade Enforcement in the Age of Trump
Tuesday, March 13 2018
10:00 AM - 11:30 AM
In January, the Administration announced import duties on washing machines and solar panels, and now the Trump Administration is considering trade enforcement measures on steel and aluminum imports, and to address the alleged theft of intellectual property by China.
In partnership with the National Foreign Trade Council and the Asia Society Policy Institute, WITA is pleased to invite you to hear from an expert panel who will discuss these issues, and what these measures may mean for U.S. workers, firms, and consumers.
Featuring:
Heidi Brock

Brock joined the Aluminum Association as President in October 2011 and became CEO in October 2013. Brock employs her extensive experience from the private and public sectors to lead the association, which represents 80 percent of all forms of aluminum production in North America, during a pivotal time in the industry's history. Prior to joining the association, Brock held several senior positions at Weyerhaeuser, a Fortune 500 company, and served on the staffs of former U.S. Senators Dan Evans (R-WA) and Slade Gorton (R-WA). Brock recently completed a 3-year term as a board director with the National Association of Manufacturers (NAM) and is the immediate past Chair of the NAM's Council of Manufacturing Associations (CMA). She was recently presented with the CMA Leadership award for 2017. In addition, she is a recent board member of the Carlton Club, a member of the International Women's Forum of Washington, DC, and an active fellow of the US-Japan Leadership Program. Brock received her Bachelor of Arts degree from the University of Puget Sound, and an MBA from Georgetown University's International Executive MBA program. She and her husband, the Reverend Charles Brock, have a son Samuel and live in Arlington, Virginia.
Cutler joined the Asia Society Policy Institute (ASPI) as Vice President and Managing Director of the D.C. Office in November 2015. In these roles, she focuses on building ASPI's presence in Washington — strengthening its outreach as a think/do tank — and on leading initiatives that address challenges related to trade and women's empowerment in Asia. She joined ASPI following an illustrious career of nearly three decades as a diplomat and negotiator in the Office of the USTR. Most recently she served as Acting Deputy U.S. Trade Representative, working on a range of U.S. trade negotiations and initiatives in the Asia-Pacific region. In that capacity she was responsible for the TPP agreement, including the bilateral negotiations with Japan.
Daly is currently a Senior Public Policy Advisor at Wiley Rein. As an experienced international investment and trade policy professional, he has held senior leadership positions at the U.S. Departments of the Treasury and Commerce, the White House, and the U.S. Senate. Drawing on his experience in the management, development, and implementation of the U.S. economic and national security policies and programs, he provides both high-level insight and deep operational experience to help clients navigate the policy and regulatory environment surrounding cross-border business activities, especially through the Committee on Foreign Investment in the United States (CFIUS).
Ambassador Yerxa became President of the National Foreign Trade Council (NFTC) in May 2016. As president, he oversees NFTC's efforts in favor of a more open, rules based world economy, focusing on key issues to U.S. competitiveness such as international trade and tax policy, economic sanctions, export finance and human resource management. He has more than three decades of experience as a lawyer, diplomat, U.S. trade negotiator and international official. He has been in key policymaking and management roles in Congress, the Office of the USTR and the WTO, and also spent several years in private law practice and the corporate world.
David J. Lynch joined the Post in November 2017 from The Financial Times, where he covered white-collar crime. He was previously the cybersecurity editor at Politico and a senior writer with Bloomberg News, focusing on the intersection of politics and economics. Earlier, he followed the global economy for USA TODAY, where he was the founding bureau chief in both Lo
ndon and Beijing. He covered the wars in Kosovo and Iraq, the latter as an embedded reporter with the U.S. Marines, and was the paper's first recipient of a Nieman fellowship at Harvard University. He has reported from more than 60 countries.
Location:
The Pavilion

Ronald Reagan Building and International Trade Center
1300 Pennsylvania Avenue Northwest
Washington, DC 20004
If you are Hill staff and wish to attend, please email Diego Anez danez@wita.org
WITA has a 48-hour cancellation policy. Any cancellations made within 48 hours of this event will be charged to cover costs.