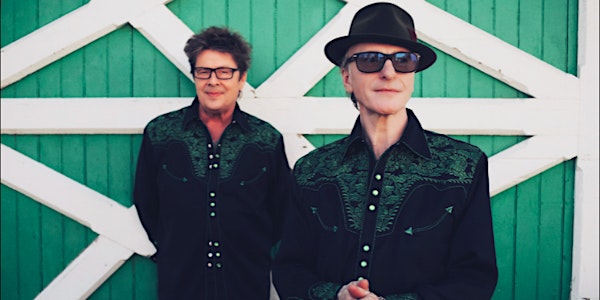 Tommy Stinson's Cowboys in the Campfire in a backyard in Memphis
Tommy Stinson + his buddy Chip Roberts are hitting the road to play some new songs from their debut album WRONGER
Date and time
Wednesday, June 7 · 7 - 10:30pm CDT
Location
A Backyard in Memphis TN The exact address will be emailed to you with your ticket confirmation Memphis, TN 38112
About this event
3 hours 30 minutes

Mobile eTicket
Tommy Stinson's Cowboys in the Campfire celebrate the release of their debut album WRONGER in a backyard in Memphis. Even though it is a private home, this isn't a private show, anyone can buy a ticket. The exact address of the house will be emailed to you with your ticket confirmation, but we can tell you it is in Evergreen, Midtown, near Overton Park.
Bring a blanket to sit on, bring a drink, bring a snack.
Cowboys in the Campfire was "a joke at first," according to Stinson, dating back more than a decade. Chip Roberts is the uncle of Stinson's second ex-wife; he hails from the Philadelphia rock scene, where he was a gun-for-hire guitar slinger for visiting musicians who needed accompaniment. "We've been really good friends and writing partners pretty much since we met each other," Stinson says. "We were writing rock tunes to ballads or country or Americana, but we've both come from that sort of singer-songwriter thing." Neither man expected their association to become an ongoing musical concern, especially as Stinson had plenty on his plate.
But the collaboration had legs, and about seven years ago, during a Guns N' Roses hiatus and before Stinson ventured into Replacements and Bash & Pop reunions, he and Roberts got a little more serious. "It was spring, and neither one of us had something to do that summer," Stinson recalls. "So we said, 'Let's go play some shows. Let's fuck around.' That's what we did. I took some songs he and I had written together, some of my solo stuff, some covers, some other stuff of mine he plays. We'd ad lib on stuff. We started playing shows in the South and stuff." One of the duo's songs, "Anything Could Happen," became the title track of Bash & Pop's 2017 release, which Roberts also played on. But they still felt that Cowboys in the Campfire -- which takes its name from a couple of Roberts' paintings -- might have its own trail. "The running joke was, 'That's what our band would be called if we had one," Stinson recalls. "Finally we were like, 'We've got 10 songs here. Let's make a record'. It was almost as off the cuff as that. Almost."
Check out their new video for "Dream" below:
About the organizer
Singer, songwriter, sideman, and frontman, Tommy Stinson has assumed many different roles in his remarkable 40-year musical odyssey. A co-founder of Rock & Roll Hall of Fame nominees The Replacements, Stinson started performing with the band at age 12, and saw the group through its epic 11-year run. Following the band's break-up, Stinson would go on to lead his own critically acclaimed combos Bash & Pop and Perfect. For well over a decade, Stinson also served as the bassist and musical lieutenant to Axl Rose in Guns N' Roses. In 2017, following a triumphant Replacements reunion, Stinson reformed Bash & Pop, and released the brilliant Anything Could Happen on Fat Possum Records.