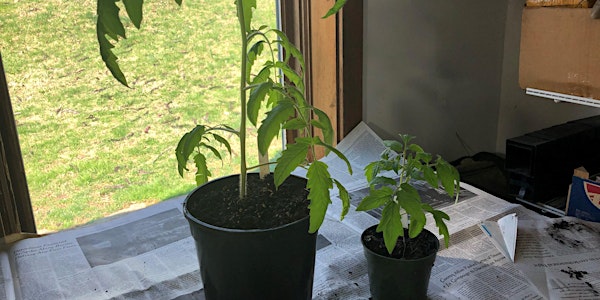 Tomato Heaven Part Two | GreenThumb GrowTogether
38th Annual GreenThumb GrowTogether Conference
When and where
Location
6/15 Green 274 15th Street Brooklyn, NY 11215
About this event
Rain date: Thursday, April 21, same time. Tickets will be available until two days before the event. This will allow us time to prepare for the attendees who have registered in advance. Walk-ins and people on the wait list are welcome to attend and observe, but supplies aren't guaranteed.
Days and nights are warming; it's time to get tender seedlings ready for the outside world. Yet, whether you have precious, little plants that you've nurtured from seed, or purchased starts from a nursery or farmers market, you may be asking: How does this work? Using tomatoes as inspiration, we'll demystify quirky jargon and share best practices for planting and ongoing summer maintenance that will grow your best tomatoes ever.
Watch Part 1 about starting from seed at https://youtu.be/YQweJGq6Gw8
Participants will be able to pot up a tomato plant to take home, while supplies last.
Facilitated by Maureen O'Brien, Brooklyn Botanic Garden and 6/15 Green community garden. Maureen O'Brien is an avid community gardener and composter who LOVES growing, sharing, and eating tomatoes.
Photo by Maureen O'Brien
Please visit the GreenThumb GrowTogether Conference Guide for a full list of workshop descriptions, facilitators, and other details. The guide is also available as a map.
Established in 1978, NYC Parks GreenThumb is proud to be the nation's largest urban gardening program, assisting over 550 gardens and over 20,000 volunteer gardeners throughout New York City.
The theme of this year's GrowTogether is "Deeply Rooted: Growing Community Connections. Community gardeners from across New York City have been gathering at the GrowTogether conference each spring since 1984 to celebrate the start of the garden season with a day of learning, networking, and reconnecting with friends. Due to the ongoing COVID-19 pandemic, the conference is hybrid this year, and we're spreading it out over the course of two weeks. Part I took place virtually in February (watch the webinar recordings here!) and Part 2 will be in community gardens around the city in April.