Chicago's version of Spain's La Tomatina. Part festival. Part Fight. All Parts Fun. Tomato Blast.
About this event
We started in 2013, and it was a smash! So Tomato Blast will return to Chicago Saturday, August 31st, 2019! We are sourcing a location now. As before, our tomato fight will feature music, cold beer, tons of rotten tomatoes and thousands of targets. Our events are designed simple but complete with lots of fun. In an event of a tomato shortage we will find a fun substitute. Tomato Blast's tomato fights are modeled after Spain's annual La Tomatina Festival where participants gather for a massive tomato fight.
Furthermore we host green events. In particular, our events are designed, organized and implemented in a way that minimizes negative impact on the environment and fosters sustainability. How do we accomplish these goals? First and foremost ALL TOMATOES USED ARE PAST RIPE. What are past ripe tomatoes? And why didn't you sell them before they became past ripe. As you are aware farmers grow crops and a portion of all crops are not able to be sold for an assortment of reasons. Bad seeds of sorts. However, farmers used resources to produce even bad crop: water, fertilizer and man power to harvest the crop. THAT IS A WASTE. So that is where we step in. We buy all the bad tomatoes we can find. The tomatoes are not edible and would otherwise have been destroyed by order of USDA Regulations. Which is a waste of resources and time it took to grow the crop. Thus we use past ripe tomatoes of no value and create value and donate a portion of the proceeds to charity. Second, at each event we also recycle shoes, electronics and the likes. Third, we encourage all event participants to bring old items for recycling. Thus, not only do we have fun, but promote responsible fun. You will have a blast!
Location: We are sourcing a location now and will post it shortly.
This is a rain or shine event. All ticket sales are final. ALL Guest must wear goggles to participate. Must be 13+ to participate.
Event Rules
1. Do not tear or throw t-shirts
2. Squash tomatoes before throwing them to avoid hurting others.
3. Stop throwing tomatoes after the second starter pistol shot
4. Follow the directions of security staff
REGISTRATION IS NOW OPEN!!
Event Schedule1
2:00 pm to 3:00 pm Music, Beer, Fun
03:00 pm to 4:00 pm Tomato Fight
04:00 pm to 6:00 pm Hose off, Music, Beer & Fun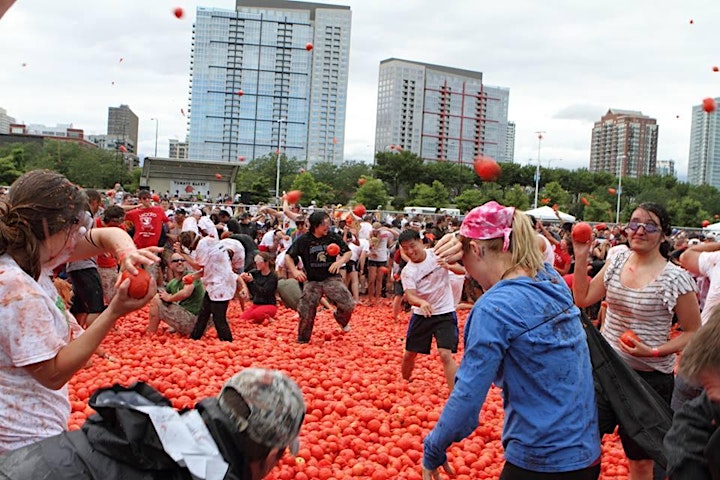 Date and time
Refund policy