Scott Kurt & Memphis 59 re-creates all your favorite hits from one of America's greatest songwriters of all time -- Tom Petty!
About this Event
SATURDAY, AUGUST 28
DOORS, BAR, & KITCHEN OPEN at 7PM
SHOW at 8PM
TICKETS
GENERAL ADMISSION: $12 + admission tax & processing fee
DOOR: $15 + admission tax
Advance ticket sales end at 6PM the day of the show. If tickets are not sold out by this time they will be available for purchase when the doors open.
ALL TICKET SALES ARE FINAL unless the event is postponed or cancelled
IMPORTANT INFO
This is an all-seated event in the theater
GENERAL ADMISSION - arrive early for best choice of seating
All ages
FULL MENU AVAILABLE - save room for dessert!
________________________________________________________
With a catalogue of hit songs that spans decades and music that appeals to all ages, Tom Petty is one of the great American songwriters of all time. Scott Kurt & Memphis 59 re-creates Tom Petty's rock radio staples like "American Girl," "I Won't Back Down" and "Runnin' Down a Dream," among many more -- and have the musical chops and rock 'n' roll swagger to pull it off. Their energy and musicianship bring down the house every time, and it's a sure bet their appearance at Bright Box will be no different!
SCOTT KURT & MEMPHIS 59
Southern by way of the Rust Belt, Scott Kurt's unique brand of country music blends the old school outlaw grit with elements of guitar-driven rock. Influenced by artists like Eric Church, Jon Pardi, Luke Combs, and Tom Petty, Kurt strives for authenticity over perfection, vocally and melodically. The skillful storytelling behind his lyrics powered Kurt's single "American Man" to the iTunes Country Top 40.
His hard work and talent have earned Scott opening slots for some of country's biggest and brightest stars, including Cole Swindell, Montgomery Gentry, Jimmie Allen, Eli Young Band, Kip Moore, Easton Corbin, and many more.
JOYBETH TAYLOR
There's a famous saying in country music – that it's all about the song. It's never been more true than it is for Joybeth Taylor. A rising singer-songwriter and unflinching storyteller, her work is as authentic as it gets, like sitting with a friend as she unpacks the deepest corners of her heart. Taylor doesn't just write and sing country music, she lives it.
"Country is what I grew up on, it's in my veins all the time," she says. "You know who I am after hearing my first song."
True enough. Twenty-years-old and hailing from Pelham, Alabama, Taylor's country roots run deep, and fans will soon know the real her. She first hit the stage at the tender age of four and began devouring Patsy Cline's iconic catalog shortly thereafter, inspired by the songs themselves and Cline's ability to express the most powerful of emotions. Diving into the craft, she began writing her own tunes as a way to work through a difficult, at times turbulent childhood, and developed a taste for modern-day country poets like Lori McKenna, Chris Stapleton and Travis Meadows. "It got me to where I wasn't going insane with all these thoughts," she explains. "It gave me a way to put everything I was going through on paper, and just get it out."
Arriving in Nashville in 2016, Taylor put her passion to work and quickly established herself as a gifted tunesmith. She spent the ensuing years immersed in Music City's co-writing scene, honing a razor-sharp knack for that same expressive quality she so admired in Cline. And now, she's ready to deliver the results.
Produced by hit maker Jamie O'Neal ("There Is No Arizona," "When I Think About Angels"), Taylor's debut single is "It Just Takes One," a vivid can't-help-myself anthem dedicated to her own broken heart – and to the guy who could mend it with a single, careless text. Featuring Taylor's sugar-sweet Southern vocal and a propulsive, radio-ready groove, Taylor admits she wrote it because she was stuck in an old flame's orbit for years. But once again, the music set her free.
"He doesn't know this, but I really got over him after I wrote that song," she says. "It's that idea that all it takes is one nice thing, and you get me back. But after I wrote that I was like 'You know what? You'll never have me again.'"
Likewise, the deeply personal "Inside This Guitar" finds Taylor exploring the framework of her own construction, discovering strength in weakness and ultimately knowing herself better for the experience. "This steel and wood was built to last / You can't say the same thing about my past," she sings in the triumphant ballad's chorus. "But I know me better than I've ever known myself before."
Both tracks are part of a full EP that will serve as a look inside Taylor's soul – and as her official introduction to country fans later this year. According to her, she wouldn't have it any other way.
"I want listeners to feel like they know me one-on-one, like we just had a conversation outside of the song," she explains. "The most important thing to me is not being a star, it's that connection. There were a lot of times in my life growing up that I felt alone, and my only way of getting through it was listening to music by people I looked up to. Hopefully one day, I can be that person for someone else."
BE SURE TO BRING YOUR APPETITE!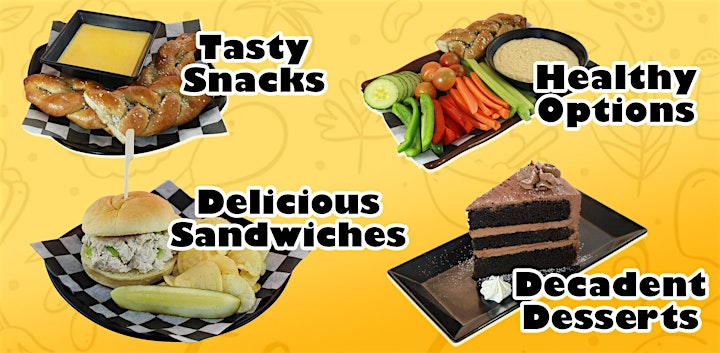 FAQs:
Is there lodging nearby?
There are lots of great and affordable lodging options — from hotels and motels to camp grounds and bed & breakfast spots — just minutes away from Bright Box. Right around the block is the elegant George Washington Hotel, and Courtyard Marriott is quick drive and within a stones throw to the beautiful (and highly recommended) Shenandoah Valley Museum. Check out these websites to explore your options and discover all the wonderful opportunities in Winchester:
• http://www.visitwinchesterva.com/lodging/hotels-and-motels
• http://oldtownwinchesterva.com
Where do I park?
Bright Box is located at 15 N. Loudoun St. on the beautiful pedestrian mall in Old Town Winchester. The nearest parking is the Braddock Auto Park at 30 N Braddock St. This is about a block away from the venue. The parking garage does have several handicap parking spaces available.
Once you've parked in the garage you'll exit toward the pedestrian mall. Once you hit N. Loudoun you'll make a right and Bright Box will be on your right a few storefronts up, directly across from the Old Court House Civil War Museum
More information about the garage can be found here: https://www.winchesterva.gov/parking/garage-information
Is Bright Box handicap accessible?
Absolutely. The venue is handicap accessible and ADA compliant. The infrastructure in Old Town Winchester is friendly toward those with physical challenges or in wheelchairs. Park in one of the close-by parking garages and come to the main door at 15 N. Loudoun St. (the walking mall). We ask that you arrive when doors open, and we will be happy to escort you to a place best suited to your needs in the theater or to take you to the elevator to access the upstairs Out of the Box room.
Performers
Date and Time
Location
Refund Policy