About this Event
TOM MORELLO
Tom Morello is living proof of the transformative power of rock'n'roll. As the co-founder of Rage Against The Machine, Audioslave and Prophets Of Rage, and through collaborations with everyone from Bruce Springsteen to Johnny Cash, he has continually pushed the limits of what one man can do with six strings.
But on his latest album The Atlas Underground, he's transformed his sound into something even he could not have anticipated, blending Marshall stack riff-rock with the digital wizardry of EDM and hip-hop to create the most ambitious artistic effort of his storied career.
The Atlas Underground includes collaborations with Marcus Mumford, Portugal. The Man, the Wu-Tang Clan's RZA and GZA, Vic Mensa, K.Flay, Big Boi, Gary Clark Jr., Pretty Lights, Killer Mike and Whethan among others. "The riffs and the beats led the way, but the extraordinary talents of the collaborators set my creativity into uncharted territory," says Morello of the project, which was released October 12th, 2018 by Mom + Pop Music.
Assembled over the last two years in a variety of studios, The Atlas Underground is what Morello calls "a clandestine sonic conspiracy of artists working in disparate locations toward a shared goal of creating a new genre of music." The lyrics often take the form of "social justice ghost stories," and on tracks such as Bassnectar, Big Boi and Killer Mike's "Rabbit Revenge" and the RZA/GZA-featuring "Lead Poisoning," they convey the experiences of those less fortunate who were unable to speak up for themselves.
"This record also afforded me the opportunity to divest myself of my natural Type A controlling character," admits Morello, whom Rolling Stone has recognized as one of the 100 greatest guitar players of all time. "After initial conversations with the collaborators about theme and lyrics, I made it clear that there was no ego stake in these songs and that the only goal was to make something we all loved; something that was fucking powerful with no preconceived notions other than the freedom of taking a blank sonic page and letting our freak flag fly."
Morello knew some of his collaborators beforehand, particularly the Wu-Tang members, with whom Rage Against The Machine shared an infamous U.S. tour bill in summer 1997. In other cases, the connections were serendipitous, such as when Morello heard K.Flay on the radio and cold-called her, only to discover they were both from Illinois and "shared that suburban angst."
Morello took great joy in sending batches of riffs and guitar noises to collaborators such as Bassnectar and Knife Party, who would send back "smashing tracks" that scrambled everything together. Just as rewarding were in-person jam sessions with artists such as Clark, where songs were built verse/chorus/lyrics from scratch. And in the case of "Find Another Way," Mumford and Morello teamed up for early-morning Skype sessions in-between their parental duties.
"I've been devoted both musically and as an activist to fighting injustice at every turn," says Morello. "Amid this heightened sense of impending doom, it's now time to rally the troops in a last-ditch effort to save the planet, and our artistic souls. By challenging the boundaries of what music is and has sounded like before, you can open peoples' eyes to changing the status quo in society."
In tandem with acclaimed multi-media artist Sam Durant and director Sean Evans, who staged Roger Waters' "The Wall," Morello is planning an innovative live presentation of the music on The Atlas Underground, which won't be reliant on fill-ins to replicate the guest artist's contributions. "We're assembling something that's more of an art installation than a show, which is different than anything anyone has ever done," he says. "It will be a challenging piece in non-traditional venues that will bring the ideas on the album to life — a last big event before we all go to jail."
- - - - -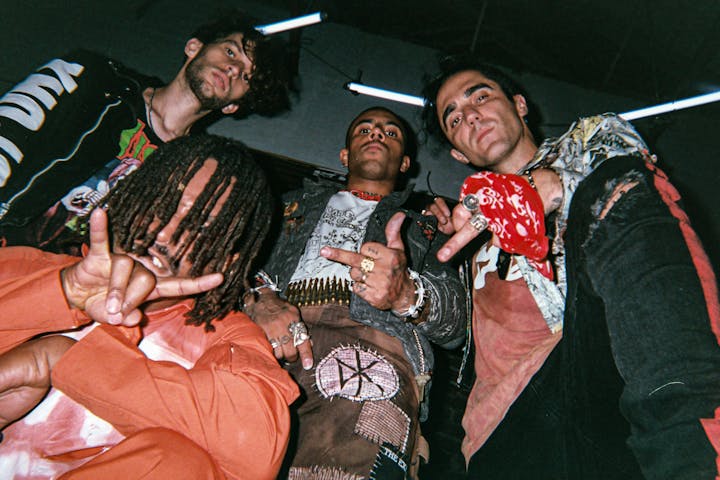 93PUNX feat. Vic Mensa
93PUNX is a new outlet for rapper/singer/activist Vic Mensa to experiment with the rock influences that inform his musical background. The group's fourteen track debut was executive produced by Travis Barker and features contributions from Tom Morello, Good Charlotte, Francis and the Lights, H.R. (Bad Brains), and Loko Wit Da Mask, and is out now via Roc Nation/Republic."
- - - - -
4 TICKET LIMIT PER CUSTOMER. YOUR NAME, CREDIT CARD, ADDRESS, AND EMAIL ADDRESS WILL BE VERIFIED. EVENTBRITE AND STATESIDE PRESENTS/PRESSROOM RESERVE THE RIGHT TO CANCEL ANY ORDERS IN EXCESS OF THE STATED TICKET LIMIT.
ANY TICKETS SUSPECTED OF BEING PURCHASED FOR THE SOLE PURPOSE OF RESELLING CAN BE CANCELLED AT THE DISCRETION OF STATESIDE PRESENTS/PRESSROOM/EVENTBRITE.
- - - - -
Please note that if there is no PDF or Barcode attached to your confirmation email, tickets will not be available to download or in the app until 24-hours prior to show date.
Support acts are subject to change. No refunds.
The maximum number of tickets per purchase for each event is the maximum number permitted per customer purchase. Your name, credit card, address, and email address will be verified. Stateside Presents reserve the right to cancel any orders in excess of the stated ticket limit.
Ticket resale is strictly prohibited. Any tickets suspected of being purchased for the sole purpose of reselling can be cancelled at the discretion of Stateside Presents.
Performers
Date and Time
Location
Refund Policy