Description
Me and you together makes Tokyou Friends.

ITS FREE TO JOIN OUR GROUP, there are activities which are free and there are activities which have an organizing fee.
https://www.meetup.com/tokyo-party/
英語が全く話せない方も毎回たくさん参加されています。
日本在住の外国人がほとんどで、日本語がペラペラの外国人も多く参加していますので、語学レベルに関係なく外国人と楽しく交流することができます!
また、日本人&外国人スタッフもサポートさせていただきますのでご安心ください!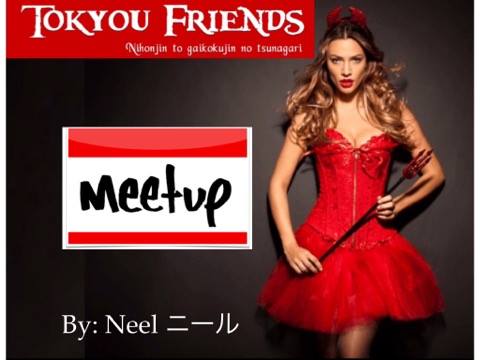 Let's enjoy our spare time, a lot of activities are to do in Tokyo.
Checkout our NEW WEBSITE
Bookmark it to have an easy access to participate in the super exciting activities in Tokyo.
According to Researchers from Harvard Medical School and the University of California, San Diego:

"When an individual becomes happy, the network effect can be measured up to three degrees. One person's happiness triggers a chain reaction that benefits not only his friends, but his friends' friends, and his friends' friends' friends. The effect lasts for up to one year."

Since whatever we focus on grows, the aim of this group is to help members focus on happiness and to spread it at every opportunity.

If you are a happy person and want to socialize and network with other happy people, this is for you. If your goal is to become a happier person this group is for you.

Social Events, Networking, Business Meeting New People, Food Lovers, Exercise, Fun, Referral, Active Singles, Adventurous , Dancing, Night Life, Hikes,Clubs, Tokyo Mix Professionals with Fun Foodies, Party Mixers, Friendship,Amazing Event, Tokyou Friends, 友達,tomodachi, Savvy, Spectacular, Good Wine Food, Drinks, Parties, Stuff, Events Group, English as a Second language, Dining Out, American, Adventurers, Karaoke, Strategy, In Town, Making Friend, Odyssey, Outdoor Healthy, men, women, Connect 20s, 30s, 40s, 30's 40's, 20's 30's, Asian, Random Adventures, Culture, Cuisine,yestokyo, Chinese,Japanese,American,Indian,Russian, Young, Men, night,Downtown, Beach, Roppongi, Shibuya, Ginza, Shinjuku, Meetup Professional ,Culture,English, Men's Culture, Women's Social, Community Service,Male,Female, Strategy,Bars, Sports Recreation, Organizations, Fitness, Mountain Biking, Times, looking to Meet other Dinning Show, Hiking, Pubs, Salsa, Merrengue, Bachata, Reggaetone, Hip-hop, Jazz, music, Bars, eating out, Ethnic Dining, Cooking, Culinary Consciousness, Book Club, Psychology, Philosophy, Personal Growth, Conversation, Self-Improvement,Gakusei,Fun,Love, International Friends · Culture Exchange Expat Language & and Students Town Travel Young Singles Nightlife Times 30's Entrepreneurship Happy Hour Pubs Bars, Salsa, Merengue, Latin Dance, Lessons Dancing, Music Ballroom Dancing· Swing Fitness ·Zumba Classes Group Training Exercise Weight Loss Healthy Living Wellness· Drinking Craft Beer· Beer Tasting ·Community Building Organizations Volunteering Self-Improvement Service Spirituality Exploration Self-Empowerment· Social Coffee Tea ·Cooking· Cocktails Foodie Exploring Restaurants Singles· Vegetarian Vegan Potlucks Dineouts Organic Foods Wellness Potlucks·Board Games Card Strategy Gaming Out· Billiards Pool Players BAR POOL Club · Games· Yoga Meditation · Asian Entrepreneurs·Expat British Expatriate of ExPats Comedies Television Scottish·Expat · ESL practice English Spanish ·Canadian Expats Exchange· French Francophone Francophiles World Speaking Community, Teachers· Food· Japanese Japanese Anime Manga Pop·Animation·Singles Hiking Outdoors Out·Walking Tours Historical Adventure Weekend· Travel·Activities·Arts Culture·Career Business·Community Environment·Dancing·Education Learning·Fashion Beauty·Fitness· Games·Health Wellbeing·Hobbies Crafts·Students·Lifestyle·Music·Outdoors Adventure·Singles·Recreation· Socializing

#meetup, #facebook, #twitter, #google, #instagram,#line,#mixi,#event, #tokyo
#TOKYOU #FRIENDS
#TOKYOU FRIENDS Meetup

#TOKYOU FRIENDS