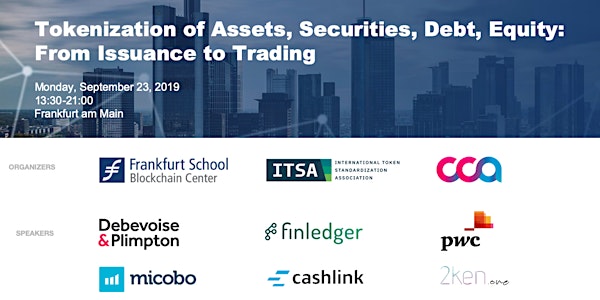 Tokenization of Assets, Securities, Debt, Equity: From Issuance to Trading
Which assets can be tokenized? And how?
When and where
Location
Frankfurt School of Finance & Management Adickesallee 32-34 60322 Frankfurt am Main Germany
About this event
Tokenization is the process of bringing existing rights and assets on the blockchain. At this point in time, tokens are mainly crypto assets such as Bitcoin or Ethereum. In the future, debt, equity, bonds, other securities, all kinds of assets and the Euro will be "tokenized". Plus, what will be the implications of Germany's new national blockchain strategy?
This future is starting now. First companies are tokenizing first assets beyond crypto assets. This event presents some of these companies and their projects:
Debevoise & Plimpton: well-known law firm enabling tokenization by making tokens legally compliant on an international level.
Finledger: a platform for Schuldschein loan processing. This platform has been initiated by DekaBank, dwpbank, DZ Bank and Helaba in cooperation with Adesso.
PwC: a tax advisory and management consulting company helping corporates and financial organizations with the process of tokenization of a variety of assets.
Micobo: a Frankfurt-based company leading in the development of blockchain applications and also offering a white-label launch platform enabling issuers and investment banks to issue their own (security) tokens.
Cashlink: a platform for GmbHs to issue equity-like tokens (specifically, "virtual shares") applying to German law which can be used for fundraising of GmbHs and for incentive mechanisms with employees.
2ken.one: an online directory for listing service providers that can help companies issuing tokens according to the new Liechtenstein Blockchain Act.
International Token Standardization Association: an international non-profit association providing standards for token markets, in particular, a unique token identification number (ITIN).
SPEAKERS
Prof. Dr. Philipp Sandner, Frankfurt School Blockchain Center
Klaudius Heda, Byungkwon Lim, Anna Maximenko, Debevoise & Plimpton LLP
Marc Pussar, PwC
Stephan Arnold, Helaba
Michael Duttlinger, Cashlink
Martin Valenta, Micobo
Friedhelm Schmitt, 2ken.one
Thorsten Braun, DZ Bank
CONTENT
In the future, topics like high fees, a lack of transparency, transaction speed, and inclusion of anyone, will be tackled by the blockchain technology. Thus, a transition of these asset classes is inevitable.
For us, the future is now. At this event, we will host several landmark companies presenting themselves in Frankfurt. They will address the chances of tokenization with a special focus on tokenizing debt, equity, securities and other assets.
This conference aims to discuss the future of possibilities for tokens and their impact on the global asset economy. We are looking forward to meeting you to join our conference!
This conference is about the tokenization of a multitude of assets and its consequences. We present and discuss the opportunities arising for new business models and challenges arising from a tokenized economy. Following questions will be answered:
How important will tokenized assets be in the future?
Will blockchain technology will be the basis for the capital market of the future?
Which assets will be tokenized? And when?
How can debt, equity, securities and other assets be tokenized?
How can legal requirements be fulfilled?
How will tokenization disrupt e.g. real estate or investment-based business models?
Which business models can survive a major change in the industry?
Which new business models exist for financial organizations, portfolio managers and analysts?
Should investment funds consider such digital assets?
Which blockchain startups should be watched in this area of business?
AGENDA
13:30 Germany's national blockchain strategy: Bitcoin yes, Libra no (Prof. Dr. Philipp Sandner, Frankfurt School Blockchain Center)
13:40 Standards for token markets and ITIN as a unique identifier for tokens (Prof. Dr. Philipp Sandner, International Token Standardization Association)
14:05 Schuldschein loan processing with the Finledger platform (Stephan Arnold, Helaba & Thorsten Braun, DZ Bank)
14:30 Tokenization of assets: Legal Framework and Challenges: Germany, Russia and USA (Klaudius Heda, Byungkwon Lim & Anna Maximenko, Debevoise & Plimpton)
14:55 Tokenizing equity in the form of virtual shares for German GmbHs (Michael Duttlinger, Cashlink)
15:20 Issuing (security) tokens on the primary market (Martin Valenta, Micobo)
15:45 Coffee break
16:05 Tokenizing all kind of assets and rights in 2020 with the new Liechtenstein Blockchain Act (Friedhelm Schmitt, 2ken.one)
16:30 Tokenization of assets (Marc Pussar, PwC)
16:55 Tokenizing everything: the future of capital markets? (Panel discussion and Q&A)
17:35 Networking and drinks
LOCATION AND DATE
Location: Frankfurt am Main, Frankfurt School of Finance & Management, Room: Audimax
Date: Monday, September 23, 2019, 13h30 – 18h00 with networking and drinks afterwards
Language: English/German
Registration required via Eventbrite; maximum number of participants: 300
TICKETS AND REGISTRATION
This conference is free of charge. Registration required using Eventbrite.
THIS WORKSHOP IS IDEAL FOR THE FOLLOWING PEOPLE
Blockchain technology has the potential to fundamentally alter the way business processes are conducted across a multitude of industries around the globe. So far, banks and FinTechs are the biggest sectors affected by blockchain technology and crypto currencies in specific. However, it is also necessary to take into account other relevant markets such as real estate, stocks and precious metals and thus affecting our daily lives. It is believed that current profit pools will be disrupted and redistributed toward the owners of new, highly efficient blockchain platforms. Therefore, understanding the fundamental concepts and the implications of this technology is essential not just for decision-makers in banks and industries, but for everyone.
We think the event is best suited for:
Investors interested in digital assets
Employees and decision-makers from the financial sector interested in blockchain technology
Analysts dealing with the application of these technologies
Startup founders and startup enthusiasts interested in blockchain technology
Consultants and lawyers interested in the implications of blockchain technology
People who are interested in alternative ways of investment
CONTACT
Frankfurt School Blockchain Center
E-Mail: team@fs-blockchain.de
Phone: +49 69 154 008-790
Internet: www.fs-blockchain.de
About the Frankfurt School Blockchain Center
The Frankfurt School Blockchain Center is a think tank and research center which investigates the implications of blockchain technology for companies and their business models. Apart from the development of prototypes, it serves as a platform for managers, startups, technology and industry experts to share knowledge and best practices. The Blockchain Center also provides new research impulses and develops training for students and executives. It focuses on banking, mobility, "Industry 4.0" and the energy sector.
Further information can be found on the Website, on Facebook, or via Twitter.