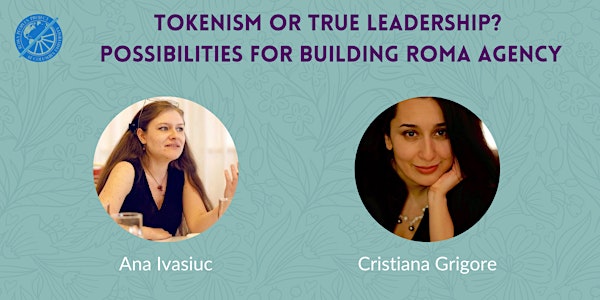 Tokenism or True Leadership? Possibilities for Building Roma Agency
Who benefits from Roma inclusion on mainstream institutional agendas? How can we ensure that Roma inclusion enhances agency and leadership?
About this event
From the grassroots to the national to the international levels, recent decades have seen increasing calls for inclusion and empowerment of Roma. In this conversation, Ana Ivasiuc and Cristiana Grigore will explore whether these measures enhance Roma people's self-empowerment and opportunities to lead, or whether they remain victimized and tokenized. How do we ensure that Roma-focused programs and Roma people's participation not only "look good on paper," but move toward long-term agency and leadership?
PANELISTS
Ana Ivasiuc | Social Anthropologist, Philipps University of Marburg
Cristiana Grigore | Founder, Roma Peoples Project at Columbia University
PANELIST BIOS
Ana Ivasiuc is a Romanian anthropologist. She studied Cultural Anthropology and Development Sociology at the University of Leiden in The Netherlands, and moved to Paris in 2004 for a master's degree in Migration and Interethnic Relations at the University of Paris VII Denis Diderot. After that she worked for six years for a Roma NGO in Romania, coordinating the research department. In 2014, she obtained her Ph.D. from the National School of Political Science and Public Administration in Bucharest. Her research interests include Roma activism, extremism, urban anthropology and critical security studies. She is the co-editor of Roma Activism: Reimagining Power and Knowledge (with Sam Beck, 2018, Berghahn Books), and of The Securitization of the Roma in Europe (with Huub van Baar and Regina Kreide, 2019, Palgrave Macmillan).
Cristiana Grigore is a writer, research scholar and the founder of the Roma Peoples Project at Columbia University, an initiative that spotlights Roma peoples and expands Roma studies by examining topics such as identity and stigma, mobility and displacement. Herself a Roma—a member of Europe's largest minority with approximately one million Roma living in the US— she has firsthand experience with internalized stigma and concealing one's ethnicity.
Upon arriving in the United States in 2006, Cristiana found a more conducive environment in which to express her Roma identity. She is writing a book that explores how her immersion in American culture enabled her to grapple more fully with her Roma/Gypsy ethnicity. Her writing was published by the New York Times and she writes periodic op-eds for Newsweek and other media channels. Her work has been featured by Vogue, CNN, Al Jazeera America, PRI, and Voice of America, among other outlets.
A Fulbright Scholar from Romania, Cristiana graduated from Vanderbilt University with an MA in International Education Policy and Management in December 2012. She earned her BA in Psychology from the University of Bucharest in 2007. Most recently she is part of an advisory group for the National Gallery of Art on a topic related to Roma in the Arts.
Organizer of Tokenism or True Leadership? Possibilities for Building Roma Agency
The Roma Peoples Project at Columbia University is a platform for Roma and their allies to share knowledge and stories, to understand the Roma peoples in a global context, to develop kinship with other marginalized and stigmatized groups, and to reflect on Roma experiences of survival and resilience.