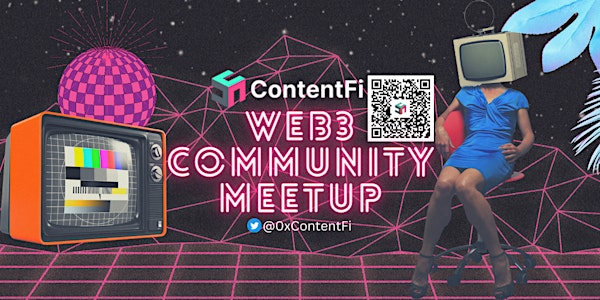 Token2049 London : Demystifying NFTs and Ownership
To celebrate Token2049 London, ContentFi will host a Twitter Space to demystify NFTs and Ownership.
About this event
Dear fellow Token2049 London attendees,
We invite you to join ContentFi's 'Demystify NFTs and Ownership' Twitter Space, along with moledao, and other industry experts at 3 p.m., Monday, Nov. 7, BST, GMT+1.
FREE to attend
Special Speakers To be Announced...
Attendees: We encourage you to get on stage and speak out.
☕Come and mingle with other attendees while having a nice panel discussion
Contact Organizer directly via WhatsApp or Telegram:
WhatsApp: https://chat.whatsapp.com/G8VclE8DAb4F5ns4sDWosX
Telegram: https://t.me/web3forcommunity
About ContentFi:
ContentFi is a web3 startup based, and we provide monetization infra for IPs that aims to free and empower content ownership with IP fragmentation, revenue sharing, on-chain IP licensing, etc.
Website: https://contentfi.net/
Twitter: https://twitter.com/0xContentFi
Email: yami@contentfi.net
About Moledao
Moledao is a blockchain community to connect and develop budding entrepreneurs.
Website: https://moledao.io
Twitter: https://twitter.com/moledao_io