About this Event
After the investment hype in cryptocurrencies last year, it is ever more important to re-look at the Blockchain space and understand the fundamentals of Blockchain, Cryptocurrency and Tokens, particularly in the context of Token Economics. You've probably heard about cryptoeconomics, tokenomics/token economics and more, but what do they really mean and how are they relevant to you?
Join us for this very interactive workshop, where economics, blockchain and DLT come together, explained simply. This session will be an interesting introduction into the topic. It will also an opportunity to deepen your existing knowledge adding to a better understanding on Token Economics. We hope to see you there.
Date: 18 June 2019, Tuesday
Duration: 1.5h, with 30min Q&A/networking
Venue: ClubCo @ Capital Square
Program Outline:
Terminologies 101
What is Distributed Ledger Technology?
What is a token? What are the general token function categories?
How does economics come into play?
Cryptoeconomics vs Token Economics
About You
Ask yourself these questions. If they are questions that you think about, this is the right workshop for you!
What is blockchain?
What is distributed ledger technology?
What are tokens?
What are the real practical use-cases of tokens?
How does economics apply to token economics?
What is cryptoeconomics and is it the same as token economics?
Why should I even care about token economics?
Where does this whole "blockchain thing" exist in our world?
How can I benefit from blockchain?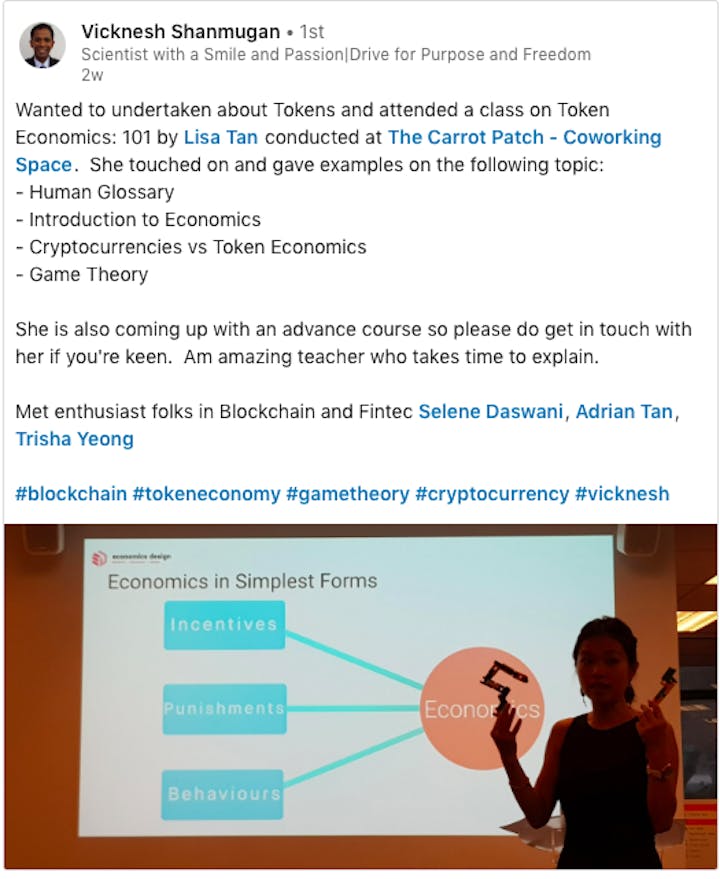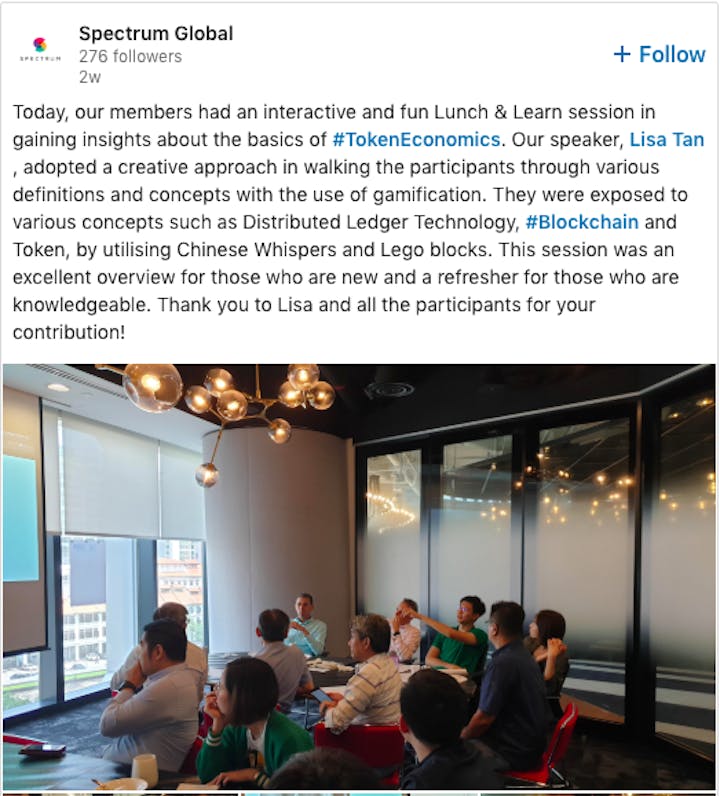 About The Speaker
Lisa Tan, Founder of Economics Design
Lisa is a deconstructor of economics, cryptoassets and cryptosystems. She comes from an economics background and sees huge potential to bridge the gap between traditional economics and the blockchain world.
Lisa now pours her passion for economics into designing, teaching and showcasing the true capabilities of solid underlying economic and incentivisation models to build scalable and sustainable token economy and networks.
* The signup process requires you to provide accurate personal and professional information that includes your full name, email address, organisation and position. Economics Design reserves the right to curate the guest list to provide an optimal experience for all attendees. We appreciate your understanding and cooperation.